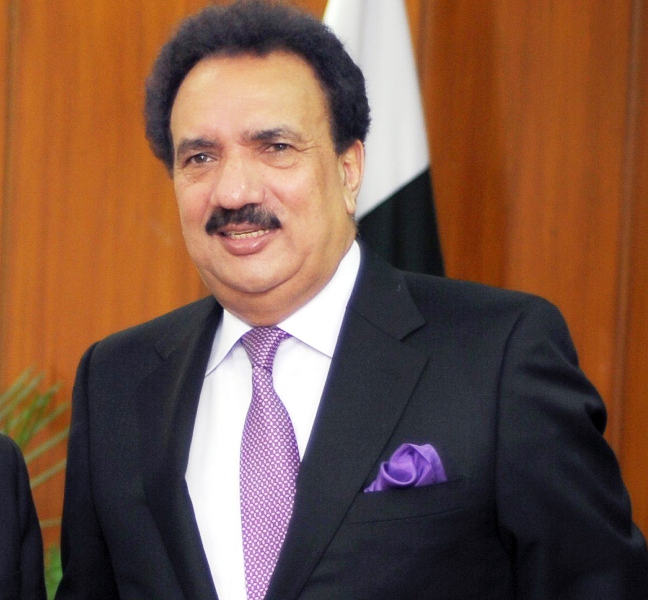 ---
KARACHI:



Former interior minister Rehman Malik has said a conspiracy is afoot to break the country by bringing in a pro-Taliban prime minister.




Speaking at a joint press conference with MQM's Farooq Sattar and ANP's Shahi Syed at MQM headquarters Nine-Zero on Tuesday, he, while referring to the PML-N and PTI, said "The public wants to know your agreement with the Taliban."

"I had been told that the upcoming elections would be against terrorists. The election is in fact against the anti-Taliban parties," Malik added.

He said that the parties campaigning on the symbol of bat and tiger are actually supporting the Taliban, but they should remember that their parties only exist if the country remains.

"These parties have not once condemned the terrorists' attacks on us. They should remember that it is the same Taliban that have killed our soldiers, and our mothers and sisters. They are the ones who have left not a single street blood-free in Karachi," the former interior minister said.

Malik also said there were three genuine leaders in the country today, Asif Zardari, Asfandyar Wali and Altaf Hussain.

"The genuine parties need to make an agenda on terrorism soon because the country is in danger. Altaf bhai had predicted bloodshed and terrorist attacks a year ago," Malik said.

Meanwhile, Farooq Sattar of MQM said that there was a conspiracy to hijack the elections which is being instigated by the national and international establishment.

Sattar also said that liberal and progressive political parties who want to see Pakistan in a true democratic sense are being forced to boycott the elections by being prevented from holding rallies and getting in touch with the public through blasts and target killings.

ANP leader Shahi Syed said, "Islam was nearest to him, then the country, and then Asfandyar Wali Khan." Syed added: The darkness we see in front of us is dangerous for everyone, including our religion and TTP doesn't want them to participate in the elections.

Published in The Express Tribune, May 1st, 2013. 
COMMENTS (3)
Comments are moderated and generally will be posted if they are on-topic and not abusive.
For more information, please see our Comments FAQ