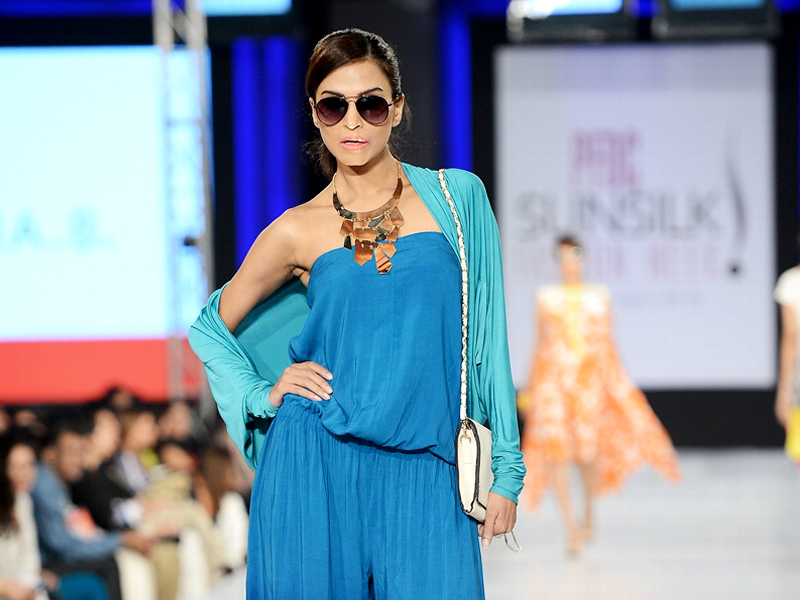 ---
LAHORE: Print, print and more print is what Day 1 at the Pakistan Fashion Design Council (PFDC) Sunsilk Fashion Week entailed.

In a nutshell, this season seems to be headed towards extravagance via prints and solids with minimal to no embellishments. It is without a doubt safe to say that PFDC knows how to put on a show. Here's the breakdown:

Tapu Javeri




Fashion Week in Lahore opened with a bang with Tapu Javeri's Tapulicious collection. Collaborating with Sadaf Malattere, Wardha Saleem, Adnan Pardesy and Rizwan Beyg, the collection had signature elements from each of the designers. Sadaf Malaterre's fringe paired with Adnan Pardesy's structured pleats wrapped with Wardha's psychedelic prints, the collection was eye-catching with a number of hits-and-misses. While Fayeza Ansari sporting a funky eye patch was edgy, Mehreen Syed's showstopper dress looked like a bad costume choice for Dracula-land. From Patiala shalwars to Western short dresses, the collection had a mixture of cuts and colour combos; however, the lime green mini dress was by far the best thing to come out of the collection.

Sublime by Sara Shahid




Lahore's go-to-prét designer showed her latest collection titled NOW, featuring primarily solid neon-coloured outfits that were simple, wearable and bang on trend. Cybil's outfit with solid block prints stood out and the wrap-around-neck hugging halters were a hit. Sara played a lot with drop shoulder tops and flowing drapery, which were plain and pretty. However, the chunky elastic bands in the back of jumpsuits looked slightly tacky. What did not work in Sublime's favour were the black-and-white striped shirts with pink embroidery.

Sania Maskatiya




Aghaaz was one of the best collections of the evening, inclusive of macaroon colours with a hint of neon. Sania Maskatiya is one designer who not only understands print the best, but also has a knack for producing some of the best print-on-print we've seen so far. Maha Burney's styling with the chain wrapped buns and plaits were a hit. It was hard to find anything amiss in this collection and with the exception of two outfits, the entire collection was spot on. Kudos to Maskatiya for incorporating the lacha in her collection. It was refreshing to see the traditional female village-wear be translated onto the ramp, revamped by Maskatiya. It is hard to pick a favourite, but the peek-a-boo mustard top paired with dark blue pants would have to be one of the best outfits in the collection. With Kiran Chaudhry as the showstopper, Sania Maskatiya's show came to a smashing end.

FnkAsia




Unfortunately, this brand was neither funky nor Asian. Even though the collection was better than what we have seen come out from FnkAsia in the past, it was hard to understand the design concept. With a few hits and a lot of misses, FnkAsia's saving grace had to be the very first sari on the ramp — a monochromatic blouse paired with a loud colour block sari. Another piece that stood out was the lime green and black top that was not just complementary but bang-on trendy. Humaima Malik's showstopper red dress was an interesting piece coming from this fusion line, but not well draped.

Élan




The first act of Day 1 at PSFW closed with Élan's thundering collection, Ode to a Nightingale. Inspired by Keats' poem, the collection is an expression of transcending the human condition of despair and monotony and feeling one with the nightingale in its blissful state of freedom and happiness. Carrying on with her love for the orient, designer Khadijah Shah took her collection from last year further by developing more structured prints. Élan has always been known for its luxury prét, and not only were the prints luxurious but her cuts wer equally fascinating. Funky geometric accessories added to the entire look of the collection. The biggest hit of the collection would have to be the balloon skirt. It is well-structured and flattering — it might not appear on the racks, but fashion-forward ladies will definitely want to be seen in it. The showstopper dress worn by Mehreen Syed was one of the only embellished pieces; however, with this collection Élan's prints stole the show and upstaged the showstopper.

Misha Lakhani




The newest sensation on the block presented a very wearable, laid-back collection. Misha's collection had Karachi's quintessential no-fuss element, with a major focus on cuts and her signature high-slit shirts with unfinished edges. From toga-style maxis to open window backs, Misha also experimented with sari-like draperies. What funked up Misha's collection would most definitely be her gota embellished duppatas and casual flip-flops. But the designer's strongest assets are luxury prét and formal wear; sadly, Lahore missed her beautiful embellishments.

Akif Mehmood




This designer really needs to either snap out of the tribal zone or learn how to make it work to his advantage. With the sacrificial cow-inspired aesthetic, this collection would have to be one of the biggest disappointments of the evening. Only two separate pieces from the entire collection were worth looking at — one being a pair of rust pants with appliqué work and the other a pair of monochromatic pants.

Maria B




Maria B's collection closed the first day of fashion week. The Lahore-based designer has been in the industry for over a decade now and has shifted her focus to prét. While it was nice to see Maria B do something different for a change, she played it safe with cuts and colour options. The collection got a little monotonous and boring towards the end. We saw cotton prints stitched as jumpsuits and shirts. The collection on its own resembled Muse's lookbook but the styling of her show was distracting — large aviators killed the look of the collection.



Published in The Express Tribune, April 28th, 2013.

Like Life & Style on Facebook for the latest in fashion, gossip and entertainment.
COMMENTS (7)
Comments are moderated and generally will be posted if they are on-topic and not abusive.
For more information, please see our Comments FAQ