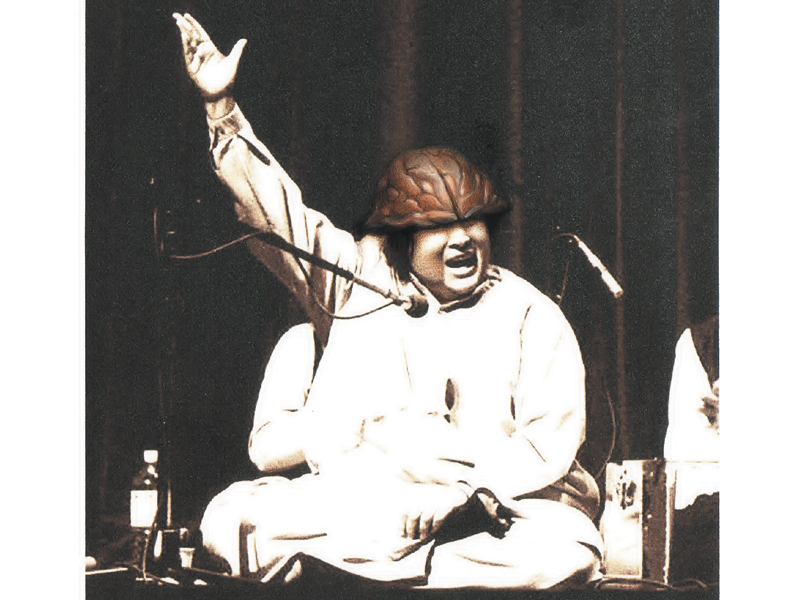 ---
KARACHI: By putting akhrot [walnut] hats on the heads of five eminent Khans, artists Sara Khan Pathan tried to break stereotypes about people who are ethnically Pakhtun.

Part of the exhibition 'My Name Is...' that opened at Indus Valley School (IVS) gallery on Wednesday, Sara has printed pictures of five Khans - singer Nusrat Fateh Ali Khan, politician Imran Khan, former president Ayub Khan, boxer Amir Khan and squash champion Jansher Khan - in their element and painted nut-shaped helmets on their heads.

"We are all aware of the cultural and social stereotypes we have against Khans and Pathans - the name comes with a certain baggage," said Hajra Haider Karrar, the curator. "The minute you hear the word, a bell rings in your head and a chain of thoughts follow. If he is a Khan, he must be Pathan, and we all know the Pathan jokes."




The name, in fact, carries a historical legacy of bravery."The Mongols and Central Asians used the term 'Khan' to refer to a sovereign or military ruler," said Karrar. "It held a certain authority and was a symbol of power. The stereotypes it went on to acquire are in contrast to what it originally meant."

All of the artists whose work was being exhibited - Sara Khan Pathan, Muhammad Atif Khan, Maria Khan, Amra Khan, Saba Khan and Sara Khan - were Khans with very distinct identities. "When you put their works up together, their individual identity shines through. Their work is a direct condemnation of stereotypes." She added that the work of the artists showed how people could nurture their own individual identities while sharing a larger cultural one.

"While stereotyping Pathans, we tend to forget that all the greatest people in every field are Khans," said Rasheed Noorani, the director of Continuing Education Programme at IVS. "You see them working hard and rising in every field, be it performing arts, sports or politics. It is really unfair that we stereotype them."

Another representative of the school, Samina Khan, felt that Khans everywhere continued to dazzle the world with their architectural skills. "Khans and Pathans have been known to build entire cities in the Middle East," she said. "They went there in the 30s and 40s when Qatar was still being built and performed architectural wonders. They are very resilient people."

A teacher at the school, Samia Rajar, felt that Sara's work was very direct and presented a choice to the viewer. "You could either see it as a funny take on stereotypes. Or you could choose to be offended by what it suggests. It is very subjective."

Artist Amin Gulgee felt that the exhibition was meant to make people question the stereotypes around them. "The artists are fighting against homogeneity and generalisation," he said. "All of their works are very divergent. This is because there is no homogeneity in the world."

The works of the six Khans is on display at IVS till May 11.

Published in The Express Tribune, April 27th, 2013.