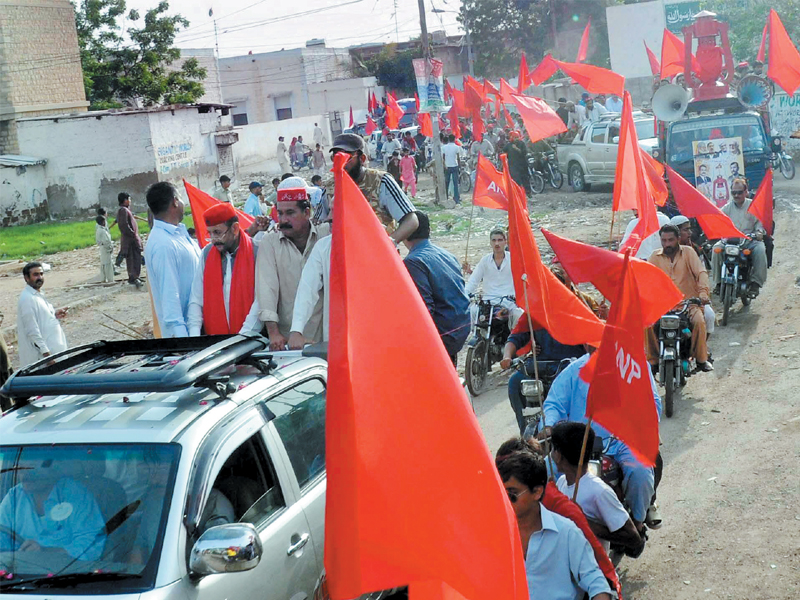 ---
ISLAMABAD:



Secular political parties are still under serious threat of militants due to absence of proper security arrangements during their election campaign. The parties allege that a conspiracy is being hatched to sideline them from the political arena.




The parties complain that despite constant reminders to the Election Commission of Pakistan (ECP) and provincial government for provision of foolproof security to the leadership,  no practical step has been taken in this regard.

"In my province, Imran Khan, Jamaat-e-Islami and JUI-F candidates are continuously holding election rallies. But we cannot come out of our homes due to threats, making it quite clear that we are not being given a level playing field for campaigns," said Awami National Party (ANP) spokesperson senator Zahid Khan.

"As many as nine attacks have been carried out on our party leaders and workers since we launched our election campaign," said Khan.

According to a recent survey report issued by Free and Fair Election Network, 13 incidents of electoral violence took place across the country and claimed 23 lives, mostly targeting workers of the ANP – while 54 others were injured between April 13 and 19.

How the ECP can claim that it will hold free and fair elections as there is no equal opportunity for anti-militant political parties, he questioned. Khan said that when they approach the interior ministry for security, it either puts the blame on ECP or offer excuses of lack of security personnel.

Disappointed by the ECP, he demanded that Chief Justice Iftikhar Mohammad Chaudhry take notice of this discrimination and direct the interior ministry to provide proper security to candidates who are on the militants' hit list.

He said that an Inspector General in Khyber-Pakhtunkhwa was transferred on the recommendation of ECP, reason being that his relatives are contesting elections. Surprisingly, the real brother of the new IG is also contesting elections from Malakand which projects a dual standard of the ECP.

Zahid also lamented that Imran Khan and other parties neither condemn attacks on ANP in their election speeches in K-P nor go to the victims for condolence.

A former PPP MNA from Peshawar, who is also contesting elections, admitted that they are facing serious security threats in the election campaign due to their anti-militant policy. "We have to secure ourselves by holding indoor meetings. There is no proper arrangement from the provincial government," he maintained.

When contacted, ECP spokesperson clarified that ECP is not against the security of candidates or political leaders, but it is against the undue protocol being given to some political leaders. He said that the ECP has written to the provincial governments in this regard.

Published in The Express Tribune, April 24th, 2013.
COMMENTS (5)
Comments are moderated and generally will be posted if they are on-topic and not abusive.
For more information, please see our Comments FAQ