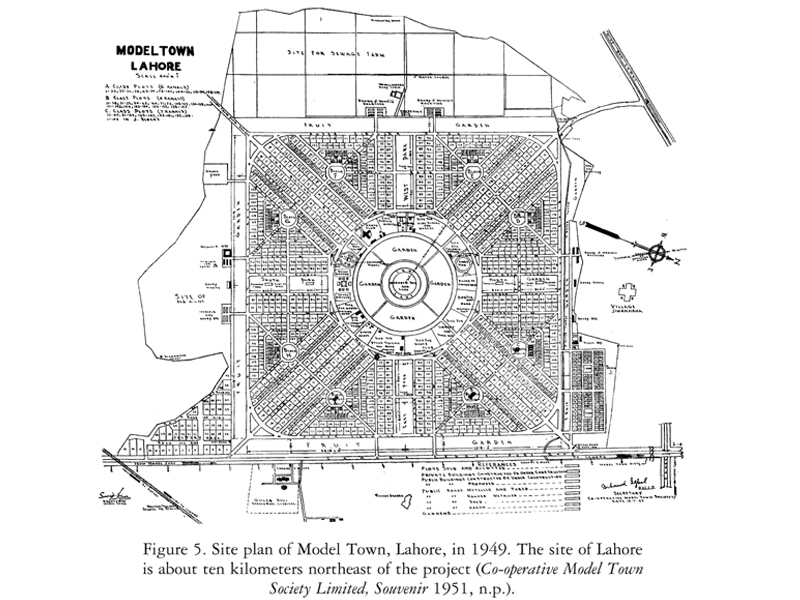 ---
KARACHI: Imagine the British reaction when they looked at India's higgledy-piggledy bazaars and winding, narrow 'slums'. A colonial officer once wrote something along the lines of how the natives had such bad habits that unless they were closely watched, they would cover the whole neighbourhood with "filth". For this foreign civilising force, these local conditions were emblematic of moral degeneracy as well.

Some British officers believed that if the urban landscape could be changed, they could mould the behaviour and quality of Indian society. What further proof that this formula worked than the example cited by one officer. According to him, railway employees living in new 'model' houses survived a 1904 plague epidemic in Punjab better than the poorly housed colleagues.

As a result of this kind of thinking, the colonial state undertook several 'model' projects in Punjab. William Glover of the University of Michigan, an architecture expert who has written extensively on Lahore, provides an excellent view into this mindset in a 2005 paper. He gives details of how the British built several new villages along model lines in the canal-irrigated districts. There were also largely unsuccessful attempts to turn Lahore's Mozang neighbourhood into a model sanitary village in the 1890s. Our colonial rulers even built model villages in order to contain semi-nomadic tribes who they felt were criminal by nature.




It is small wonder then that when the Indians themselves undertook projects some of them almost perfectly replicated British models. But as Glover points out, they did not necessarily have the same social effect. He gives Model Town as one of these examples that were conceived and built by and for Indian residents according to what was considered then a progressive European model.

The origins of this particular model were highlighted in a paper by Abid Mehmood and Alex Franklin of the University of Cardiff presented at the eighth seminar on urban and regional planning at Karachi's NED University on March 30.

As it turns out, Model Town in Lahore was built faithfully close to the idea of the Garden City in 1921. The Garden City was the brainchild of a man called Ebenezer Howard. According to Glover, in his book Making Lahore Modern, the "guiding force" behind Model Town's creation was a man called Diwan Khem Chand, a barrister who studied for the bar in England in 1909, and was an admirer of Howard's ideals.

This settlement was meant for middle-class Indian residents of Lahore who were largely retired provincial and municipal government employees. It was financed by private subscription through a limited partnership company of The Model Town Cooperative Society.

The planners literally copied Howard's diagram with its circular geometry, radial streets and symmetric constructions. The 'Garden City' model proposed a maximum of just 32,000 inhabitants and 5,500 buildings.

What emerged though was that the Indian residents who came to live in Model Town made it their own. For example, while the homes were built as single level British bungalows, by the mid-1930s the inhabitants built a second floor as more than one generation had to be accommodated in this family set-up. Because there was little mixing of the sexes, the men and women took their walks at separate times during the day. Even though there were club houses, social events mostly consisted, writes Glover quoting an old resident, of "weddings, and head-shavings".

But should this idea be used elsewhere in Pakistan. "I agree that countries like Pakistan with increasing population density and higher rates of urbanisation need new towns and more houses," Mehmood told The Express Tribune. "[But] instead of following Howard ... we should take [these models] as guiding principles, and develop our own models based on the ethnic, religious, cultural, etc diversity of the 'place' as in Karachi, or in Lahore."

As it turned out, Model Town became a self-contained environment for the well heeled. "So, it was quite close to the eco-towns of today with a sterile and self-reliant elite community, away from the common masses," adds Mehmood. According to him, we do not seem to have any shortage of isolated, secured and gated communities and housing schemes. "The challenge is to bring people (from various social, ethnic and economic strata) together and provide the necessities of life."

The image of a perfect, isolated and sterile suburb somehow doesn't paint the picture of close-knit community. Additionally, planners have to ensure that these suburbs have strong public transport links to the centre of the city, jobs close by and enough recreation. As Karachi's Taiser Town fiasco to rehouse the families dislocated by the Lyari Expressway demonstrated, simply uprooting people and putting them on the edge of a city doesn't make for good urban planning.

Published in The Express Tribune, April 15th, 2013.
COMMENTS (3)
Comments are moderated and generally will be posted if they are on-topic and not abusive.
For more information, please see our Comments FAQ