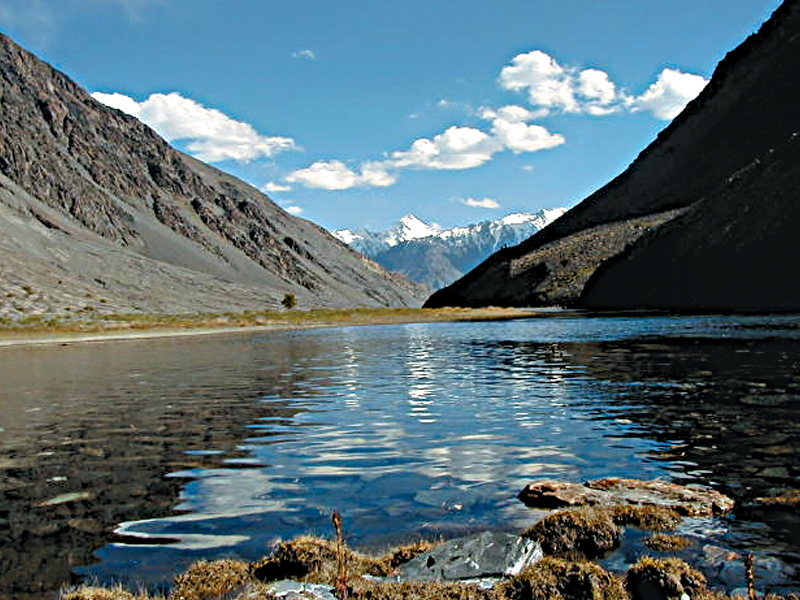 ---
GILGIT:



The management plan of Pakistan's third largest national park was reviewed in Gilgit on Monday with suggestions from local communities to make cross-country tourism part of the plan.




Khunjerab National Park – adjacent to Tashkurgan, China Natural Reserve – was first envisaged by Zulfikar Ali Bhutto in 1975 to protect endangered species like Marco Polo sheep and their habitat. Plans for the park were first drawn up in 1994-95 and the park boundaries included some of Shimshal Valley's pastures, a move not welcome by the valley's inhabitants.

The management plan, originally devised to protect and conserve local wildlife failed miserably.  Marco Polo sheep continued to be hunted, decreasing the number of Marcos from 800 to a few dozen during the period between 1975 and 1993.




The review on Monday took place during a consultative workshop organised by the World Wildlife Fund for Nature (WWF) Pakistan in collaboration with the International Centre for Integrated Mountain Development (ICIMOD). Parks and Wildlife Conservator Wilayat Noor, administration official and local communities from Sost, Shimshal and Ghulkin took part.

Representatives and wildlife experts discussed options to make the plan more useful with respect to conserving natural resources and generating income opportunities.

"There should be special focus to attract tourists from China," said Muzaffaruddin, the chairman of Shimshal Nature Trust, a community-based organisation formed by the people of Shimshal valley in Gilgit-Baltistan (G-B).

"One of the gaps which we have identified is the monitoring system – it should be more effective for better results," said Mohammad Zafar, a senior conservation officer at the WWF. Widening the Karakoram Highway thinned the natural habitat of the local wildlife, he explained.

Parks and Wildlife Conservator Wilayat Noor, however, asserted much had already been done to conserve natural resources – 60% of the snow leopard's habitat lies in G-B.

The plan was reviewed in light of a recent ICIMOD scheme, known as the Karakoram-Pamir Landscape (KPL) initiative. The KPL initiative is aimed at enhancing cooperation for biodiversity management and sustainable development in the Sino-Pak border region of the western Himalayas, said conservationist Ashiq Khan.

Dr Babar Khan of the WWF said so far, reasonable progress has been made to protect the species like the Himalayan ibex and blue sheep. The population of both species has increased but more needs to be done to achieve its original objective of sustaining a viable population of the Marco Polo sheep, Khan added.

Published in The Express Tribune, April 9th, 2013.
COMMENTS (1)
Comments are moderated and generally will be posted if they are on-topic and not abusive.
For more information, please see our Comments FAQ