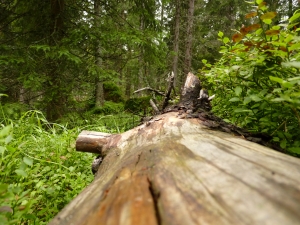 ---
ISLAMABAD: The Ministry of Climate Change has agreed to forward a summary to the cabinet secretary to reverse an order, that had allowed the transport of timber from Gilgit-Baltistan (G-B) down country.

The notification, which lifted a ban on the movement of legally and illegally cut timber from the forests in district Diamer, was approved by former prime minister Raja Pervaiz Ashraf just a day before the government's term ended on March 16.

The lifting on the timber movement ban had drawn criticism from environmental activists and at least one Diamer native, Muhammad Khan Qureshi, who has been campaigning against deforestation in Chilas.

The activists claim the timber mafia in Diamer has already started illegal felling of trees and it would be difficult to monitor if the timber being transported is legal or illegal because of the timber mafia's ties with local forest guards.




During a Senate Standing Committee on Climate Change meeting on Monday, the secretary of the climate change ministry, Muhammad Ali Gardezi, said he would gather written statements from the Akhtar Hameed Khan Resource Centre (AHKRC) and the World Wildlife Foundation (WWF), whose representatives were present at the meeting, and prepare a summary.

"I can write to the cabinet secretary, requesting them to reverse the order otherwise we could have international problems," Gardezi told the committee chairperson, Dr Saeeda Iqbal.

The problems Gardezi was referring to include Pakistan's global commitments such as Reduced Emissions from Deforestation and Forest Degradation and the Nagoya Protocol, which are threatened by illegal logging.

Earlier, Iqbal had said the Diamer timber movement was not in the committee's purview. "It is a provincial issue; it is not related to my committee," she said. "All we can do is to make recommendations to the relevant authorities," she added.

The meeting included a briefing on the role of federal and provincial governments regarding deforestation and trophy hunting by AHKRC Director Fayyaz Baqir. He said effective forest monitoring entities at the national level are needed in order for Pakistan to deliver on its international commitments.

Zafar Pervaiz Sabri, group head of the Pakistan Poverty Alleviation Fund, presented the fund's climate change development interventions in impoverished communities across the country.

Furthermore, WWF Pakistan Director General Ali Hassan Habib recommended the committee to form a subgroup that could propose improvements in three priority areas namely conservation of natural forests, freshwater flows and strengthening the unique role of federal and provincial government regarding forestry.

Habib suggested the subgroup could meet with the caretaker law ministry to identify feasible actions in this regard. He added Pakistan has comprehensive policies for climate change but the actual on-ground situation is often different.

Published in The Express Tribune, April 9th, 2013.
COMMENTS (29)
Comments are moderated and generally will be posted if they are on-topic and not abusive.
For more information, please see our Comments FAQ