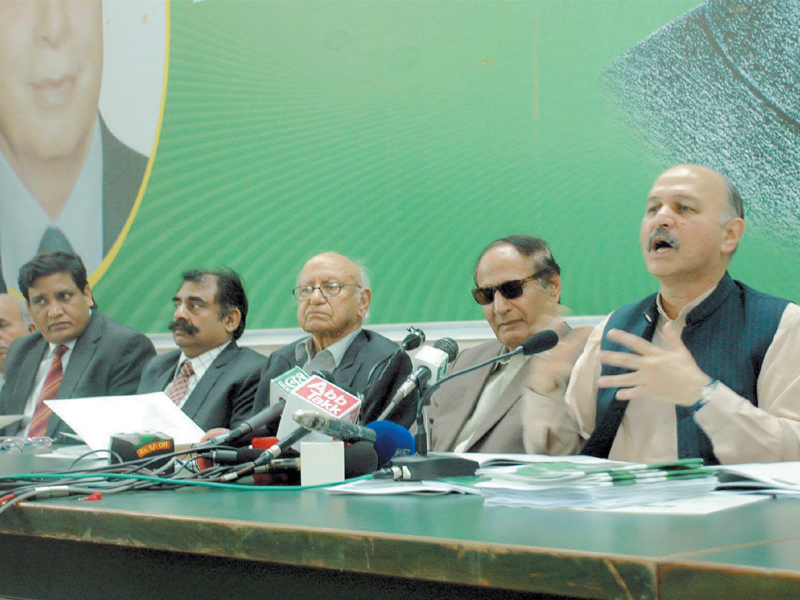 ---
LAHORE:



Pakistan Muslim League-Quaid (PML-Q) launched its election manifesto on Sunday, highlighting seven 'national priorities' that the party intends to fulfil once elected to power.




Presenting the manifesto titled 'Building a better tomorrow' at a press conference at the Muslim League House, PML-Quaid's president Chaudhry Shujaat Hussain, its secretary general Senator Mushahid Hussain Sayed and manifesto committee chairman Senator S M Zafar pointed out the seven salient features of their manifesto.

The party leaders said that PML-Quaid pledges to strengthen democratic values by upholding human rights and promoting a just, tolerant and pluralistic Pakistan.




Leaders of the party promised to combat extremism and eliminate terrorism in the country. For this purpose, party leaders said that an effective counter terrorism strategy will be put in place, which will be formulated by the Prime Minister's Secretariat.

Their manifesto also plans to promote cultural enterprise, support workers and create jobs. For this purpose PML-Q plans on devising a youth employment strategy.

The party plans to take steps to increase agricultural production, where the nation can not only attain self-sufficiency but also produce high-value products for export purposes.

In the field of education, PML-Q promises to ensure that free education is provided to all citizens. For expounding education, a National Education Policy will be formulated by the party.




They also plan to "commit themselves to a political will which effectively satisfies the energy needs of the nation." Talking about the energy crisis, PML-Q leaders said that we are not an energy deficient country but that the crisis has risen out of mismanagement and corruption. They said they aim to combat this cancerous catastrophe that plagues the nation.

In their manifesto, PML-Q promised to form a Special Parliamentary Committee to address legitimate interests and concerns of the media. They said that a comprehensive insurance policy for journalists, photographers and media persons will be launched and due emphasis will be laid on ideas, initiatives and implementation, what they called "three I's".

Among other projects, he said that women protection centres will be established to secure the rights of the female populace. They plan on reviving the Lahore Rapid Mass Transit Scheme.

Mushahid said that a National Environment Climate Change and Water Resources Authority will be set up and an anti-corruption hotline will be established for the first time in the Prime Minister's Secretariat.

Published in The Express Tribune, April 8th, 2013.
COMMENTS
Comments are moderated and generally will be posted if they are on-topic and not abusive.
For more information, please see our Comments FAQ