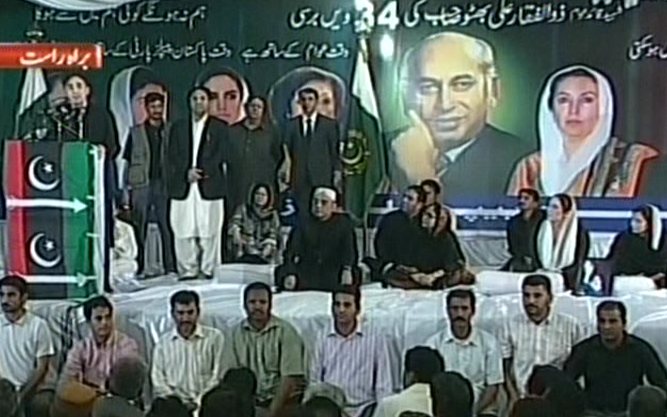 ---
NAUDERO: The Pakistan Peoples Party (PPP) top leadership chose the 34th death anniversary of their party's founding father, Zulfikar Ali Bhutto (ZAB), to remind their followers how well they have delivered on their promises.


Speaking to a gathering of party members and office bearers in Naudero, PPP chairman Bilawal Bhutto Zardari recounted the philosophy behind the policies introduced by party stalwarts including ZAB and Benazir and to what extent party had delivered on those promises.

"Benazir Bhutto gave missile technology to Pakistan," Bilawal remarked.

He lamented how their policies had been interrupted time and again. "There would have been no energy crisis had the energy policy presented by Benazir allowed to continue."

Bilawal also chose to focus on PPP's tenure and the challenges they had to face. "Today people talk about development but no one talks about the conditions when the PPP government came into power."

"We reinstated the 1973 constitution. We gave autonomy to provinces, free media, NFC award, women's rights and the president voluntarily gave back his powers to the parliament."

Revisiting the old slogan of roti, kapra, makan, Bilawal said that due to their agricultural policies today the farmers of Pakistan were prospering. "Today, they [farmers] have roti, kapra and their own houses."

"When we came into the power, Pakistan was importing wheat, today Pakistan is exporting wheat to the world."

Amid loud cheers, the PPP chairman pointed out that they had initiated the Pakistan-Iran gas pipeline to address the energy crises.

He further mentioned the BISP programme, handing over of Gwadar Port to China and the Swat operation as successes.

"But the injustice against us continued," Bilawal lamented. "Swiss cases were opened, an elected PM was sent home [Gilani] and the arrest orders for other PM [Ashraf] were issued to destabilise the PPP government."

"We were not even allowed to breathe."

Bilawal, who will not be contesting the elections, asked the PPP supporters to support his aunt Faryal Talpur, former prime ministers Yousaf Raza Gillani and Raja Pervez Ashraf in the upcoming elections.

Zardari wants to write history

Recounting the government's accomplishments over the past five years, the PPP co-chairman President Asif Ali Zardari told supporters in Naudero that he did not desire headlines, rather he preferred to write history.

"PPP has written history by transferring power from president to the parliament, we have given power back to the people."

Zardari added that only the people will decide who would rule them and "even though it is just the beginning for democracy, the party had given it a direction."

"We have set the direction for Pakistan, we now just have to walk towards it."

The president reminded his supporters that they faced a lot of external pressure but they resisted it. "The world has been asking us to do many things, but we worked only in the interest of Pakistan."

In a veiled reference to his own 11-year imprisonment, Zardari said that no political prisoners were held during the PPP's regime.

Earlier, President Zardari visited the tomb of Zulfikar Ali Bhutto along with Bakhtawar Zardari and Asifa Zardari.

They offered prayers and laid wreath. They also visited the tombs of Benazir Bhutto and Nusrat Bhutto.
COMMENTS (35)
Comments are moderated and generally will be posted if they are on-topic and not abusive.
For more information, please see our Comments FAQ