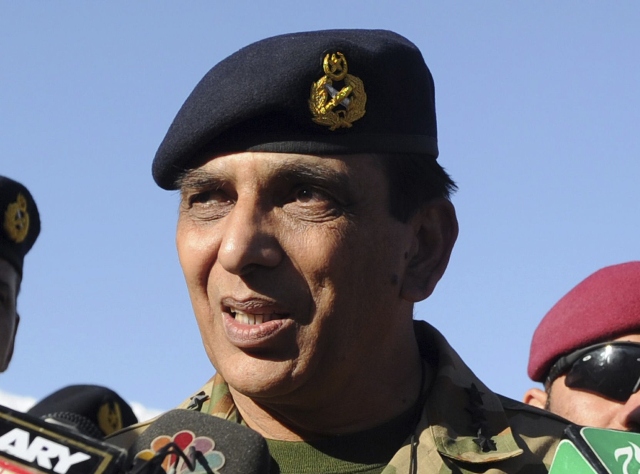 ---
ISLAMABAD:



The army chief said on Monday that Pakistan would continue supporting all efforts leading to the success of an 'Afghan-led and Afghan-owned' peace process.




General Ashfaq Parvez Kayani's statement came amid renewed tensions between Pakistan and Afghanistan, with Kabul accusing Islamabad of 'sabotaging' attempts to reach out to the Taliban.

However, in a meeting held at the General Headquarters in Rawalpindi with the top commander of North Atlantic Treaty Organisation (Nato) forces stationed in Afghanistan, Gen Joseph F Dunford, the army chief attempted to dispel this impression.

He insisted that Pakistan wanted to see durable peace and stability in Afghanistan.

His remarks appear to address concerns shown by the Karzai administration that Pakistan was not sincere in pushing the peace process forward.

Last week, Afghan Deputy Foreign Minister Jawed Luddin said Kabul could pursue peace process without Pakistan, which is considered crucial for any future political deal.

A day later, the spokesman for President Hamid Karzai accused Pakistan of setting 'preconditions' for backing the reconciliation process. However, Pakistan rejected the accusations saying it had not laid any such pre-conditions.

A statement issued by the Inter-Services Public Relations (ISPR) following meeting between Gen Kayani and Gen Dunford stated: "General Kayani reiterated Pakistan's stance and desire for peaceful, stable and united Afghanistan and the need for a successful Afghan-owned-Afghan-led peace process."

This was Gen Dunford's first visit to Pakistan in his official capacity as Isaf commander.

The meeting, the statement noted, was part of the continuing tripartite commission effort to strengthen military-to-military cooperation and regional stability.

During the meeting, the two military leaders discussed a variety of issues related to strengthening cooperation and pressuring militants who threaten security along the Pakistan-Afghanistan border.

Gen Kayani, the statement said, emphasised the need to continue supporting all efforts to bring peace in the Pak-Afghan border region.

He urged Isaf to help Pakistan check-cross border attacks launched from inside Afghanistan.

"The Pakistani, the Afghans and the international community desire peace and security in the region," Gen Dunford was quoted as saying during the meeting. "These meetings are important to achieving that goal as we continue to explore ways to expand our relationship."

Published in The Express Tribune, April 2nd, 2013.
COMMENTS
Comments are moderated and generally will be posted if they are on-topic and not abusive.
For more information, please see our Comments FAQ