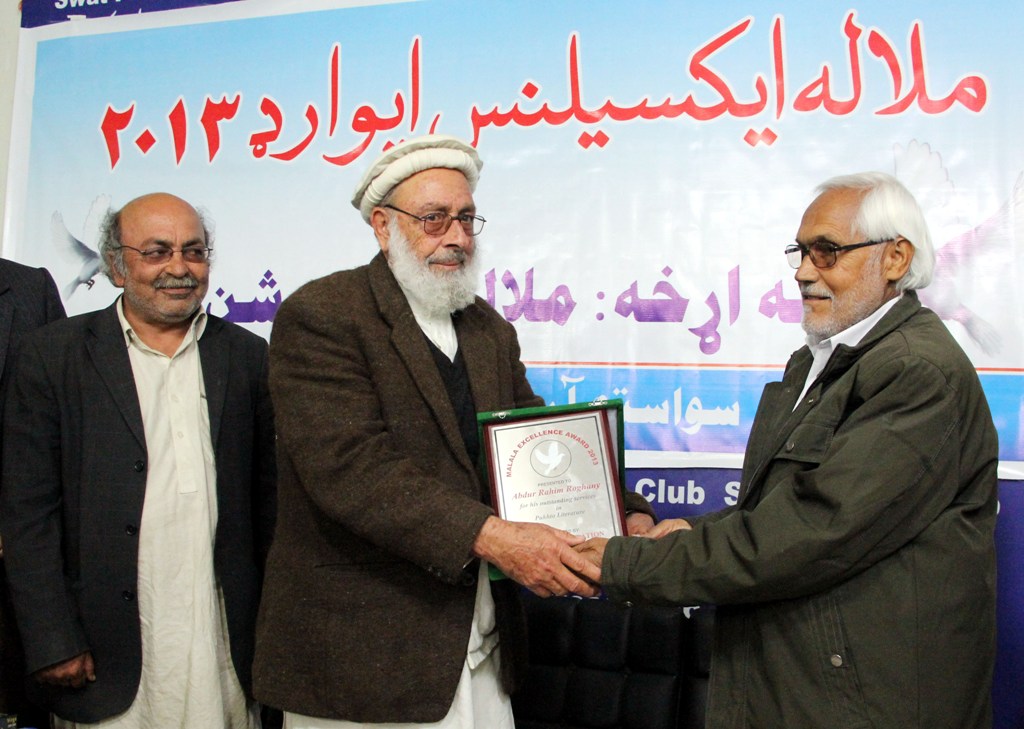 ---
SWAT: Renowned Pashto poet and scholar, Abdur Rahim Roghaney, was awarded the first Malala Excellence Award 2013 on Sunday.

The award was given to the famous scholar and poet in a grand event in Mingora, organised by Malala Foundation in collaboration with Suvastu Arts and Culture Association. The award was conferred on Roghaney for his contribution to Pashto literature.

The award, according to the organisers, is to recognise efforts of individuals and organisations who positively contribute to the uplifting of their communities in any particular field of life.

The award will be annually given to those who make a difference that is publically recognised in the field of arts, literature, education, healthcare, environment and scientific innovations. It will be coupled with a cash prize of Rs50,000.

During the ceremony, Pashto poet and critic Attaullah Jan said that Malala Yousafzai has become an international figure and her services have been globally acknowledged. "Encouraging Pashto poets and scholars with such awards is worth appreciation," he said.

Swat Qaumi Jirga spokesperson Ahmad Shah said that Malala Foundation was a global organisation and it will work for the rehabilitation and reconstruction of areas in Khyber-Pakhtunkhwa affected by floods and militancy.

Malala's father, Ziauddin Yousafzai, also addressed the ceremony via phone and appreciated Roghaney for his substantial contribution to Pashto prose and poetry. "He is, without hyperbole, a world-class writer whose poetic quotes have become maxims that people use in their daily lives. His wit and humour has a typical Pashto colour which is enjoyed by all," he said.