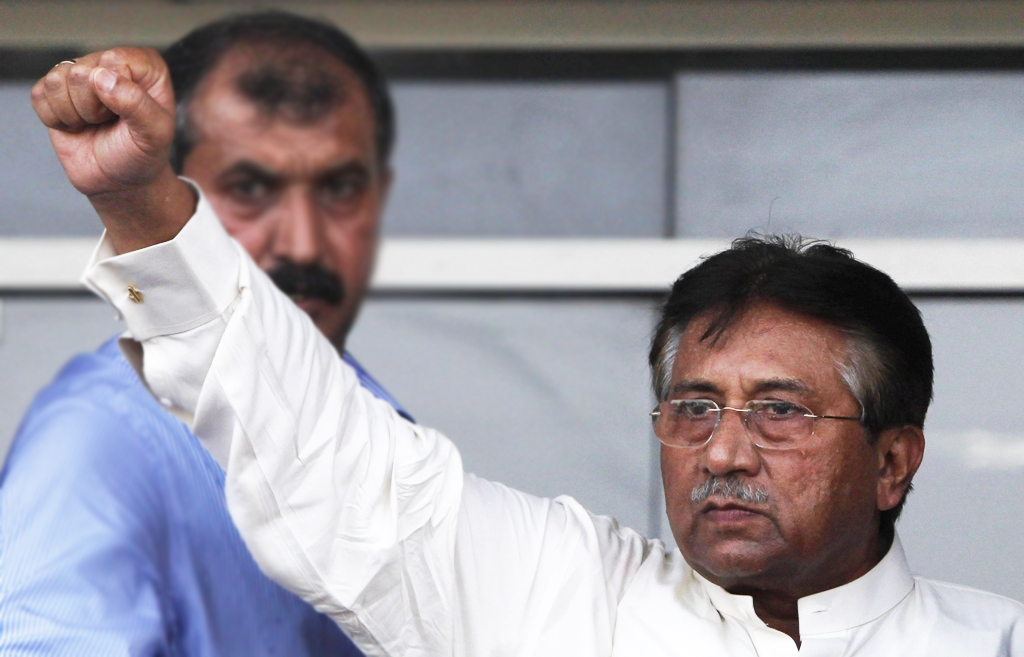 ---
KARACHI:



After nearly four years in self-imposed exile, former president General Pervez Musharraf finally returned to Pakistan on Sunday and vowed to risk his life to 'save the country'.




"Putting my life in danger … I have come back to Pakistan to save this country," declared Musharraf in his brief address to supporters following his arrival.

"Where are those who used to say I would never come back?"

The former president was greeted with much fanfare and slogans by the supporters of his All Pakistan Muslim League (APML) at Karachi's Jinnah International Airport. Musharraf acknowledged his supporters in trademark fashion as he exited Terminal 1, with salutes and victory signs.

Although his Emirates Airline flight from Dubai landed at the airport around 12:40pm, he did not come out of Terminal 1 till more than a couple hours later.

People at the terminal showered the former president with rose petals, waved flags, beat drums and danced as they welcomed him, evoking a vague sense of déjà vu. Terminal 1 was the site of the late Pakistan Peoples Party chairperson and former premier Benazir Bhutto's return to the country in 2007, during Musharraf's tenure. Musharraf himself landed at Terminal 1 following the October 12, 1999 military coup that saw him to power.




But where Bhutto was greeted by hundreds of thousands of her followers, the situation on Sunday was very different – only a few hundred people gathered to receive the former president. When he left the airport in a giant convoy, flanked by security protection, no one lined the main highway.

While police officials said around 1,000 well wishers turned up at the airport, the actual number appeared much less than that.

Most of the people who came to receive Musharraf belonged to rural Sindh. Speaking to The Express Tribune, Nazia Gorar, who arrived from Larkana with 50 other people, said she hoped the former president would solve the problems the outgoing government had left the country with.

"Just look at the price of flour… it has increased fourfold after Musharraf's tenure ended. We can't even buy ghee and vegetables for our children's survival," she complained.

Samia, another supporter from Karachi's Malir locality, said she and her family were concerned about the deteriorating law and order situation in the city. "Whenever my husband or any other family member leaves the house, I pray for their safe return… How can we support rulers who have only given this city bloodshed," she said, hoping Musharraf would restore peace in Karachi.

Musharraf's address

During his brief address to party workers at Terminal 1, Musharraf maintained that he had left Pakistan a peaceful country, but returned to find it plagued by terrorism, inflation and poverty.

"Where has the Pakistan I left five years ago gone? My heart cries tears of blood when I see the state of the country today," he said. "I have come back for you. I want to restore the Pakistan I left."

The outgoing rulers have fostered nothing but terrorism, inflation and poverty during their tenure, the former president asserted, vowing that his party, the APML, would ensure Pakistan became the country 'envisaged by its founder'.

Challenging elements who have threatened to kill him to expose themselves, Musharraf said, "I am not scared of anyone apart from Almighty Allah… I am ready to sacrifice my life, but I will make Pakistan proud."

Referring to the cases against him over the deaths of Benazir Bhutto and Nawab Akbar Bugti, the former president said he was ready to face any court proceedings against him.

Published in The Express Tribune, March 25th, 2013.