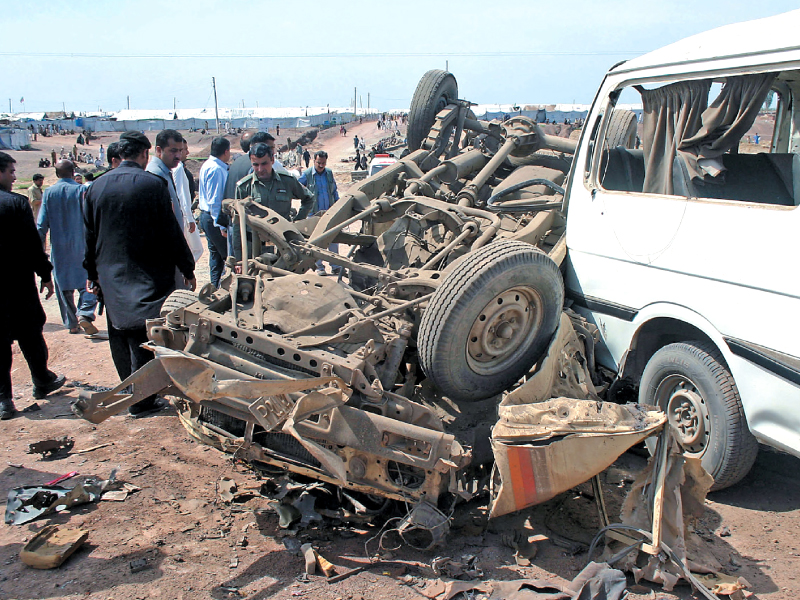 ---
JALOZAI:



The country's largest refugee camp witnessed horrific scenes of devastation on Thursday with pieces of flesh and blood littered on the ground next to discarded toys, sandals and twisted metal.




At least 17 people, including women and children, were killed when a car bomb tore through the Jalozai refugee camp in Nowshera district as scores of people queued for rations. More than 28 others were also wounded in the blast.

Jalozai Camp in-charge Noor Akbar said he was sitting inside the UNHCR office discussing the registration of internally displaced persons (IDPs) from Tirah Valley when he heard a huge explosion.

"I rushed out from the office to see a blazing fire and thick black smoke," said Akbar, adding that refugees from the surrounding tents helped rescue the wounded.

He said the bomb exploded in a white colour car parked near the administration office where refugees had lined up to get rations and new arrivals were being registered.

"The number of casualties would have been more than a hundred if the explosion had occurred just an hour before the actual blast," said Akbar, explaining that IDPs from Tirah valley and Bara Tehsil had been waiting at the distribution point since morning, but were told to come again on Friday.

Nowshera district police officer (DPO) Mohammad Hussain said the engine of the car which exploded lay around 50 feet from a two-foot crater left by the blast.

Initial investigations revealed that it was a remote controlled blast with hundreds of hand grenades and shells packed inside the vehicle, police official Hafiz Abdul Malik told The Express Tribune, adding that the bomb was detonated by a timer and carried up to 35 kilograms of explosives and mortar bombs.

Malik said an emergency had been declared at Rashid Shaheed Memorial Hospital Pabbi, where the majority of the injured were being treated. The remaining bodies and injured were taken to Lady Reading Hospital in Peshawar.

"A search operation was launched in the camp after the explosion along with law enforcement agencies and four suspects were arrested," Malik said.

Tariq Khan, a 40-year-old displaced driver from Khyber, said he was in his tent when he heard a "very loud" blast and saw thick black smoke.

"I rushed to the spot and saw bodies lying in a pool of blood and wounded people crying in pain. I saw small pieces of human flesh everywhere and found my uncle, both of whose legs had gone, and he was crying with pain," Khan told AFP.

"I lifted him and looked for a car and luckily found one nearby and took him to hospital," he said.

Officials belonging to the provincial disaster management authority and a female worker from a non-governmental organisation (NGO) were among the dead, officials said.

Rations were being handed out by a local charity BEST in partnership with the United Nations and the US Agency for International Development. Mohammad Ashraf, project director at BEST, a UN partner, said a 30-year-old female member of staff who worked on hygiene was killed. Nine other members of staff who were distributing food were wounded, he said.

The Pakistani Taliban denied responsibility for the blast. TTP spokesman Ehsanullah Ehsan told Reuters it was "inhuman and un-Islamic to target innocents".

Meanwhile, an official at the refugee camp revealed that the camp administration had received threats three days back, but no security measures had been taken by the camp officials.

Most of those now in Jalozai, built originally to host Afghan refugees, come from Khyber, where the army is battling the Taliban in the Tirah valley to try to safeguard the election and crack down on militants behind attacks.

"People of different areas are living here in this camp and the bombing appears to be the result of rivalry between the groups in Khyber and the ongoing fighting between them," a senior police official told AFP requesting anonymity.


Published in The Express Tribune, March 22nd, 2013.