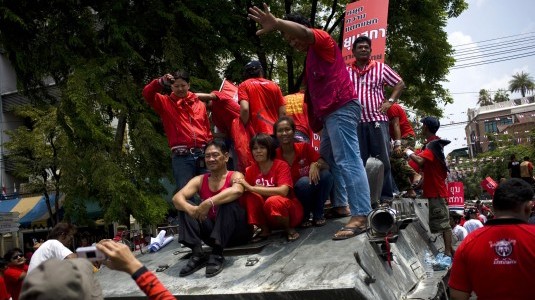 ---
BANGKOK: Demonstrators on Sunday vowed to remain on the streets of the Thai capital and bring down the government, the day after the country's worst political violence in nearly two decades.

Despite the clashes between the army and "Red Shirt" protesters, which left 19 people dead and over 800 injured, the supporters of fugitive ex-premier Thaksin Shinawatra said they would continue to occupy key areas of Bangkok.

"Our people will make shifts or take turns coming. More people will come in the afternoon. We were scared, but we are ready to accept whatever will happen," said 61-year-old Red Shirt supporter Sivalai Nakar.

Some 2,000 Red Shirt demonstrators camped around a stage in Bangkok's old quarter early Sunday, a considerably thinner crowd than the previous day when the group fought with Thai troops.

"I will stay until we win. I never thought that the government who claimed that they're legitimate would kill people like that. It shows that they're dictators," said Chinawat Haboonpad, 56, a Red Shirt supporter.

A video screen showed thousands of protesters at the Reds' other main rally site, in the Thai capital's main commercial district, which they have occupied for eight days in an attempt to pressure the government to resign.

Thai police said Sunday that 300 Red Shirts had also gathered near broadcaster Thaicom, which protesters briefly occupied Friday after the government pulled the plug on their People Television station.

The government imposed a state of emergency last week in a bid to quell the rallies, which have been taking place in Bangkok for nearly one month.

The Reds want immediate elections, arguing the government is illegitimate because it came to power with army backing through a parliamentary vote in December 2008 after a court decision ousted Thaksin's allies from power.