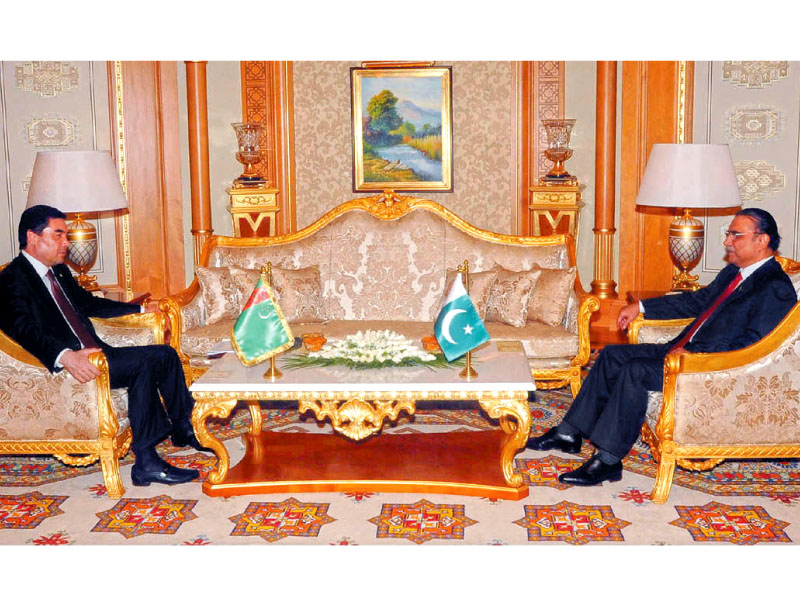 ---
ASHGABAT:



Jetting off to Turkmenistan, President Asif Ali Zardari on Wednesday said Pakistan has placed priority to the $7.6 billion Turkmenistan-Afghanistan-Pakistan-India (TAPI) gas pipeline project and shared Turkmenistan's resolve to see it implemented as early as possible.




President Zardari flew to the capital Ashgabat to join other world leaders to attend the Navroz festival. During a meeting with Turkmen President Dr Gurbanguly M Berdimuhamedov, President Zardari also discussed issues ranging from bilateral relations to promoting cooperation in energy and trade sectors. The president is being accompanied by Dr Asim Hussain and former ministers Hina Rabbani Khar and Rehman Malik during his two-day visit.

The Pakistani president told his Turkmen counterpart that his country could help meet Pakistan's growing energy requirements, while Pakistan could provide a trade corridor to Turkmenistan over land and through its sea ports.

Zardari meets Karzai

During a meeting Afghan President Hamid Karzai, President Zardari said bilateral relations between the neighbours were the most important component of its shared quest for peace and stability in the region. He added that Pakistan was fully committed to long term peace and stability in Afghanistan.

Referring to Pakistan's quest for peace in the region, he said the release of Taliban prisoners by Pakistan was done on the request of the Afghan High Peace Council. He said it was a demonstration of Pakistan's sincere support to the reconciliation efforts of the Afghan government.

Separately, President Zardari also met Tajikistan President Emomali Rahmonov where they both agreed on boosting economic and trade ties that would benefit both countries.

Reiterating his proposal of a Trilateral Transit and Trade Agreement between Afghanistan, Pakistan and Tajikistan, President Zardari said that such an arrangement would help boost the economies of all three countries.

Published in The Express Tribune, March 21st, 2013.