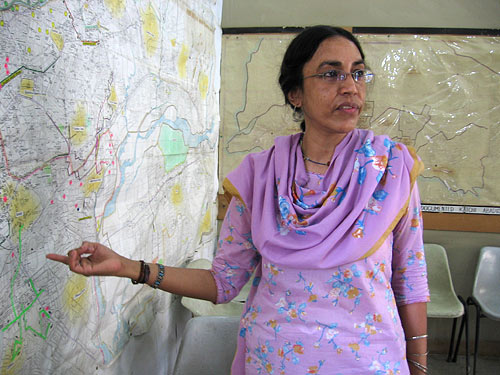 ---
KARACHI:



Parveen Rehman, a long-time director of the renowned Orangi Pilot Project (OPP), was gunned down in the Pakthunabad neighbourhood of Karachi on Wednesday.




Rehman was being driven back home when she was killed by armed men at the Qasba Mor point, according to the police.

"This seems to be a targeted attack. The killers had come on a motorcycle," said DIG West Javed Odho, adding that she was struck by two bullets, while her car received another three. He added that investigations were underway.

Bakht Nawab, a taxi driver, who witnessed the incident, told The Express Tribune that two men on a red motorcycle opened fire on Rehman's car near the Pashtun market on Manghopir road. Nawab added that the driver then drove the car towards Banaras Bridge.

The murder has shocked Rehman's colleagues who said she did not have any personal enmity and worked mostly on projects for the uplift of the poor areas.

While it remains unclear if Rehman or the OPP had received threats, some of her work might have supposedly irked some influential persons.

Besides working on the illegal occupation of land in and around Orangi, Qasba and Gadap, Rehman had also mapped out illegal water hydrants around the city.

According to one colleague, her work was related to the mapping of 2,173 villages, as well as the marking of around 8,000 illegal hydrants.

"She did research on land encroachment. She knew about politically-backed influential people who were selling the same plots to a number of individuals and making million out of such dirty deals," a colleague remarked.

The police said Rehman normally used the road via the Qaddafi Chowk to go home but on Wednesday, she took the Banaras bridge route.

A colleague recalled, "Around 7:10pm when I called her she warned me against taking the Banaras Bridge route due to deteriorating law and order as I was with a few foreigners." He added he did not understand why she took the same route herself.

Rehman never married and remained committed to her work. She lived with her mother in Gulstan-e-Johar.

"I can't believe this has happened," cried a colleague who had worked with Rehman for 26 years. 

Correction: An earlier version of this article had incorrectly spelled Orangi. The error is regretted.

Published in The Express Tribune, March 14th, 2013.