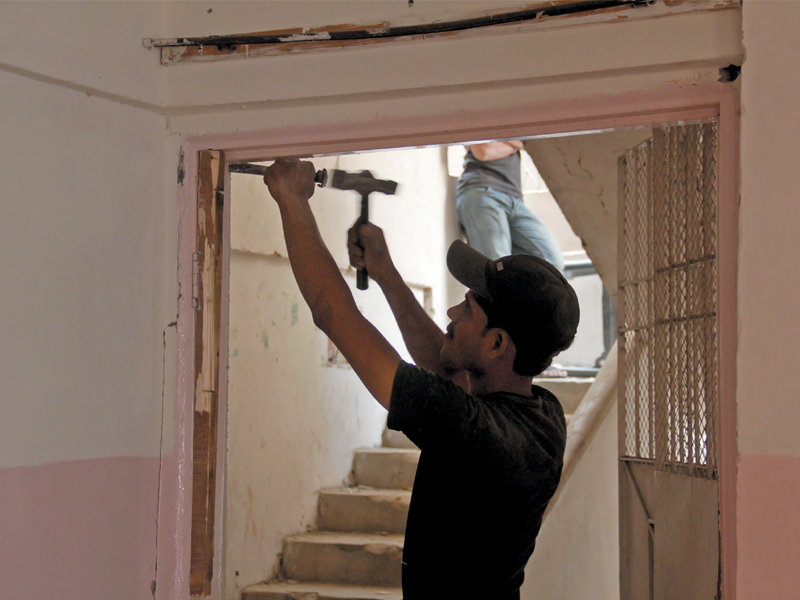 ---
KARACHI:



Without a hard hat over his head, Shakeel entered one of the buildings damaged by the Abbas Town blast and started wrenching out grilles jammed in piles of debris, fully aware that the building could collapse on him at any moment.




"Look at us! We're working with our bare hands. The roof can cave in at any time," he said angrily. He is one of the 200 labourers who on Monday began the task of demolishing the blocks of Iqra City and Rabia Flower Apartments that the Karachi Building Control Authority has declared unsafe for human occupation.

A five-member committee headed by Allama Talib Jauheri has been constituted by the provincial government to oversee the buildings' demolition. A total of 48 flats in Rabia Flower and Iqra City apartments were declared dangerous after the blast on March 3 which left at least 49 people dead. The apartments will be razed to the ground and new ones will be constructed in their place.

Manzoor Mehdi, an architect on the committee, said that the structures will have to be taken down without the use of heavy machinery. "We can't use bulldozers as other buildings are close to the ones to be taken down," he told The Express Tribune. He added that the task of tearing down and rebuilding the apartments would be a long and arduous one. "This will take up to ten months." He admitted that the buildings were in a bad shape as substandard material had been used.

The workers, however, have not been provided any safety equipment to protect themselves while they toil in the dangerous buildings. Rahim, a scrap dealer from Pehlwan Goth, said that his family had tried to stop him from going to the blast site. "What can we do? We have no choice. We have to earn." He added for a single day of work, he would be getting Rs300.

'We want to be relocated'

Roshan Ara, a resident of Block D of Iqra City apartments in Abbas Town woke up Monday morning to the sound of sledgehammers being pounded into concrete blocks.

Like many other residents of the building, she was caught unawares by the sudden flood of labourers venturing into neigbouring blocks which had been declared unsafe by the Karachi Building Control Authority following the blast. "My granddaughter has asthma and a dust allergy! She can't live here, in the middle of this enormous cloud of dust," she said.

Around 35 families living in the building behind the one to be torn down say that they feel as if their lives are in danger. Iftikhar Zahideen considers it a miracle that his two children remained unscathed as debris rained on them.  He wasn't as lucky though - a window frame from one of the unsafe structures came off and landed right on top of his head.

"Debris can also fall on our children? The blast has already weakened the structure of the building that we live in," he said angrily. "Who will guarantee our safety?"

Not even a minute's notice

The residents of neighbouring buildings aren't the only ones fuming at the sudden burst of activity. Nuzhat Arshad, a schoolteacher who lived inside one of the buildings to be torn down, said that she had no idea that the labourers would be rolling up their sleeves and hacking away at the building.

"I got a call from my neighbours that workers had entered my house." As she frantically punched the buttons on her mobile phone to inform her husband, she told The Express Tribune that she was staying at her sister's place. "The government has yet to provide us with any shelter. Some residents have been provided a roof over their heads by [non-governmental] organisations, but some of us are still living with our relatives."

Khursheed Alam also rushed to the spot after he found out that labourers had entered his apartment and were chucking things in the trash. "They should have told us beforehand that they were starting work!"

Published in The Express Tribune, March 12th, 2013.
COMMENTS (3)
Comments are moderated and generally will be posted if they are on-topic and not abusive.
For more information, please see our Comments FAQ