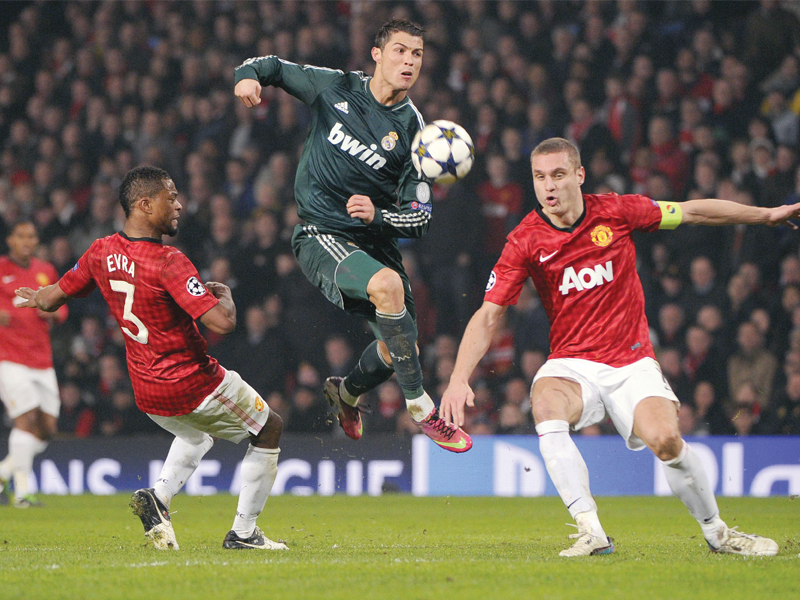 ---
MANCHESTER:



Cristiano Ronaldo dealt his former club Manchester United a cruel blow by scoring the goal that put Real Madrid into the Champions League quarter-finals after the hosts were left distraught by Nani's harsh dismissal.




The 56th-minute red card, shown for a dangerous challenge, was the turning point of the game as Real won 2-1 on the night and 3-2 on aggregate with goals from Luka Modric and Ronaldo after United had gone ahead thanks to a Sergio Ramos own goal.

United manager Alex Ferguson was so upset by Turkish referee Cuneyt Cakir's controversial decision that he sent assistant Mike Phelan to address a packed news conference.

"A great performance was marred by one decision," said Phelan. "Extremely disappointed, everyone wondering why it had happened. A distraught manager, that's why I'm sitting here."

Real coach Jose Mourinho had some sympathy for his opponents, saying that on another occasion it could have been a yellow card and United had actually been the better side.

"When you are talking about football at this level, playing with one man down for such a long time is going to have a big impact on the game," said the Portuguese. "In my opinion, the best team lost."

Triumphant return for Ronaldo

All the talk before the last 16, second-leg game had been about the return of former Old Trafford darling Ronaldo and when the teams were introduced the home fans gave the Portugal winger a rapturous ovation that carried on into the match.




"I did my job which was to help Real Madrid win and stay alive in the Champions League," said Ronaldo. "I am very happy for my team but it was a very strange feeling tonight and in the first-leg. I spent six years here and probably it will be the same if I ever go back to Real Madrid and play against them."

Dortmund secure last-eight berth

Borussia Dortmund booked their place in the Champions League's quarter-finals for the first time in 15 years with a 3-0 win at home to Shakhtar Donetsk in Tuesday's last 16, second leg tie.

Having drawn 2-2 in Ukraine three weeks ago in the first leg, Borussia go through 5-2 on aggregate as goals by Felipe Santana, Mario Goetze and Jakub 'Kuba' Blaszczykowski capped the German champions' dominant display.

Dortmund are in the last eight for the first time since 1998 when, as defending champions, they lost in the semi-finals.

"We knew we had a huge chance to reach the quarter-finals and we delivered a great performance," said goal-scorer Goetze. "Obviously scoring two goals in the first half gave us a lot of confidence."

Before his side crashed out at the hands of Real Madrid at home on Tuesday, Manchester United coach Alex Ferguson had tipped Dortmund to win the title, but Borussia coach Jurgen Klopp played down rising expectations on his side.

"There are still lots of strong teams in the competition," said Klopp. "We are just delighted with the result and I am proud of the team. This is an exceptional performance, the whole Champions League campaign has gone like clockwork and this was an unbelievable 90 minutes from us."

Dortmund can be joined in the last eight by Bundesliga rivals Schalke, who host Galatasaray, and Bayern Munich, who are home to Arsenal, next week.

Published in The Express Tribune, March 7th, 2013.
COMMENTS (1)
Comments are moderated and generally will be posted if they are on-topic and not abusive.
For more information, please see our Comments FAQ