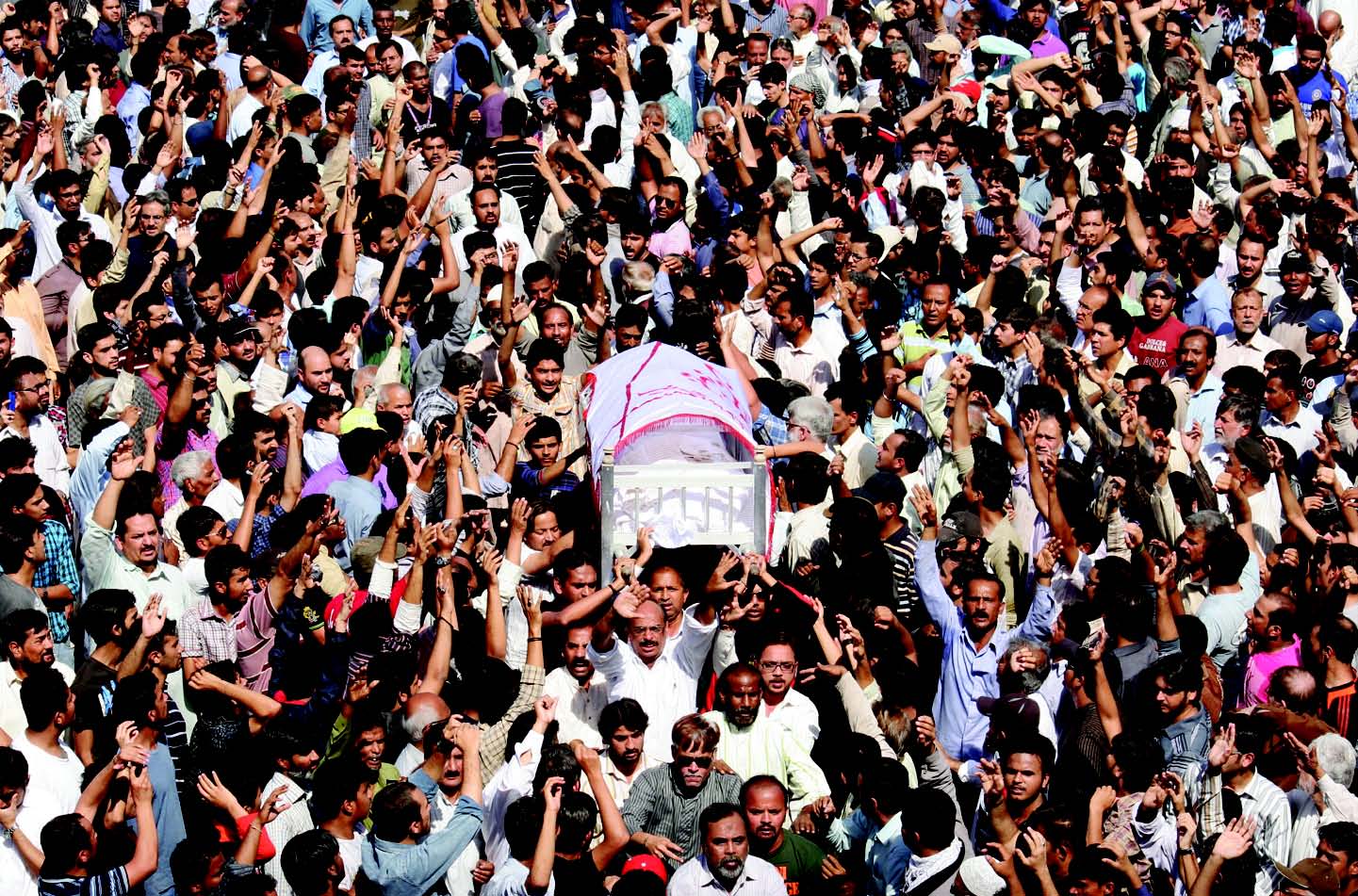 ---
KARACHI: At least 35 victims of the Abbas Town blast were laid to rest on Monday after their funeral prayers were offered in different parts of the city, including Sharae Pakistan, an imambargah in Ancholi and Numaish Chowrangi.

The biggest of them was the one at Sharae Pakistan, where thousands offered prayers for eight victims, including Muttahida Qaumi Movement worker Amir Zaidi, 10-year-old Baqar as well as Shanila and her son Hur Zeeshan.

After the funeral prayers, there was a procession to Wadi-e-Hussain graveyard where the victims were laid to rest. As they marched towards their final destination, they raised slogans against the incident and lashed out at the "apathetic" government and law enforcers for turning a blind eye towards sectarian violence.

"Sectarian attacks are occurring so regularly that it seems as if we are holding full-time jobs to protest and bury our slain relatives," Abbas Ali, one of the mourners told The Express Tribune. "Even though such a big tragedy has occurred, the law enforcers won't do anything."




While the lion's share of the people headed off to Wadi-e-Hussain graveyard, some people stayed behind and staged a sit-in at Sharae Pakistan. They also shouted slogans against religious scholars and leaders. "We don't need or want any religious scholars or leaders," said Aqila Bibi, a woman who attended the funeral. "We will lead the funeral prayers ourselves, not the Ulema."

The law enforcers kept their distance from the funeral processions and the participants themselves conducted security checks. "We're standing here to do our duties," said a law enforcer. "But if we start moving towards them to help them out, they start attacking us."

The funeral prayers of seven other victims were offered at the Shuhda-e-Karbala Imambargah in Ancholi. They were also buried at the Wadi-e-Hussain graveyard.

The prayers for two other victims, Mohammad Hussain and Ahmed Shah, were offered at Numaish Chowrangi.

Their bodies were later sent to Gilgit, their hometown. The bodies of two more people, Abdul Ghaffor who was visiting his relatives in Abbas Town and a butcher, Ahbab as well as an employee, Sattar, were sent to Abbottabad and Punjab respectively.

The funeral prayers of 18 people belonging to the Sunni sect were offered at Jamia Masjid Rabia Flower and Jamia Masjid Mustafa. Most of victims used to run their shops on the ground floor of the apartments. They were laid to rest in different graveyards.

Published in The Express Tribune, March 5th, 2013.
COMMENTS
Comments are moderated and generally will be posted if they are on-topic and not abusive.
For more information, please see our Comments FAQ