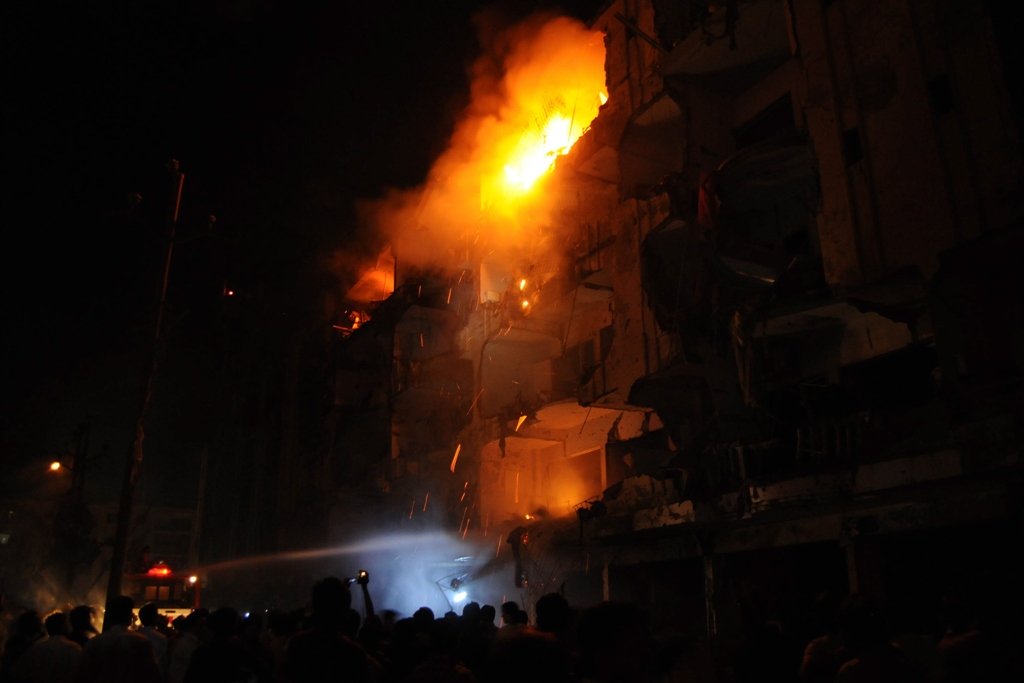 ---
KARACHI:



Raging fires on multi-storey apartment buildings, wailing ambulances, sobbing victims and scurrying rescuers – Abul Hassan Isphahani Road looked like a war zone, literally.




It looked as if warplanes have bombed the neighbourhood. Debris littered the roads and alleyways, blood was splattered all over as rescuers frantically sifted through the smouldering rubble to look for survivors.

As firemen made desperate efforts to douse the flames engulfing two apartment buildings – Iqra City and Rabia Flower – balconies of flats crumbled and collapsed, adding to the heaps of rubble on the road.

"The massive explosion shook the entire area," said a visibly shaken witness, Ali Reza. "Flats and nearby shops caught fire after the blast."

Two dozen flats in Iqra City and 19 in Rabia Flower were destroyed. Similarly, over 70 shops in the neighbourhood were no longer there.

A popular eatery, Akhtar Pakwan Centre, was also among the shops destroyed in Rabia Flower. At the time of the blast, its proprietor Akhtar Ali Zaidi was sitting outside his shop, while eight workers – all of them Sunnis, were busy cooking inside.




The blast was so powerful that the nine mutilated bodies were recovered from the ground floor of Rabia Flower, a resident said. "His brother, Safdar Ali Zaidi, broke into tears as he stumbled out of his car and saw the destruction," he added.

Amidst death and destruction, crying women and children dug through the rubble with bare hands to search for their loved-ones in the absence of required machinery.

"It's like doomsday to me. I saw people burning to death and crying with pain. I saw children lying in pools of their own blood and women running around shouting for their children and loved ones," said Mariam Bibi.

Edhi and Chhipa rescuers, aided by young residents, pulled out the bodies – some of them charred beyond recognition – from the rubble and shifted them to the city's hospitals.

The neighbourhood descended into utter chaos – police and paramilitary Rangers were nowhere to be seen. None of the senior officials of local administration and police visited the site – perhaps they feared a backlash reaction from the targeted community.

Later it transpired that most of the city's police force was deployed at Mohatta Palace to ensure a trouble-free engagement ceremony of Sindh's young politician Sharmila Farooqi.

It was also learnt that the Karachi police chief, Squadron Leader (retd) Iqbal Mehmood, was away -- holidaying with his family in Canada. Sources said Mehmood sent his family to Canada because he feels the city is not safe.

Three hours after the tragedy struck, explosives experts drove in to determine the nature of the blast. By the time vital evidence at the site might have been lost.

Ironically, it's the same Abbas Town where a bomb had exploded three-and-a-half months ago. Two people were killed and 18 injured when a bomb strapped to a motorcycle was detonated on November 18.

Published in The Express Tribune, March 4th, 2013.
COMMENTS (18)
Comments are moderated and generally will be posted if they are on-topic and not abusive.
For more information, please see our Comments FAQ