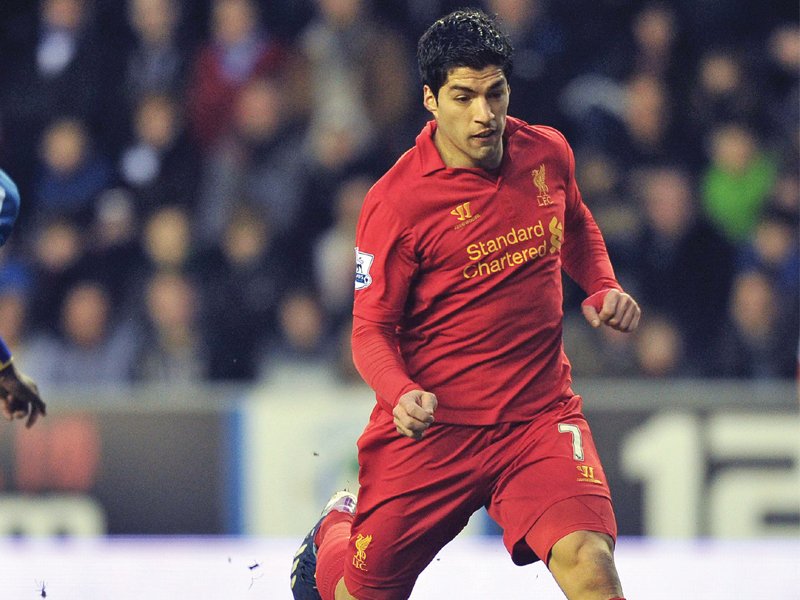 ---
WIGAN: Liverpool manager Brendan Rodgers believes in-form striker Luis Suarez should be named player of the year after the Uruguayan grabbed a hat-trick in the 4-0 win at Wigan.

Suarez took his Premier League goal tally for the season to 21 – and 28 in all competitions – as the Merseysiders moved into seventh spot in the table.

"For me there is not a better striker at the moment," said Rodgers. "He is clearly the player of the year for myself and for many people around the country. He is absolutely incredible. Forget about his quality, it is his hunger and desire.

"He never wants to have an easy day and every time he comes onto the pitch he produces stunning performances and gives his maximum.

"It was a brilliant hat-trick for him and a great day for the team: to get the goals and a clean sheet was terrific."

Rodgers added that he is unconcerned that Suarez may want to leave Anfield in the summer in search of Champions League football next season.




"There will always be interest in top players and he is a world class player. I speak regularly with Luis and I had a good meeting with his agent a few weeks ago who expressed how much he wants to be a part of things going forward. He has is a real affinity here with the players, he is a real leader within the group for us, the supporters adore him and I think he genuinely sees there is a bright future for us.

Three-goal Kagawa leaves Ferguson purring

Manchester United manager Alex Ferguson is relishing next week's visit of Real Madrid but is also looking forward to the next season and the impact that Shinji Kagawa can have on his team.

The Japanese midfielder scored a hat-trick in United's 4-0 victory over Norwich City, a result that opened up a 15-point gap over Manchester City at the top of the Premier League.

It also made the 23-year-old the first Asian player to score a hat-trick in the history of the English top flight.

"He's a good finisher," said Ferguson. "His second and third goals were terrific. He showed great intelligence for the second one, great composure, and the third was really well executed.

"He's gradually getting his form back because he missed a period of football when he was injured in October and November and it set him back a little bit.

"I think we will see a great player next year; a far, far better player."

Benitez tries to make peace after stormy week

Meanwhile Rafael Benitez tried to end his war with Chelsea's fans after the Blues interim manager ended a turbulent week by leading his side to a 1-0 victory at home to West Bromwich Albion.

"The atmosphere was good," he said. "I was pleased with the fans getting behind the team and the players played with more confidence. It was clear it was very positive.

"I will not talk too much about that but it was very good, very positive. They were behind the team. We were playing very good football."

Published in The Express Tribune, March 4th, 2013.