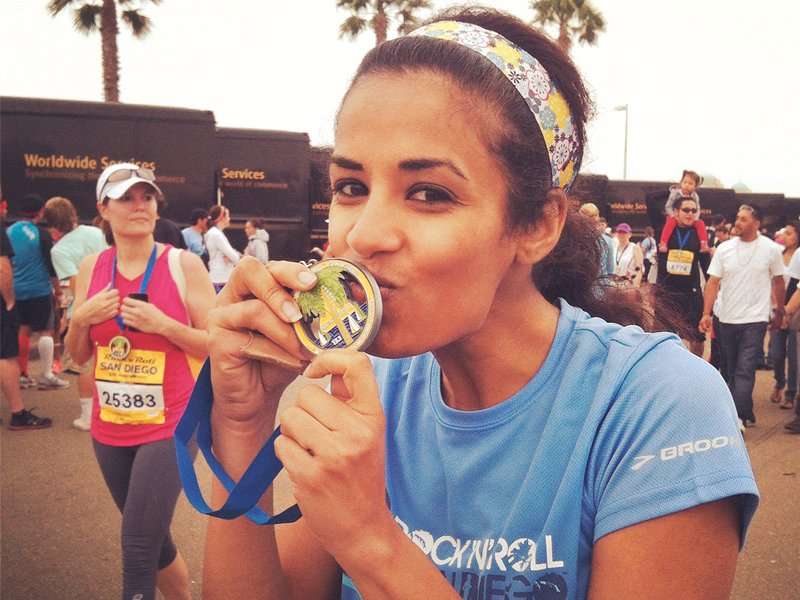 ---
When I set my mind to something, I do it. This is how it has always been. When I was nine years old, my family visited Disney World in Orlando, Florida, and I made sure I was in charge of the amusement park map. We had just three days to see every single attraction and so I systematically divided the Magic Kingdom into sections. This allowed us to visit each ride in the shortest possible amount of time.  Stopping to eat a churro, drink a lemonade, or use the bathroom would irritate me, because unscheduled stops meant I would have to reevaluate my strategy.  My family probably wanted to "lose" their militaristic daughter in the crowd somewhere, and pick up Mickey Mouse or Tinkerbell instead. But I achieved my goal.

Over time, I may have mellowed as a person, but I am still goal-oriented and passionate. And my latest passion is to do whatever it takes to help survivors of Domestic Violence (DV). For that, I did what I do best: I ran.

Why I run

Running, in itself, is therapeutic. Not only is it a great cardiovascular workout that strengthens and tones muscles, it's also mentally relaxing. On a rough day, when I put on my running shoes, I literally leave anxiety eating my dust.




In August 2009, I ran my first half marathon ever. To complete that distance of 13.1 miles was exhilarating and I knew I would have to sign up for another race.  Something I finally accomplished in June 2011.




In those moments of my life when the world seemed like it was crashing down on me from all directions, running gave me back my sense of control. It gave me a sense of peace. And there's no better place to run than San Francisco. The opportunity to run up and down rolling hills, jog through Golden Gate Park and meet the American Bison, to take in the view of the Golden Gate Bridge while running the Lands End trail near the ruins of the Sutro bath houses — exciting to say the least!




Perhaps most importantly, running teaches you that, with enough patience and determination, you can reach any goal.

Domestic Violence — Invisible scars

Studies show that DV affects one out of four women in the USA — a startling statistic that reminds us that each one of us, or someone we know, will likely experience domestic violence in their lifetime. Many of my close friends and family have suffered at the hands of people they have been in relationships with.

Domestic violence takes on many forms, including physical, sexual, financial, or emotional — all of these happen behind closed doors. And the scars are not always visible. This form of violence does not discriminate, and occurs among people of all races, ages, socioeconomic classes, religious affiliations, sexual orientations, occupations, and educational backgrounds.




Survivors are not weak

Survivors are some of the toughest people you will ever meet. Everyone is entitled to a peaceful home, but survivors are thrust into a war zone. Everyday they must learn how to cope with this situation. It is important to give survivors the tools they need to improve their situation and help them recognise the inner strength they possess, the choices that are available to them, and empower them to make the changes they need.

Running to end Domestic Violence

I work for an agency called WOMAN, Inc (Women Organised to Make Abuse Non-existent). As a woman, I believe that the cause of helping victims of DV needs to be supported by both men and women — by everyone who feels that DV is unfair and unjust. The agency I work for does just that, but it went through a financial crisis a couple of years back.  Determined to help, I pored over ideas which could effectively help generate a revenue stream and also raise awareness about the essential services we provide to survivors of domestic violence.  This marked the beginning of our campaign "Running to End Domestic Violence Quest". It allowed me to combine my passion for running with my fight to end violence against women.

In a span of six months, from June 3, 2012 through December 2, 2012, six half marathons were on the list for me.




The idea for this campaign began back in May 2012 and it has grown rapidly since then.  To keep supporters up to date, we partnered with Runway Junkie, an online marketplace where you can buy and sell women's designer clothing and accessories while supporting pro-women organisations. My blog entries on the website also allow supporters to follow me through the training runs and the competitions via photos and videos. Shortly after, the WOMAN, Inc Board Chair agreed to match the $5,000 raised in my campaign, which brought in a total of $10,000 for survivors of domestic violence. Now many like-minded groups in our locality have partnered and cooperated with our cause.




As 2012 ended, so did the "Running to End Domestic Violence" Campaign. My final race was run in Las Vegas, Nevada on December 2nd along with over 40,000 people who ran along the Las Vegas strip to support the cause. That night, messages of encouragement and congratulations were displayed to the runners in fluorescent lights along the running track. It was a thrilling sight and a wonderful way to end a campaign that raised around $4,000.

But the fight against DV is ongoing. In 2013, WOMAN, Inc has launched the "Moving to End Domestic Violence Wellness" Group. Open to all individuals, this group seeks to connect with the community, support healthy lifestyles, and provide people the support needed to overcome their physical challenges whilst also raising money for this great cause.

This agency's ultimate goal is to abolish domestic violence by promoting a violence-free society through advocacy, education, and public policy. Since 1978, the agency has been providing domestic violence survivors a 24-hour multilingual crisis line as well as other culturally sensitive support programs within the San Francisco Bay Area.

Empowerment — not just a buzz word

Empowerment — I first recognised this word as a student at San Francisco State University, pursuing my Master of Social Work degree. Empowerment is a buzz word used in the field of social services. And there is a reason why everyone uses it.

To empower survivors, it is important to meet them "where they're at." We must honour all survivors. This cannot be done by advocating for one model, or providing one solution to ending abuse. Instead, it is important to connect with the survivor who reaches out for help, and to learn how they envision their life improving, and what action they are choosing.

For me, running is symbolic. It gives me a sense of empowerment and allows me to connect with the survivors of DV. Through my own race to cross the finish line, I can identify with them, as they struggle to overcome all odds with their strength and resilience. That is why running is the most meaningful tool I can use to raise awareness against DV.

78 miles later…

I look back and I realise I have run over seventy-eight miles (excluding training runs). There were a few bumps along the way — one of them included spraining my ankle. But if anything, I helped a woman somewhere. I realised that violence must not be suffered in silence, that if she believes she is strong then no one can harm her, and she is empowered enough to protect herself. Even if one person got that message, my job is done. I would run hundreds of miles more for this.
To learn more about the quest, please visit http://wwwstayclassy.org/fundraise?fcid=200917

Published in The Express Tribune, Sunday Magazine, March 3rd, 2013.

Like Express Tribune Magazine on Facebook to stay informed and join the conversation.
COMMENTS
Comments are moderated and generally will be posted if they are on-topic and not abusive.
For more information, please see our Comments FAQ