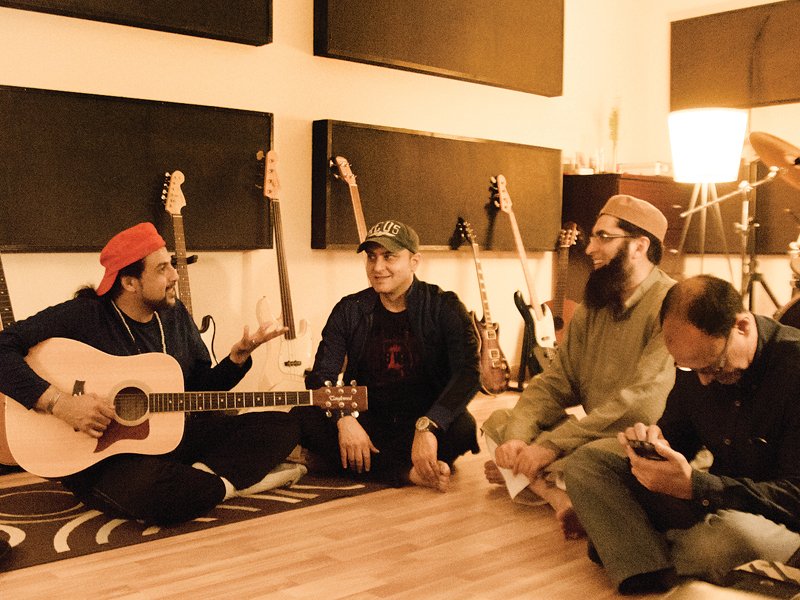 ---
KARACHI:

If the magical voice of Tina Sani, along with the melodic compositions of Arshad Mehmud, has made us fall in love with the poetry of Faiz Ahmed Faiz, Salman Ahmed's love for Allama Iqbal, with Ali Azmat's energetic vocals, have made the Pakistani youth connect with the Poet of the East. With Naya Pakistan, another Iqbal-inspired patriotic number, Salman has once again channeled his love for his country and the hope for a revolution.


Naya Pakistan is a collaboration between Junaid Jamshed (JJ) who is recognised for his soulful voice, Shahzad Hasan (Shahi), a renowned music producer and Nusrat Hussain, a multi-talented artist. With so many outstanding names associated with this song, expectations were high and fans of Pakistani pop music were anticipating a brilliant track. Sadly, it has not lived up to expectations. The song is upbeat, but it's not anywhere near as catchy as the best works of Junoon or Vital Signs.

It opens with a recitation of the word "Inshallah" by JJ, whose melodious voice gives one hope that the rest of the song will be beautiful. But what follows is a typically Junoon number that doesn't stay with a listener. Apart from Shahi's studio facility and JJ's vocals, there is nothing that brings a Vital Signs flavour to this track — something we were all looking forward to. On its own, the track is not a disappointment. However, if compared with the quality of work that Shahi's studio has been known to produce, Naya Pakistan does not make an impact.

It's evident that the song has something to do with Pakistan Tehreek-e-Insaf's (PTI) Naya Pakistan movement; the chorus, which uses the word Inshallah and the classic Junoon sound with the percussions, will make it an easy track to be played and sung at rallies and dharnas.

The collaboration takes you back to the good old days of the music industry when record labels actually helped artists; a time before Atif Aslam made his mark with Aadat and changed the course of the music industry; and a time when concert culture was rife and Bollywood had not killed the Pakistani rock star.

Naya Pakistan might not be as catchy or awe-inspiring as one had expected from these legends, but this collaboration gives us a reality check. A massive music industry like Bollywood might be banking on our vocal talent's commercial success, but gone are the days when our musicians created wholesome, good music. It is ironic that the old folks have made a comeback to promise us of a Naya Pakistan, whereas new age musicians are not even considering Pakistan as their prime market. The lords of Pakistani music dictated our melodies decades ago and are doing so even today.

While Naya Pakistan cannot be counted amongst the most memorable songs produced in recent times, the nostalgia associated with the heydays of Pakistani music has made it a must-listen for everyone. As Salman has pointed out in an email to The Express Tribune, "In just three days, [Naya Pakistan has] 25,000 Facebook shares globally and 100,000 plus hits and retweets. It's the single biggest Pakistani anthem in the history of Pakistani pop music without a Bollywood film, TV, music video, YouTube or corporate sponsorship to support it."

Published in The Express Tribune, February 27th, 2013.            

Like Life & Style on Facebook for the latest in fashion, gossip and entertainment.