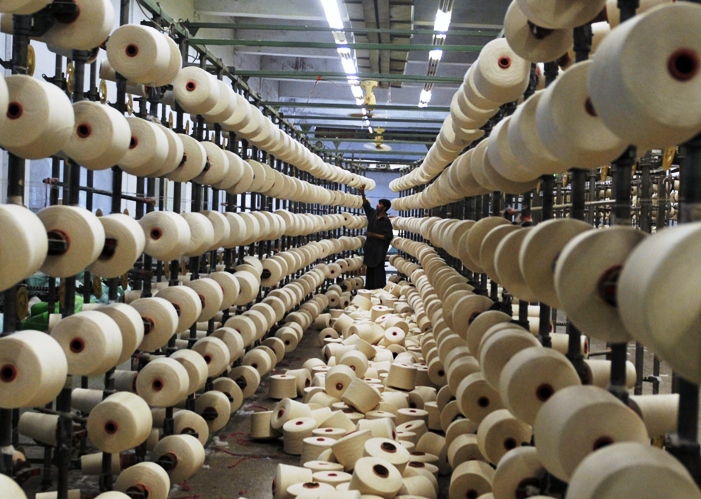 ---
LAHORE: Official statistics released by the Cotton Crop Assessment Committee a few days ago reveal that the cotton target has been missed by 1.3 million bales, due to which textile millers fear they will lose an additional $1 billion in exports in fiscal 2012-13.

"A drop of 1.3 million bales means we are about to lose a billion dollar worth of exports," said Shahzad Ali Khan, chairman of the All Pakistan Textile Mills Association, Punjab.

However, unlike Khan, other millers believe that the shortfall might not affect yarn production, as the import of raw cotton from India – expected to cross a million bales by the end of this year –will help the Pakistani textile industry meet its production targets. They are worried solely about the ongoing energy crisis, which has halted the production capacity of almost a third of textile industry,

For example, yarn manufacturers were prepared for the decline in the cotton yield for the current year. They were – and are – continuing to import raw cotton from India, which is cheaper than the cotton available in Pakistan. Millers think that India is the best available import market for them, which will help them meet annual targets already hit by the ongoing energy crisis.

Experts fear that if the trend of a decline in cotton yield persists, the ultimate beneficiary would be India; as China, the biggest international buyer of cotton yarn, has already moved to India to meet its annual demand of yarn.

However, Pakistani cotton is considered much better then India's. Pakistan's textile industry is efficient in coastal accounts – products made with thick threads of cotton fibre, which is used to make denims and bed sheets. On the other hand, India has an edge in final accounts – fabrics made with thinner threads – due to the different quality of cotton produced there. Indian cotton is used in making dopattas and sarees, among other things.

China has recently focused on India and Pakistan to buy low value-added textile product. This has benefited the Pakistani and Indian yarn industry, and the two political rivals have increasingly competed in this sphere in order to secure the maximum number of orders from China.

Published in The Express Tribune, February 22nd, 2013.

Like Business on Facebook to stay informed and join in the conversation.
COMMENTS
Comments are moderated and generally will be posted if they are on-topic and not abusive.
For more information, please see our Comments FAQ