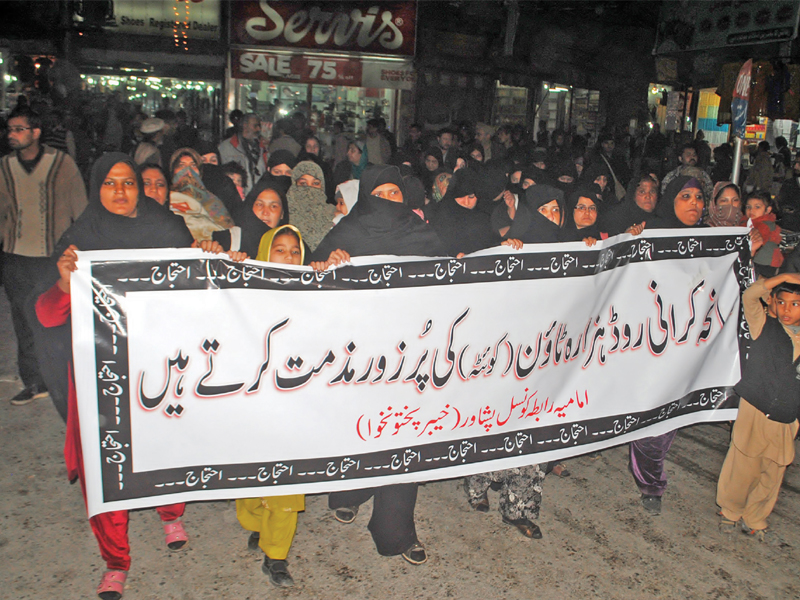 ---
PESHAWAR:



The Khyber-Pakhtunkhwa (K-P) government has declared a day of mourning today (Tuesday) in solidarity with the victims of the Quetta blast, that killed more than 80 Hazara Shias and injured nearly 180.




The information minister made the announcement at the 55th cabinet meeting, which was chaired by Chief Minister Amir Haider Khan Hoti.

The meeting coincided with another day of protest in Peshawar, as hundreds of people took to the streets to condemn the attack. The rally at Qissa Khwani included women and children, who chanted slogans against sectarian killings. The protest continued until late on Monday night.

The cabinet meeting also condemned the attack on Khyber Agency Political Agent Mutahir Zeb's office and terrorist acts in other parts of the country.

Cabinet matters

Information Minister Mian Iftikhar Hussain briefed the media at the Officers Mess about decisions taken at "perhaps the last meeting of the incumbent provincial cabinet."




He said the Awami National Party (ANP)-led government has prepared a rough draft on the caretaker setup, but has yet to convene a formal meeting with the opposition benches.

The minister said the Access to Information Act 2013 could not be forwarded to the K-P Assembly. "We are careful about the matter as so far no action has been taken by the federal government or other provinces on access to information," claimed the information minister. The act has been referred for further review by the cabinet, leaving slim chances of any progress on the bill.

However, Hussain said the cabinet had approved forming a censor board under the K-P Motion Picture Act 2013 and this will likely be tabled in the upcoming K-P assembly session.

Various compensation packages for victims of natural calamities were also approved. These include damages incurred as a result of power accidents or gas leakages.

The provincial cabinet also approved changes in the Aerial Firing Act 1988. A year's imprisonment or Rs30,000 has been made the maximum punishment, while one month's imprisonment or Rs10,000 is the minimum penalty.

Provincial ministers also worked out certain pending matters in wake of the 18th constitutional amendment.

On the performance of the five-year tenure of the cabinet, he said: "During this period, 55 meetings took place. The cabinet took 528 decisions out of which 502 were implemented and 20 decisions are in various phases of completion."

Published in The Express Tribune, February 19th, 2013.
COMMENTS (1)
Comments are moderated and generally will be posted if they are on-topic and not abusive.
For more information, please see our Comments FAQ