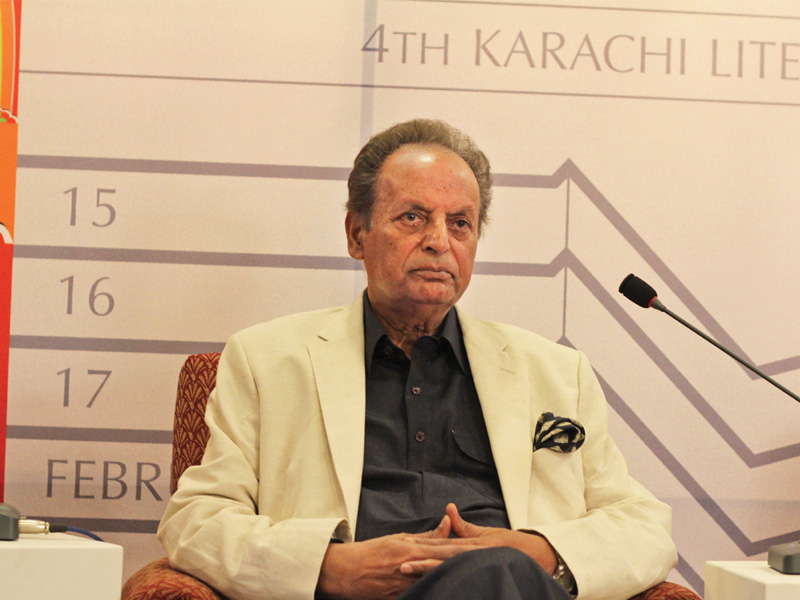 ---
KARACHI:



Laughter is guaranteed whenever someone new to it tries to say Mustansar Hussain Tarar in one go. And indeed, it was unavoidable that the age-old joke attached with Tarar saheb's name would kick off the conversation with him, titled 'Niklay teri Talash mein' on day one of the fourth Karachi Literature Festival on Friday.




The audience burst into laughter when someone announcing that the session would be an hour long fumbled over his name.




"I know many people who have read the Qur'an and Tarar saheb only," quipped writer and journalist Muhammad Hanif, the moderator before turning serious. "Most of his time is spent on the road or at the desk," he added while introducing the man who has been read by at least four generations.

"Some people started climbing mountains and some went to explore cities after reading Tarar saheb. He is a writer of writers," he went on to say before recounting an anectode: "A few days back, when I called Tarar saheb and asked what he was doing, I was angrily told: 'I'm doing what a writer does - writing,"

Tarar read a few passages from his new book, whose title he did not reveal.

"You can ask any question considered safe in Karachi," he remarked after the reading. "I want to go to Lahore safe and sound."

The audience was in fits of laughter again when Tarar saheb, who is deaf in one ear, was asked which ear he preferred. "Yeh meri sawabdeed par hota he, kabhi idhar wallah kam karta he aur kabhi udhar wallah." But then he went on to say that it was up to the audience to decide which one he was able to hear from.

When a few novels were discussed, he said: "We live in an abstract atmosphere, but I don't believe in novels written in an abstract ambiance. It is only possible to add details when you are familiar with the roads, rivers, oceans, nullahs, streets, trees, jungles, insects and what not of your country. I can't detach myself from my soil while writing."

He was asked what kind of writing he preferred - novels or travelogues. He picked the novel as it has more room for creativity.

"If you hadn't gone to Europe alone and had I not followed in your footsteps, my wife would not have been angry with me," complained an elderly audience member.

"Many of the begums, including my own, are angry with me," Tarar replied, referring to how he had travelled along to Europe himself while writing a travelogue in his youth. And then, implying that perhaps it was more fun if your better half were left behind, he said: "If you were going to the Marriott for a meal, you would not carry your tiffin with you now would you?"

Published in The Express Tribune, February 16th, 2013.