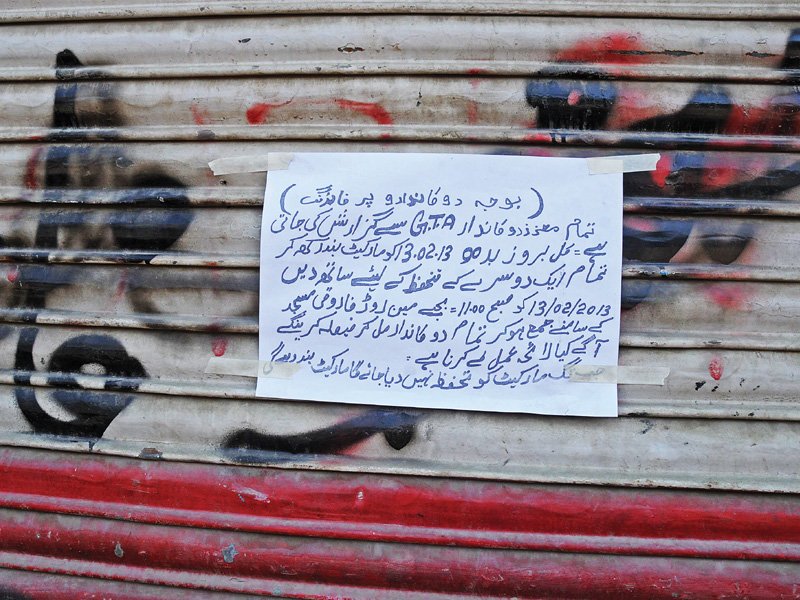 ---
KARACHI: Sanitary traders in Gulbahar protested on Wednesday the killings of their colleagues allegedly because they refused to close their shop during a policeman's funeral.

Two sanitary shopkeepers, Idress Qurban and Malik Niaz, were shot dead and three others, Hatim, Wajid and Haji Nizamuddin, were wounded in Gulbahar, within the jurisdiction of Rizvia police station on Tuesday. The two men had refused to close their shop for the funeral of a police head constable, Mukhtiar Ali, who was killed on Monday night in the Ali Basti area of Gulbahar. This angered the mourners and they allegedly shot them.

Filled with anger, the traders of the sanitary market, which is one of the largest sanitary markets in the country, gathered on the main road and blocked traffic from Lasbella Chowk to Golimar Chowrangi.

They also torched several tyres and shouted slogans against the authorities for losing its grip on law and order.

The shopkeepers justified their actions by saying that they are fed up of the ongoing target killings. "Target killings are happening every day and then one or the other group is always coming to close our shops in mourning," a shopkeeper, Muhammad Amir, told The Express Tribune. "We are facing millions of rupees in losses. The situation has become so bad that we are struggling to put together two meals a day."




"The only reason why those shopkeepers were killed was because they refused to close their business during the funeral," pointed out a shopkeeper Munir. "For how long will our people get killed and we will be forced to shut down our businesses for them?"

Meanwhile, the funeral prayers of the deceased traders were offered in North Nazimabad and Korangi and they were buried in their local graveyards.

The police and Rangers also sprang into action and conducted a targeted operation in Rizvia Society, Golimar and the surrounding neighbourhoods.

They managed to make some arrests as well. The suspects were relocated to an undisclosed location for further questioning.

There are some developments in the investigations into the traders' killings, but DSP Rustam Khattak told The Express Tribune that they could not share the details with the media. The police have registered the case against unidentified men.

Published in The Express Tribune, February 14th, 2013.
COMMENTS
Comments are moderated and generally will be posted if they are on-topic and not abusive.
For more information, please see our Comments FAQ