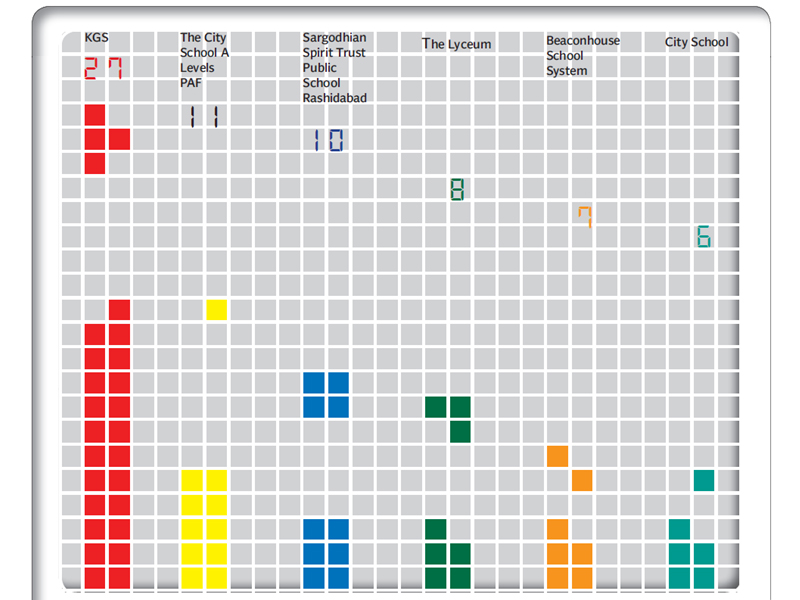 ---
KARACHI: A boarding school in Tando Allahyar has accomplished what few would have wagered. It has beaten well known schools in Karachi to come right under Karachi Grammar School by bagging the third highest number of awards in the Cambridge exams.

Ten students from Sargodhian Spirit Trust Public School located in Rashidabad have scored the highest marks in Pakistan and Sindh in the O' Level exams. It comes under The City School's A' Level PAF chapter with 11 awards and KGS with 27 awards, the highest.

Each year the Cambridge International Examinations unit issues a list of outstanding students who scored the highest marks in any one subject (such as History) or the best in eight subjects, in the world, their country or city. For the June 2012 examinations, these awards will go to a total of 95 students in Sindh, 13 of which made it to top in the world. The remaining 82 have either topped in Pakistan or in the province.

"I am proud to have heard this news and want to congratulate my boys for their extraordinary achievements," said Sarghodian principal, Abdul Mujeeb. "These results would not have been possible without the facilities and environment provided by the school which coincided with the hard work of student and total dedication of the teachers."

The teachers and principal were expecting that sort of achievement and were not surprised at all, added Fahmeed Quddus, the examinations in-charge, while talking to The Express Tribune.

Indeed, there was surprise in Karachi as well.

"Are you sure it's in the world?" asked Humera Mustafa, headmistress at the Beaconhouse School System's Gulshan campus at least twice when The Express Tribune contacted. Her student, Muhammad Jazib Zafar, beat everyone in the world in the History A' Level exam. Once it sunk in, she described Jazib as quite passionate about history. "He is currently perusing his ACCA and we wish him all the best in his future endeavours," she said.

Alisha Sethi of The Lyceum topped in the world in A' Level Sociology. Interestingly, she had switched from natural science subjects in her O' Levels to social sciences in the A' Levels. "Not many students with a science background venture into the world of social sciences," said The Lyceum's director of studies, Scheherazade Asdar Ahmad. "This shows the depth in Alisha's thought and the ability to pursue her endeavours in the best possible way."




Many schools will be holding individual awards ceremonies to celebrate these achievements. These outstanding results will be recognised by employers and universities around the world as proof of academic excellence, said Uzma Yousuf Zaka, who is the relationships and communication country manager for the Cambridge International Examinations.

"Around 35 Pakistani students achieved the highest marks in the world and 46 more students attained the highest marks in Pakistan in a single subject," she said. In Pakistan, over 260 students will receive awards for an exceptional performance in the Cambridge examinations.

The awards also celebrate the achievements of those learners who have been recognised for 'High Achievement' based on outstanding performance in subjects which are not yet so widely taken in Pakistan. The winning learners out-performed thousands of candidates worldwide who sat examinations in the Cambridge IGCSE, Cambridge O' Level, Cambridge International AS and A' Levels.

William Bickerdike, the regional manager for the Middle East, North Africa and Pakistan said: "I am very proud to congratulate learners across Pakistan on their outstanding results in the Cambridge examinations. It is encouraging to acknowledge the high standards of education offered by schools across the country reflected through these exceptional results. These achievements are a credit to the partnerships which Cambridge has established with schools and demonstrate the dedication and commitment of teachers, support provided by families and friends, and learners' determination and passion to succeed. This success defines them not just as learners, but as Cambridge learners. I wish them every success in their future."

Generation's School: 4

Karachi High School: 4

St Michael's Convent School: 3

Bai Virbaiji Soparivala Parsi High School: 3

St Patrick's High School: 2

Nixor College: 2

Army Public School 'O' Levels Karachi: 2

C.A.S. School: 2

Jinnah University College: 1

Karachi Public School: 1

St Francis's Grammar School Quetta: 1

St Joseph's Convent School: 1

AES – School For Girls Karachi: 1

Bay View High School: 1

Convent of Jesus and Mary Karachi: 1

Foundation Public School O Levels: 1

Froebel Education Centre: 1

Published in The Express Tribune, February 14th, 2013.
COMMENTS (26)
Comments are moderated and generally will be posted if they are on-topic and not abusive.
For more information, please see our Comments FAQ