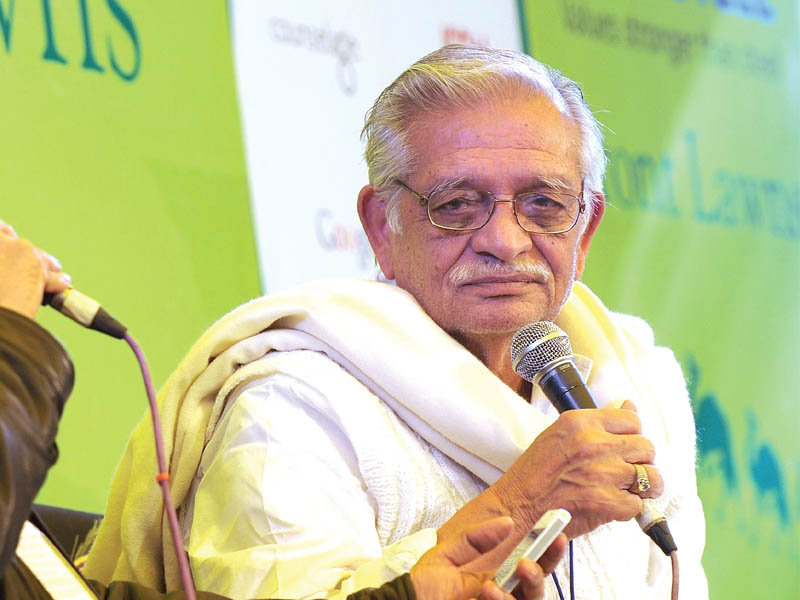 ---
KARACHI: Oxford University Press (OUP) confirmed that Indian poet Gulzar, along with director Vishal Bhardwaj, have gone back to India soon after crossing over into Pakistan through the border at Wagah.

"Regretfully, Gulzar returned to India via Wagah border today. It is a great loss for his readers and admirers in Pakistan," Managing Director of OUP Ameena Saiyid told The Express Tribune via email.

Saiyid added that she did not have any direct information about a security threat. "I was taken by surprise by his sudden unplanned departure. I was getting ready to receive him at the Karachi airport tomorrow when I heard that he has returned to India."

Syed Ahmed Shah, one of the organisers of the Karachi Literature Festival, confirmed Gulzar had pulled out – just two days before the start of the event.

"We can't say about the reasons and circumstances that led to his return home without attending the festival," Shah told AFP.

Gulzar returned over security fears?

Interior Minister Rehman Malik refuted the notion that Gulzar was deported saying the poet returned to India on his own. Malik in a tweet from his official account insisted that instead of having anything to do with his return, he had arranged for the poet's security.

"Mr.Gulzar left for India on his own. He had valid visa. He is not deported. I had arranged fool proof security in Karachi but [he] did not visit there."

In a subsequent tweet, Malik suggested that Gulzar was returning due to security fears, having been "misled" by a USA based friend about a possible attack in Karachi.

"I attended the matter of Mr. Gulzar personally. His friend from USA had called him and misinformed him that he might be attacked in Karachi."

He added that he had personally tended to security of the poet, even directing security officers to meet with Gulzar and assure him of security.

"Pakistan security officers spoke to Gulzar under my directions and assured him full security in Karachi but he left despite assurances."

Indian mission denies political pressures

The Indian High Commission, when contacted by The Express Tribune, however denied involvement in sending Gulzar back.

First Secretary Press and Information of Indian High Commission Janardan Singh said that Gulzar's visit was private and they were not aware of his itinerary. He refuted media reports which suggested that Gulzar was sent back to India by the high commission.

Bhardwaj told NDTV that their return from Pakistan was not due to political reasons.

He said that Gulzar was emotionally overwhelmed after visiting his birthplace in Dina after 70 years, and had to be escorted back to India immediately. The trip was made to record a song for his new film 'Dedh Ishqia' but the recording was cancelled as well, he added.

"There is nothing political about it. We plan to visit Pakistan again for recording as soon as Gulzar Saab feels better," Bhardwaj was further quoted as saying.

But a Pakistani film director who met Gulzar during his visit, told AFP on condition of anonymity that he left the country "because of some security concerns".

Gulzar was scheduled to read from his poetry as well as take part in discussion groups and Shah said his absence would disappoint millions of admirers in Pakistan.

"Pakistan had welcomed him with great warmth and zeal two days ago as he is hugely popular as well in our country," Shah said.

"His arrival was a great confidence building measure between the two neighbours and had boosted morale of the people living across the border for a better future relationship."

Earlier during the day, media reports suggested that Gulzar was sent back to India from Wagah border due to certain "security concerns".

The festival will be attended by more than 200 literary luminaries from Pakistan and overseas. The event is free-of-charge and will run all day long from 10am to 7pm over a three-day period from February 15 to February 17.

British-Pakistani novelist Nadeem Aslam will be the keynote speaker at the inaugural session of the festival.
COMMENTS (64)
Comments are moderated and generally will be posted if they are on-topic and not abusive.
For more information, please see our Comments FAQ