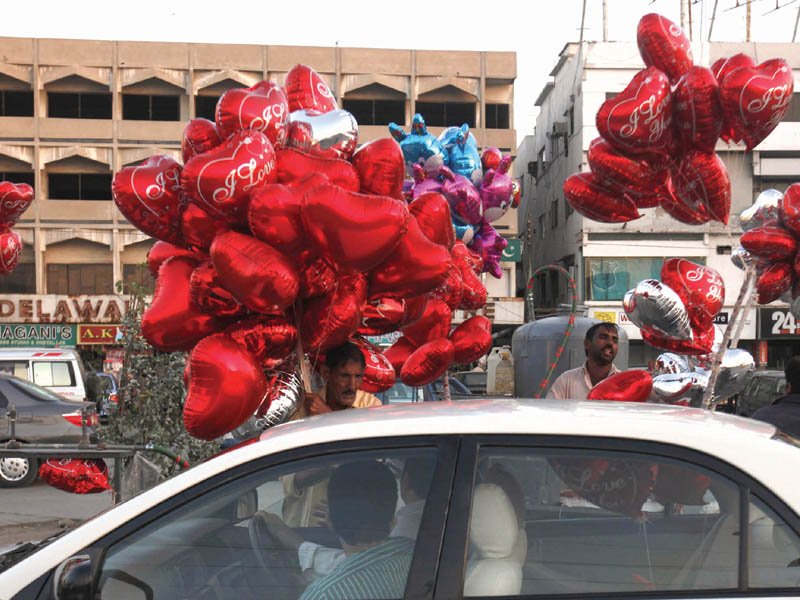 ---
ISLAMABAD:



It's the time of year when Cupid sprinkles confetti, lovers meet and the world is wrapped in overwhelmingly red decorations. It is also that time of year when card manufactures, chocolatiers and florists make a killing! As the contagious spirit of love and giving increases, so does the price for making your loved one happy. The Express Tribune compiled a list of things you can do for your special one within Rs1,500.


While the lure of cute little teddy bears, glittery red hearts and chocolate boxes might pull you in, it's time to step away from the yawn-factor and do something different.

For her:




Cupcakes and cookies

Mint To Be, a place that makes personalised cakes in Islamabad, has something special in store for people in love this Valentine's Day. A number of exclusive goodies are available; from red velvet cookies (Rs125) to tiny metallic mailboxes filled with five assorted cake pops (Rs1,000 a box).
And that's not all. A take-away box with ribbon handles filled with six red velvet cupcakes cookies or five cupcakes for Rs1,000, metallic pails filled with six cookies again for Rs1,000, mugs filled with either red velvet or chocolate fudge cake (Rs1,000) and white roses with Red Velvet cake (Rs3,000) are other options.

Ottoman Turkish jewellery

Ottoman Jewels brings authentic Turkish ornaments to Pakistan, which include precious and semi-precious stones in silver and bronze; hand-made mosaic lamps and other Turkish handicrafts are also available.

Give her a bracelet with the Tughra (Ottoman signature) inscribed into bronze and encircled with zircons around it for Rs950 — this signature was used by the sultans to add that extra factor of royalty. Or gift her a brown leather bracelet with emerald and ruby stones studded in the front for Rs1,100.

For Rs1,200, a necklace with a whirling dervish made on a bronze pendant is also available and if you spend a little more (Rs1,450), you can get your hands on an evil-eye pendant made of authentic 925 silver. The Nazar Boncuk charm (or Evil Eye Bead) is an "eye", often set on a blue background. It stares back at the world to ward off the evil spirits and keep you safe from harm.

Pampering voucher

[email protected] in F8 offers a range of services for Valentine's Day as well. With a Rs1,500-voucher, girls can get a whitening facial, hairstyling, blow dry, express manicure and pedicure, eye make-up, hot oil treatment, shoulder massage and protein treatment and look great for this special day.

Pashmina scarves

If she is into traditional gift items, then a nice Pashmina scarf is an ideal present for her. Maharaja in F6 Super Market has a wide range of Pashmina scarves with traditional prints and patterns in all colours and costs upto Rs1,500.

Shoes and accessories

Haroons Gift Shop in F6 Super Market has a wide range of trendy shoes, bags and accessories all under Rs1,500. One can mix and match and pick up a pair of shoes up to Rs1,000 with a bracelet or pendant for Rs595 as well.

For him:

T-shirts

Guys can never get enough. As summer approaches, a good gift for Valentine's could be a nice t-shirt for him. Good places to pick one up in Islamabad would be Levis or Breakout, which would cost up to Rs1,500 or maybe less.

Customised zippo

A good gift for a smokin' boyfriend could be a customised zippo from Shams or illusions F6. A wide range of zippos with different patterns are available at the special zippo counter in Shams and Illusions in F-6 Super Market.

Go-karting ticket

If he is adventurous and loves outdoor activities, then a go-karting ticket at Lake View Park Rawal Dam would be an ideal. A single ride costs Rs2,000 but if two tickets are purchased, a discount can be availed with one ticket costing around Rs1,500.

Play Station games

A wide range of new games are now available in Illusions and Famous Toys F-6 and Spiral in F11 Markaz. Play Station 3 games can start from Rs300 and go up to Rs1,000. Good games right now for Xbox include Call of Duty, Dead Space 3, City of Gangsters and Halo4.

Wallet

Leather wallets available at Traditions in F7 Jinnah Super Market are a good pick for Valentine 's Day. Pure leather wallets are available in black, grey and brown for up to Rs1,500. Other leather items in this range are also available, such as key chains and dairy covers.

Other Options Online

Okay, so if you don't want to step out of your home or office to buy something special for someone, then use the following websites:

www.tohfay.com: Tohfay has a special tab for Valentine's gifts, including chocolates, candles, oil burners, accessories, gift hampers and clothing.

www.emarkaz.com: Emarkaz delivers anywhere in Pakistan, and their gift list includes flowers, cakes, handy crafts, perfumes, and stuffed toys.

www.sentimentsexpress.com: TCS Sentiments Express is one of the oldest personalised gift delivery service. Their options include floral arrangements, sweets, cakes and numerous gifts.

Published in The Express Tribune, February 13th, 2013.            

Like Life & Style on Facebook for the latest in fashion, gossip and entertainment.
COMMENTS (6)
Comments are moderated and generally will be posted if they are on-topic and not abusive.
For more information, please see our Comments FAQ