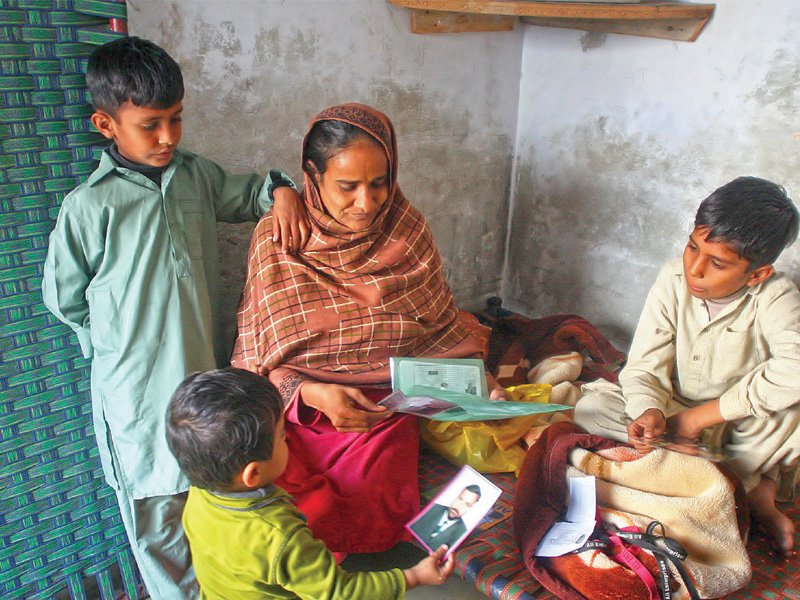 ---
KARACHI: Tired of waiting for the remains of their loved ones to be identified, families of this subset of Baldia fire victims have agreed to the government's proposal to hold a mass burial for charred corpses that are lying at Edhi morgue.

"I have been waiting to get my son's body for months, and now they tell me that I won't be able to get it," said Muhammad Rauf, whose 18-year-old son, Muhammad Haris, was among the victims.

On Wednesday, Sindh Health Minister Sagheer Ahmed had announced that a mass burial of the 17 charred bodies that are lying at the Edhi morgue would be held on Sunday. The minister's statement was lambasted by trade unionists during a press conference on Thursday.

The unionists, as well as activists, of various human rights organisations demanded that the independent commission formed by the Sindh High Court, headed by former Supreme Court judge Rehmat Hussain Jaffery, should be made responsible for disbursing all compensation among the victims' families.

Speaking on the occasion, National Trade Union Federation's Nasir Mansoor said that 22 families had received the bodies of their loved ones, and they should be immediately compensated. He claimed that around 262 workers had lost their lives in the ill-fated Ali Enterprises factory, and that 17 unidentified bodies were still lying in Edhi morgue. Officials have yet to compensate around 59 families, he added.

Tying compensation with mass burial

On the one hand, some relatives of the Baldia fire victims are being tormented by the knowledge that they would never be able to look at their loved ones for a last time. On the other hand, they know that they stand a chance of getting financial compensation offered by the government and other private organisations if they agree to the mass burial.




Until this point, these families faced a dilemma, as they did not have any documentary proof that their relatives had died in the fire. This, in turn, had essentially disqualified them from getting any kind of compensation.

Nazia, whose husband, Riaz Ahmad, died in the inferno, said that she and relatives of other unidentified victims had met MPA Hanif Sheikh on Thursday. The lawmaker had assured them that they would be given the death certificates of their loved ones after the mass burial. "What choice did we have except to say yes. If I had received my husband's body and had looked at him for the last time, it would have given me [closure]."

Imran, who lost his brother and sister-in-law in the fire, said that he didn't trust the government to hand out compensation to all the remaining families, even after the mass burial. "We ran from pillar to post for their bodies, but got nowhere. The same thing is likely to happen with the government's promise to give compensation." He feared that authorities were likely to pose questions over the "real" heirs of the victims when it came to giving compensation.

Human rights activists said that it was shameful for the government to be unable to identify the remaining victims of the inferno. Asad Butt of the Human Rights Commission of Pakistan said that the bodies should not be buried until each one of them had been identified. "Even [medieval] bodies can be identified these days. What is the government's excuse for not being able to [identify bodies of Baldia fire victims] and hand them over to their families," he asked.

Karamat Ali of the Pakistan Institute of Labour Education and Research said that the government should have sent the DNA samples abroad for identification. Meanwhile, a spokesperson of the Edhi Foundation, Anwar Kazmi, said that authorities had yet to contact the philanthropic organisation over the mass burial.

Published in The Express Tribune, February 8th, 2013.
COMMENTS
Comments are moderated and generally will be posted if they are on-topic and not abusive.
For more information, please see our Comments FAQ