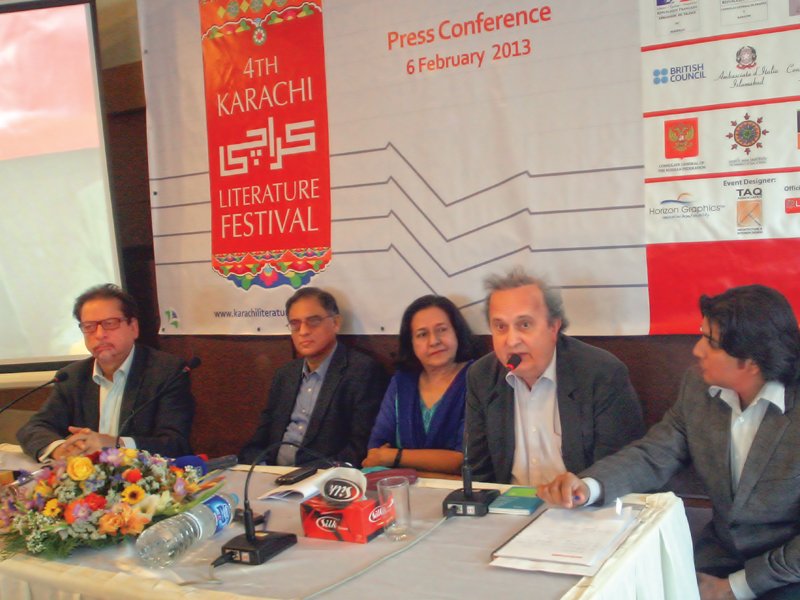 ---
KARACHI: If you yearn to be face-to-face with the man of magical words, Gulzar, come to the Beach Luxury Hotel next Friday because the poet will be attending the fourth Karachi Literature Festival (KLF).

It is not only Gulzar's enchanting words that will make you drag yourself to the festival, but more than 200 literary luminaries from Pakistan and overseas are waiting to mesmerise you. British-Pakistani writer Nadeem Aslam will also be launching his fourth novel 'The Blind Man's Garden'.

As usual, the event is free-of-charge and will run all day long from 10am to 7pm over a three-day period from February 15 to February 17, announced the festival founders, Ameena Saiyid, who is Oxford University Press (OUP) managing director, and Asif Farrukhi, a literary critic and fiction writer, at a crowded press conference at Arts Council of Pakistan on Wednesday.

Saiyid termed the festival as "a milestone on the cultural landscape of Karachi and a reflection of Pakistan's historical roots."

Goethe Institut director Dr Manuel Negwer termed the festival as a "marvellous introduction of Pakistani society" and highlighted his contribution by bringing two German novelists, Silke Scheuermann and Yassin Musharbash.




For the very first time, three Russian writers, VY Belokrenitsky, Sergey Kamenev and Andrey Demidov, will grace the festival along with their colleagues from France, Italy and Palestine.

Arts Council of Pakistan president Ahmed Shah highlighted the transformation of OUP's "wilayati" [foreign] outlook into a rather "desi" [local] one with special efforts to bridge the gap between English and regional languages. Shah pledged the entire Arts Council premises for the OUP to host their festival next year.

Novelist Nadeem Aslam and poet Gulzar will be the keynote speakers at the inaugural session of the festival. The closing speech will be delivered by the British politician and journalist, George Galloway.

The opening day will hold readings and conversations with Gulzar, Shobhaa De, Nadeem Aslam, and Mustansar Hussain Tarar. In one of the sessions, Tehmina Durrani will be in conversation with the Italian author, Lorenza Raponi, who has written the book 'Half of Two Paisas'. The chief guests of this session will be Abdul Sattar Edhi and Bilquis Edhi on whose extraordinary mission the book is based.

Day two of the festival will have a session on Pakistani cinema, social satire, popular TV dramas, readings from Intizar Husain's fiction, 'Manto Rama'- a play by Sheema Kermani, and a mushaira.

Highlights of the third day will include dramatic reading from Intizar Husain's 'Paani kay Qaidi' by Sheema Kermani and group, Jugul Bandi by Gulzar and Vishal Bhardwaj, a session on folk music and theatre with Ila Arun, and readings by Zia Mohyeddin.

Many Urdu poets and authors will be participating in the fourth KLF, including Amjad Islam Amjad, Intizar Husain, Zehra Nigah, IftikharArif, Fahmida Riaz, Kishwar Naheed, Fatema Hassan, Azra Abbas, Imdad Hussaini, Sahar Ansari, Anwar Masood, and Shamim Hanfi.

Another unique feature of this year's KLF will be the 'Poetry Bazaar' where promising poets would be able to read out their work to an audience of poetry lovers as well as well-known poets. Similarly, the 'Writers Club' will help young aspiring writers to overcome mental blocks, learn techniques of scene, drama, dialogue through workshops.

For the very first time, a Children's Literature Festival will also be held simultaneously. It will feature talks and readings by children's writers, creative writing workshops and competitions, poetry readings, children's theatre by Gripps and Thespianz, and puppet shows. An interesting session on 'The Art of Book Making' will provide children with a hands-on experience of writing a manuscript to marketing and selling a book.

Published in The Express Tribune, February 7th, 2013.

Correction: An earlier version of this story erroneously stated that the festival will run from February 16 to February 17. The error has been fixed.  
COMMENTS (2)
Comments are moderated and generally will be posted if they are on-topic and not abusive.
For more information, please see our Comments FAQ