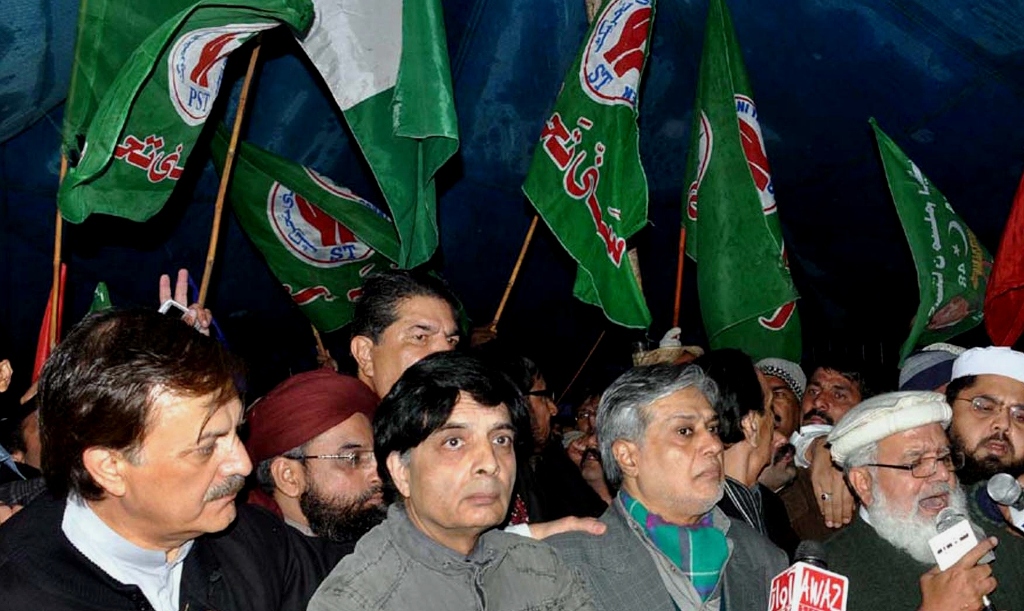 ---
ISLAMABAD:



Members of several opposition parties, led by PML-N leaders, marched from Parliament House to offices of the Election Commission of Pakistan (ECP) on Monday, while throwing their weight behind the commission to carry out fresh delimitation of constituencies in Karachi.




"We express our full and unequivocal confidence in the present Election Commission of Pakistan, which has been constituted unanimously in accordance with the constitution," said a memorandum submitted by the parties to Chief Election Commissioner Justice (retd) Fakhruddin G Ebrahim.

The march, which culminated at ECP's offices, began at the Parliament House, where participants staged a sit-in and held flags and banners inscribed with slogans such as "fake electoral rolls not acceptable" and "pre-poll rigging not acceptable".

A seven-member delegation of opposition parties demanded the implementation of the Supreme Court's orders, pertaining to delimitation and voters' verification in Karachi.

"We strongly condemn the mala fide efforts of extra-constitutional and non-political forces to make the ECP controversial, with a view to delaying the forthcoming general elections and creating hindrances in the proper performance of its duties," said the memorandum, signed by PML-N, PML (Like-minded), PML-Functional, Jamaat-e-Islami (JI), Jamiat Ulema-e-Pakistan, Jamhori Watan Party, Awami Tehreek Sindh, Sunni Tehreek, Sindh United Party, Pakhtoonkhwa Awami Milli Party, National Peoples Party and JUI-F.




Monday's march brought a number of leaders and workers of opposition parties together. However, poor weather conditions disrupted the scheduled plan of the march. The venue was heavily policed to thwart any untoward incident. Earlier, there were reports that the sit-in had been cancelled or postponed due to weather conditions. But the reports were later clarified by PML-N.

Interestingly, no party chief was seen at the march, even though the memorandum was signed by JUI-F chief Maulana Fazlur Rahman. Addressing the participants' Leader of the Opposition Chaudhry Nisar Ali Khan said the protest was a continuation of a recent sit-in in Karachi for the completion of the voters' verification process.

Meanwhile, JI leader Liaquat Baloch said the 'rulers' were struggling to delay the upcoming polls.

"Conspiracies are being hatched to make the ECP powerless," said Baloch, adding that the opposition and ECP will hold a meeting on February 6 to discuss the issues mentioned in the memorandum.

Other demands by the opposition include the resignation of governors and the transfer of all high-level officers in the federal and provincial government as soon as the caretaker set-up is put in place. They also demanded that the leaders of the opposition in the provincial assemblies of the Sindh and Balochistan be appointed without further delay.

Published in The Express Tribune, February 5th, 2013.
COMMENTS (1)
Comments are moderated and generally will be posted if they are on-topic and not abusive.
For more information, please see our Comments FAQ