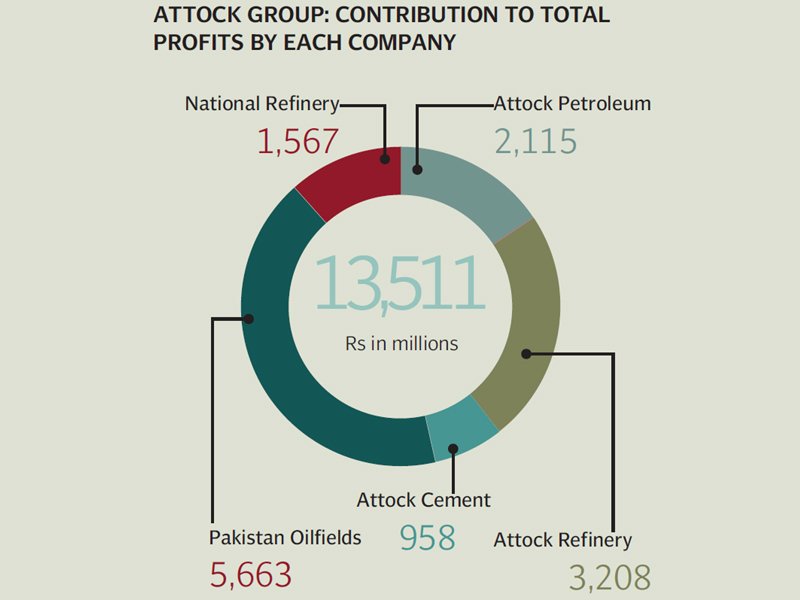 ---
KARACHI:



The Attock group companies posted their profit and loss statements on Monday, which were approved by the Attock board. Below are snapshots of individual company results.




Attock Petroleum

Attock Petroleum's net profits for the first half of fiscal 2013 (1HFY13) clocked in at Rs2.155 billion, lower by 3% if compared to the same period of the preceding year. Although the company's sales in terms of volumes were almost flat, higher product prices drove a 5% growth in net revenues during 1HFY13. And even though gross profits were higher by 17% in absolute terms on the back of inventory gains, higher operating expenses (up a staggering 114%) and higher financial charges (up 35%) diluted net profit.

On a sequential quarter-on-quarter (QoQ) basis, the company posted a 33% decline in profits to Rs864 million. The company's net sales were higher by 14% over the preceding quarter, but the company's gross profits took a significant hit (down 37%) – possibly due to inventory losses and a fall in asphalt margins, says an analyst note released by Topline Securities.

The company also seems to be getting sucked into the circular debt cesspool, with trade debts swelling by 48% to Rs22.74 billion in 1HFY13, against Rs15.35 billion in 1HFY12. At the same time, its payables have surged by 50% to Rs26.48 billion in the quarter under review.

Pakistan Oilfields

Pakistan Oilfields' profits were 8% lower by the end of 1HFY13, if compared to earnings in 1HFY13. The decline in profitability during 1HFY13 may be attributed to a notable decline in hydrocarbon production, significantly higher exploration charges (4.4 times higher) and lower dividend income from National Refinery and Attock Petroleum, says an analyst note issued by BMA Capital. Nonetheless, it announced an interim dividend of Rs20 per share, higher than market speculations.

On a year-on-year (YoY) basis, analysts estimate that production for Pakistan Oilfields is lower by 6% on the back of lower oil production from the Pindori and Pariwali fields, which are nearing maturity, and stagnant international oil prices.

Moreover, the 444% increase in the company's exploration expenses has hit profits. The increased exploration expense is on account of higher seismic activity, as the company did not book any dry well, says a Topline Securities analyst note.

However, the company's profits were an encouraging 21% higher in the October-December quarter over the preceding quarter. On a sequential QoQ basis, revenues increased by 7% to Rs7.098 billion on the back of enhanced production  from the Makori East field in the last 15 days of the quarter.

Attock Cement

Attock Cement's profits almost doubled to Rs958 million in 1HFY13, as compared to only Rs503 million in 1HFY12. The company has also announced a Rs3 per share dividend.

In the period, the company recorded net sales higher by around 14% YoY. An analyst note released by Shajar Capital says the uptick in profitability was a direct result of record expansion in gross margin, which posted a growth of 6.1 percentage points YoY to settle at 31% in 1HFY13.

"The hefty improvement in margins was likely on the back of better efficiency metrics amid lower transportation costs and low cost coal inventory," added the note. "Similarly, the operating profitability of the company improved by around 48% YoY."

Attock Refinery

Attock Refinery also announced its 1HFY13 profits, which are up by an impressive 38% from 1HFY12. The company has also announced an interim cash dividend of Rs2.5 per share with the results.

A Topline Securities analyst note says the growth in earnings stems primarily from better refinery operations, thanks to higher gross refining margins compared to last year. The company's refinery operations alone contributed 67.5% to total profits, improving by a massive 79%.

"Moreover, thanks to higher cash generation, the company's other income increased by an impressive 50% owing to higher return on bank deposits," added the note.

However, earnings from non-refinery operations in the same period remained almost flat compared to last year.

National Refinery

National Refinery's topline posted a modest growth of 4.44% in 1HFY13 over the same period of the preceding year. However, its cost of sales also climbed 4.7%, restricting its gross profit to clock in below what the company earned in the previous year.

The company's net profit also fell to Rs1.567 billion, as compared to Rs1.585 billion in 1HFY12. Although the company recorded lower distribution expenses and other operation expenses, its administrative expenses were higher and other income was lower, thereby restricting any gains during the year.

Published in The Express Tribune, January 29th, 2013.

Like Business on Facebook to stay informed and join in the conversation.
COMMENTS (1)
Comments are moderated and generally will be posted if they are on-topic and not abusive.
For more information, please see our Comments FAQ