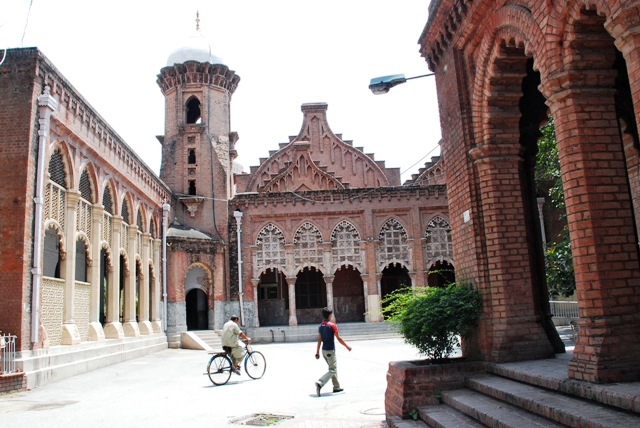 ---
LAHORE:



Justice Nasir Saeed Sheikh of the Lahore High Court on Tuesday berated SSP (Investigation) Babar Bakht Qureshi for being unable to arrest the perpetrators of a vicious mugging, but left the courtroom before completing his written order.




SSP Qureshi appeared before the court as it conducted proceedings on a bail petition filed by Amir Sheikh, the owner of a mobile phone shop where the victim's stolen phone ended up.

According to the FIR registered by Shahdara police, Robina Naz was walking past a school on the roadside when two men on a motorbike drove up from behind her and struck her, leaving her with fractures to both legs.

They stole her bag containing a mobile phone, Rs25,000 in cash and 5 tolas of gold jewellery. The complaint was lodged by Rizwan Akhtar Rana, the victim's brother. The accused were not identified.

The SSP told the court that the police had been trying to identify the attackers, but had been unable to get anywhere due to a lack of evidence. He said that neither the victim nor witnesses to the incident had gotten a good enough look at the suspects to be able to build sketches.

The judge reacted angrily and declared the SSP not fit for his uniform. "What would you have done if this had happened to your own daughter?" he said, adding that the SSP had failed in his duty.

"The constitution has decorated you with stars on you shoulders and you are wearing this uniform for supremacy of the rule of law. I am going to write to the Establishment Division that you do not deserve this uniform."

Justice Sheikh then began dictating his order to the stenographer, first sketching out the contents of the FIR. He said that feeling dissatisfied with Investigation Officer ASI Azad Khan, he had ordered that the matter be dealt with by a more senior officer. SSP Qureshi, a Police Service of Pakistan officer of grade 19, was then tasked with the matter.

At this point, at around 9.40am, the judge stopped dictating the order and said he would dictate the rest after joining the full bench hearing the president's dual offices case, as the chief justice awaited him in his chambers. That case was to begin at 10am.

However, the full bench proceedings continued till 1:30pm and Justice Sheikh's court staff relisted all cases for another day.

The police initially arrested Muhammad Malik in the case, as he had been in possession of the stolen phone. Malik told the police that he had purchased the phone from the store of Amir Sheikh, who later applied for and was granted pre-arrest bail.

Published in The Express Tribune, January 23rd, 2013. 
COMMENTS
Comments are moderated and generally will be posted if they are on-topic and not abusive.
For more information, please see our Comments FAQ