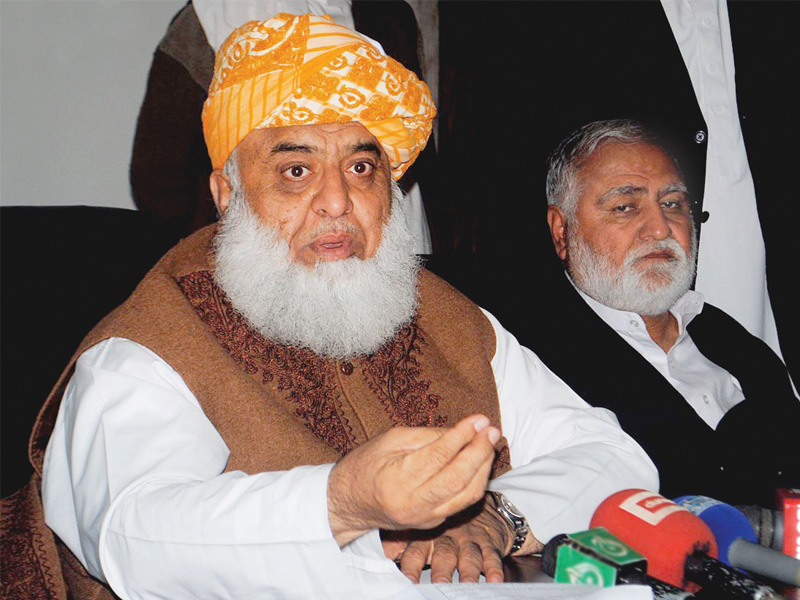 ---
LAHORE:



Chief of his own faction, Jamiat Ulema-e-Islam-Fazl (JUI-F), Maulana Fazlur Rehman said on Thursday that granting Most Favoured Nation (MFN) status to India could be stuck in the doldrums, if unrest along the Line of Control (LoC) exacerbates.




Speaking to the media at a South Asia Free Media Association (Safma) function, Fazl said that the unrest along the de-facto border should be resolved through dialogue, as the people of Kashmir have benefitted immensely from the ceasefire.

"It is clear that we want better relations with all neighbouring countries, including India, and prefer dialogue over war," he said.

Fazl said that South Asia benefits from good relations between India and Pakistan.

Fazl was of the opinion, however, that Pakistan can face problems if it signs a trade agreement with India, as the regional giant can blackmail Pakistan by building dams and stop the flow of water from rivers towards the neighbour.

On Dr Tahirul Qadri

Responding to questions regarding Minhaj-ul-Quran International (MQI) chief Dr Tahirul Qadri's sit-in in Islamabad, Fazl said that such protests only create unrest.




The JUI-F chief said that Dr Qadri's intentions are not clear: even though he wants to hold dialogue with President Zardari, he has termed him a "former president".

Fazl added that the government should not repeat the Lal Masjid incident, and deal with the protesters through peaceful means.

"JUI-F had organised protests of about 1.5 million participants and have the ability to organise similar processions in Islamabad too," he said.

Fazl said that if Dr Qadri believes in the powers of the courts, he should press for court reforms, instead of giving the impression that the army and the courts are supporting him.

He wondered why the MQI chief was directing his demands to a government that is going to be dissolved within the next few months. He said such a movement should have been initiated two years back or when the National Reconciliation Order was introduced.

Published in The Express Tribune, January 18th, 2013.
COMMENTS (8)
Comments are moderated and generally will be posted if they are on-topic and not abusive.
For more information, please see our Comments FAQ