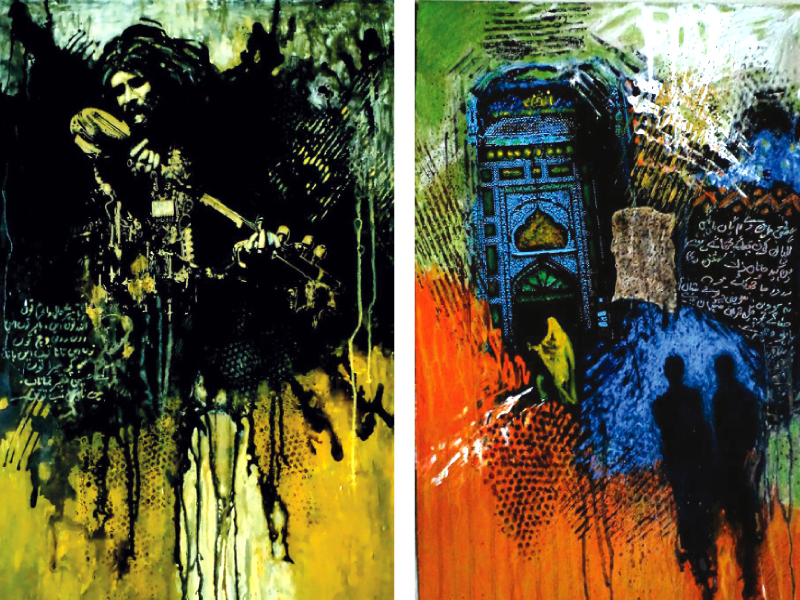 ---
ISLAMABAD:



With self-taught artist Arjumand Awan there is never a dull moment. Every year the artist raises the bar as he strives to experiment and portray something new. His latest exhibition "Bus Tu," which was inaugurated on Thursday, at the Nomad Gallery proves his versatility yet again.




Recipient of a gold medal in 1994, the Islamabad-based artist has predominantly worked to promote human rights through his art. However, he his ninth solo exhibition focuses on the relationship between God and man. "Bas Tu" is a depiction of how Sufisim thrives in each person's soul. "I strongly believe in the connection between man and Allah, at the end of the day we all have to return to Him," stated Awan. Indeed, his present work consisting of some 20 pieces may be abstract, but still manage to strike a chord with the soul's aura of spirituality and mysticism.




The artist incorporates Bulleh Shah's poetry in the background of his paintings. PHOTO: EXPRESS

Working with layers and collage mixed media, the artist incorporates Bulleh Shah's poetry in the background of his paintings. Be it a mystic lost in the tunes of his sitar as he sits in front of a shrine, or a whirling dervish, or even a lonely woman who warms herself by a fire away from the crowd that gathers there, the artist explores various ways humans connect with their Creator. "Everyone has their own way of connecting to God, some pray, some dance, we never know which one is right so who are we to judge?" said the artist.

He uses darker and deeper tones of red, rust, orange, green, while black dominates his canvas in a lot of his paintungs. For Awan these colours resonate with his personality; "These are generally my favorite colours in the palette, however I also feel these colours are connected with spirituality, he explained. If we look at Sufis, they generally surround themselves with black and green."

Although over the years Awan has experimented with a variety of techniques, be it abstract or impressionistic, for him this exhibition is a depiction of a journey that is very personal. "The work is decorative but at the same time it's extremely personal."

The exhibition will continue till January 31.

Published in The Express Tribune, January 18th, 2013.