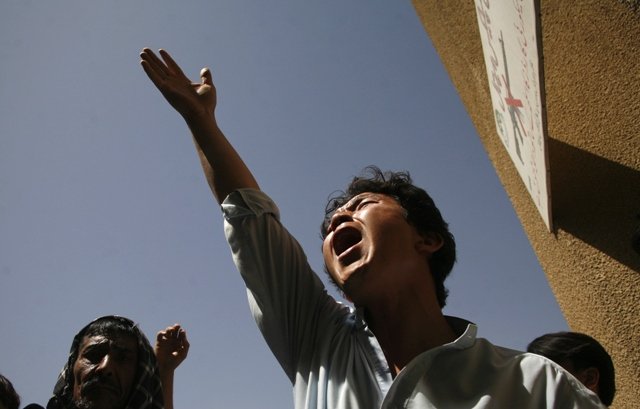 ---


The Hazaras in Quetta want to bury their dead – but they can't, because of the inflexibility of the government and the state in providing relief to a community which has been systematically targeted for a few years now.




The Hazaras, who are Shias and are distinguishable due to their features, have been a target for terrorist forces that want to eliminate them for political and religious-ideological reasons. Some political leaders have spoken about 'foreign hands' being behind the recent violence in Quetta. Such perceptions reflect a certain amount of cunningness and naivety; because the source of violence is in Balochistan itself. It has been a year or more since proscribed organisations like Lashkar-e-Jhangvi (LeJ) and Lashkar-e-Taiba (LeT)/Jamaatud Daawa (JuD) have been gathering in the province. They are collecting money and even recruiting people from their bases in Punjab, Sindh and Khyber-Pakthunkhwa for Balochistan. There are several explanations for this, varying from global, to geo-political, to domestic national security.




The LeT/JuD network does not adopt the same tone as some Deobandi militant groups, but the fact remains that it has not withdrawn a fatwa condemning Shias to death. A significant dimension of the LeJ ideology, on the other hand, is specifically against Shias. Many believe that the Hazara killings are an extension of the old Iran-Saudi cold war. LeJ leader Malik Ishaq was recently given a stockpile of money during his visit to Saudi Arabia. There are some who would like to discourage the economic benefits Iran reaps from Shia pilgrimages to holy places in the country. The pilgrims include many from Pakistan, especially the Hazaras. Some of Pakistani 'hotshot' analysts considered close to the GHQ have also written about Hazaras getting money from Iran as a possible reason for being targeted. There is a deep-set suspicion of Iran in Pakistan's security establishment, which dates back to the confrontation over Afghanistan and the Taliban.

However, the Iran-Saudi Arabia cold war dates back to the early 1980s and has resulted in targeted killing of both Sunni and Shias, but specifically mass killing of Shias in Pakistan. It may not necessarily explain the recent hike in violence against Hazaras which is both an inadvertent and deliberate byproduct of the presence of LeT/JuD and SSP/LeJ networks in the province. But the ganging up of militants in Balochistan has certainly increased this Hazara-Shia violence. It is also ominous in many ways, such as for relations between the Hazara and Baloch communities. Moreover, it could also be a precursor of military intervention in the province as the Hazaras are currently demanding. This will generate its own set of violence against Baloch nationalists, and thus draw the wedge between the two communities even deeper.

The only way out is for the government to stop acting blind and cold-hearted, and to investigate these killings. The matter has gone too far for the government to sell the story of its helplessness. It must either stand and be counted or leave the show.

Published in The Express Tribune, January 14th, 2013.
COMMENTS (12)
Comments are moderated and generally will be posted if they are on-topic and not abusive.
For more information, please see our Comments FAQ