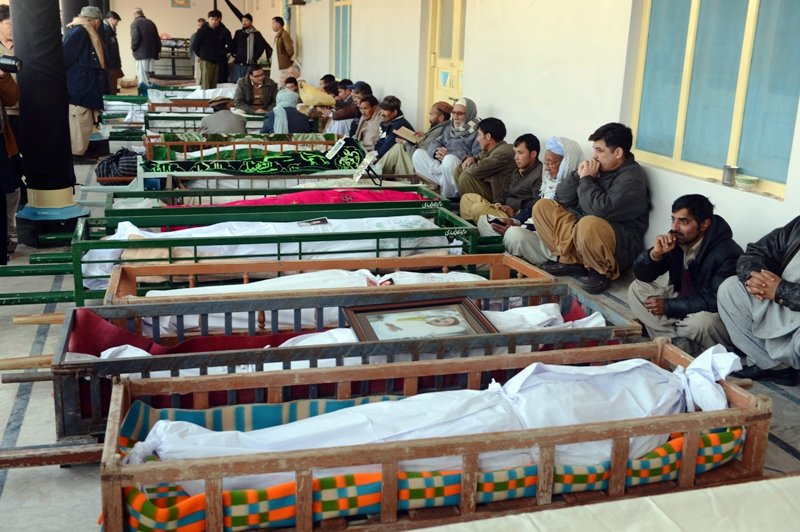 ---
NEW YORK: The government's persistent failure to protect the minority Shia community from sectarian attacks by Sunni militant groups, is reprehensible and amounts to complicity in the barbaric slaughter of Pakistani citizens, Human Rights Watch said Thursday.

"The government should immediately hold accountable those responsible for ordering and participating in deadly attacks targeting the Shia across Pakistan and particularly the Hazara Shia in Quetta, the capital of Balochistan province."

On January 10, at least 4 bomb attacks took place in Quetta killing over 90 and injuring well over 150 people.

Those killed included at least 8 police personnel and one journalist.

"2012 was the bloodiest year for Pakistan's Shia community in living memory and if this latest attack is any indication, 2013 has started on an even more dismal note," said Ali Dayan Hasan, Pakistan director at Human Rights Watch.

"As Shia community members continue to be slaughtered in cold blood, the callousness and indifference of authorities offers a damning indictment of the state, its military and security agencies."

In 2012, well over 400 members of the Shia population were killed in targeted attacks. Over 120 of these were killed in Balochistan province, the vast majority from the Hazara Shia community.

Similar attacks targeting the Shia population have taken place repeatedly over the last year in Balochistan, Karachi, predominantly Shia populated areas of Gilgit Baltistan in the northern areas, and in Pakistan's tribal areas, Human Rights Watch said.

"Pakistan's tolerance for religious extremists is not just destroying lives and alienating entire communities, it is destroying Pakistani society across the board," said Hasan. "Sectarian violence won't end until those responsible are brought to trial and justice."

Human Rights Watch urged the federal government and relevant provincial governments to make all possible efforts to promptly apprehend and prosecute those responsible for recent attacks and other crimes targeting the Shia population.
COMMENTS (11)
Comments are moderated and generally will be posted if they are on-topic and not abusive.
For more information, please see our Comments FAQ