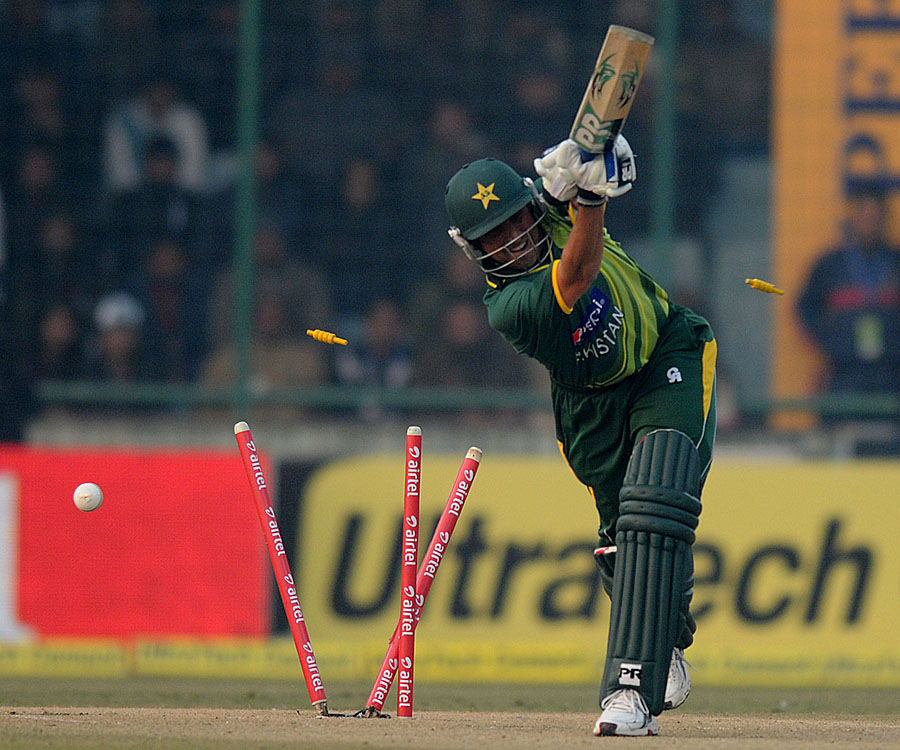 ---
NEW DELHI: Pakistan lost the third  One Day International (ODI) against India by 10 runs in New Delhi on Sunday, but managed to seal its victory in the series by winning the first two matches.

In the first inning, Pakistan had successfully managed to restrict India to a score of 167 leaving a very easy target to chase. However in the second inning, India bowled well and did not let Pakistan score many runs. Pakistan were all out in the 48th over after scoring 157 runs.

Pakistan had lost its early wicket in the third over but then did not lose any wicket till the 20th over. The wickets started falling quickly after the 35th over. By the end of the 48th over, Pakistan had lost nine wickets and needed 23 runs off 12 balls with Mohammad Irfan and Mohammad Hafeez on the crease.

Team Green have already sealed its victory in the series by winning the second match by 85 runs in Kolkata.

The India tour, the first by Pakistan since 2007, began with two Twenty20 internationals with each won by both the teams.

2nd inning - Pakistan's batting

After 40 overs

Pakistan's Umar Akmal and Misbahul Haq managed to stay on the crease till the 34th overs, however, Misbah was caught out in the 35th over, followed by Shoaib Malik in the 37th over and Umar Akmal in the 40th over.

After 40 overs, Pakistan stood at 125 runs at a loss of six wickets.

Misbah scored 39 runs off 82 balls, Malik scored five off 13 balls and Umar Akmal 25 off 50 balls.

Pakistan required 43 runs off 60 balls to win the match.

After 21 overs

Pakistan played slow and steady in the second inning of the third ODI against India in New Delhi and scored 68 runs at the loss of three wickets by the end of the 21st over.

Pakistan had lost its first wicket early when opener Kamran Akmal got caught Leg Behind Wicket on duck in the third over. The second wicket was taken in the 7th over when B Kumar bowled out Younis Khan after he made just six runs.

Nasir Jamshed and Misbahul Haq managed to stay on the pitch till the 20th over, when Jamshed was caught Leg Behind Wicket by Ashwin in the 21st over. Jamshed had scored 34 runs off 64 balls.

1st inning - India's batting

Thanks to Saeed Ajmal's incredible spins, India managed to only score a total of 167 runs at the end of 44 overs, giving Pakistan an easy target.

With his bowling, India  lost three more wickets by the end of 40 overs and stood at 150 runs at the loss of eight wickets.

In the 38th over, Saeed Ajmal's doosra got his third wicket and sent home India's Kumar. With 12 overs remaining, India has 141 runs at the loss of eight wickets. Team blue hit 15 boundaries by the end of the over, with 10 fours and 5 sixes.

Dhoni was sent off the field by Umar Akmal and Umar Gul in the 35th over. India stood at 131 for seven at the end of the over.

Pakistani spinner Saeed Ajmal sent Raina off the field and on the very next ball, Ashwin in the 29th over. At the end of the over, India stood at 111 runs at the loss of six wickets.

After 20 overs

At the 20th over India stood at 74 runs at the loss of four wickets in the third ODI against Pakistan on Sunday in New Delhi.

AM Rahane was caught behind by Kamran Akmal on Muhammad Irfan's delivery during the fourth over.

The 8th and the 9th over consecutively saw two wickets fall. Gambhir went back to the pavilion after being caught out by Umar Akmal on Irfan's slow-paced delivery. He managed to score 15 runs.

During the 9th over, Kohli was caught at second-slip by Younis Khan during seamer Junaid Khan's over.

After making 23 runs, Yuvraj Singh was bowled by Muhammad Hafeez during the 15th over.

Pakistan: Nasir Jamshed, Mohammad Hafeez, Younis Khan, Misbah-ul-Haq, Shoaib Malik, Umar Akmal, Kamran Akmal, Junaid Khan, Umar Gul, Saeed Ajmal, Mohammad Irfan

India: G Gambhir, AM Rahane, V Kohli, Yuvraj Singh, SK Raina, RA Jadeja, MS Dhoni, R Ashwin, B Kumar, I Sharma, Shami Ahmed