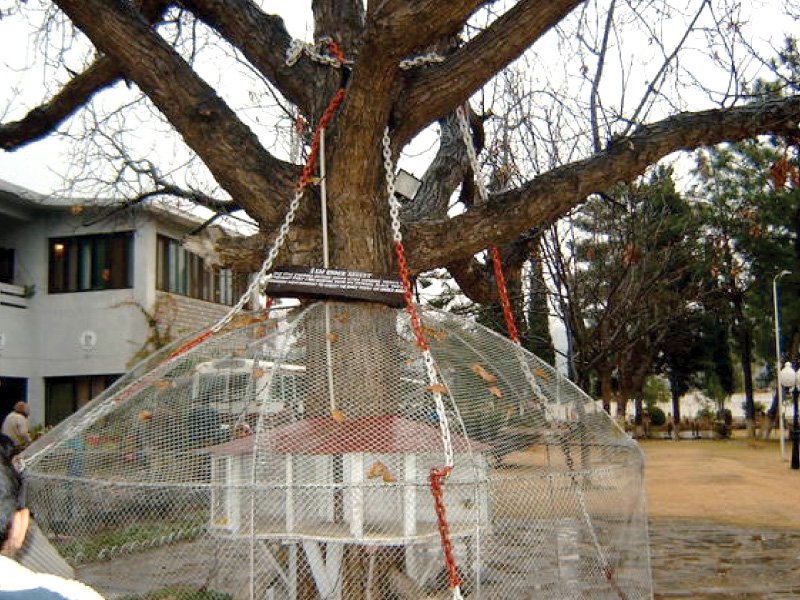 ---
PESHAWAR:



In 1898, British army officer James Squid saw an old banyan tree lurch towards him. In a state of drunkenness, Squid ordered a soldier to arrest the tree immediately. To this day, it stands fettered and forlorn in the Landi Kotal army cantonment area, with a board hanging on it that reads: "I am under arrest."




Even 65 years after British colonial rule came to an end, the tree's punishment continues. Its chains are as unrelenting as its punishment.

"Shackling a tree is a clear violation of Islamic teachings and humanity," said Amran Shinwari, a Landi Kotal resident.

The act itself

"Through this act, the British basically implied to the tribesmen that if they dared act against the Raj, they too would be punished in a similar fashion." The captive tree is seen by the locals as symbol of the draconian Frontier Crimes Regulation (FCR) legacy of the British Raj, laws drafted specifically for the purpose of countering Pashtun opposition to British rule. A century later, the laws continue to be applied to Fata residents, just as the banyan tree remains chained.

Another local, Kamal Khan Shinwari, agreed with Amran and likened the predicament of the tribesmen with that of the tree. The tree is a constant reminder of injustice and unfair laws.

"The main problem in the tribal areas is the FCR, promulgated by Raj in 1901. It is still in practice," said Kamal, adding that the people of Fata are being ruled under an unfair set of rules.

He also said that current authorities should now release the banyan from its long captivity, and deemed the 'arrest' of a tree as "unethical."




The location of the tree is far from random. Landi Kotal, situated in the historic Khyber Pass, has witnessed the jostle of multiple empires as they fought for the remote, rich expanses of the Hindukush. Harsh socio-political imprints left behind by Alexander the Great, Genghis Khan, Timur, and the British are dispersed throughout the craggy defiles. And now, these tribal areas are trapped in the midst of another vortex, the 'war on terror.'

Shahsawar Shinwari, another tribesman, said that enchained animals and even people are a common sight, but an enslaved tree is a definite first. For this reason, people from different areas have come to Landi Kotal, just to gape at the absurd sight of a tree under arrest.




"If this tree would have been in some other country, they [the authorities] would have taken care of it and made it a part of their history," said Dr Mukhtiyar Durrani, an assistant professor in the archeology department at the University of Peshawar.  Durrani added that this tree, for its age and socio-political ramifications, is extremely important from a historical viewpoint.

And important it is. If nothing else, the bound banyan speaks of the cruelty endured by the tribal lands because of the imposition of the FCR. It is a living and breathing – yes, breathing – reflection of a painful chapter that has not come to a close, a chapter that must not be forgotten.

Published in The Express Tribune, January 6th, 2013.
COMMENTS (5)
Comments are moderated and generally will be posted if they are on-topic and not abusive.
For more information, please see our Comments FAQ