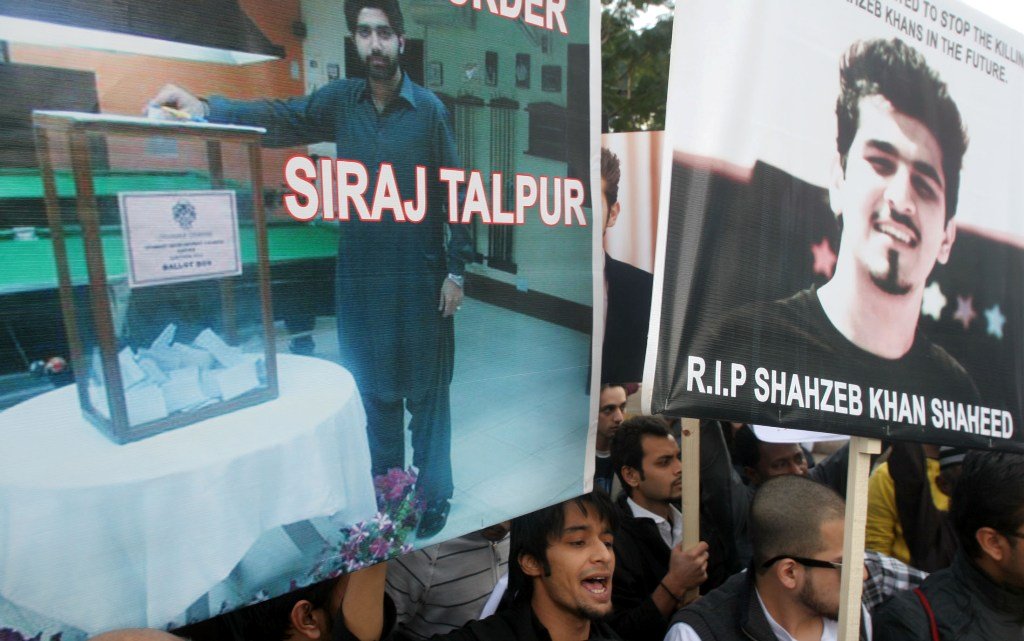 ---
ISLAMABAD: The Supreme Court gave concerned authorities 24 hours to arrest suspects in Shahzeb Khan's murder case and ordered for a challan of the same to be submitted to the registrar office by tomorrow, Express News reported on Friday.

A three-member bench headed by Chief Justice Iftikhar Muhammad Chaudhry is hearing the case in which 20-year-old Shahzeb was killed over a small argument allegedly by feudals.

The hearing was adjourned till January 7.

This wad the first hearing of the suo motu notice taken by the Supreme Court on Shahzeb Khan's murder.

Earlier during the hearing, the chief justice warned concerned authorities to arrest Shahzeb Khan's murderers by evening, or risk losing their jobs.

As the hearing began, the IG Sindh failed to appear, irking the chief justice.

The AIG cited a flight delay as the cause.

The chief justice, referring to a previous case, said: "The IG was saved in the last case but tell him that in this case, he will not be pardoned," adding that he should have appeared in person.

Speaking to the investigation officer, he said: "You have already spoiled a case before and are about to do it again."

The court had summoned the advocate general Sindh as well as IG Police Sindh, Fiyyaz Leghari.

The latter, however, did not appear in court and was then given a 12pm deadline for appearing before the bench.

Justice Chaudhry said that all delays in progress of the case were attempts at pushing the case to the sidelines.

According to reports, influential people were standing in the way of the investigation and the arrest of the suspects, upon which the chief justice had taken a suo motu notice.

Police have failed to arrest any of the accused nominated in the murder of Shahzeb, who was shot dead near his home in Defence last week. A popular student and son of DSP Aurangzaib, Shahzeb's murder created an uproar in civil society.

CJP lauds Express News anchorperson

During the case hearing, the chief justice played the footage of Express News anchorperson Shahzaib Khanzada's programme To The Point and remarked that Khanzada did a better job at investigation than the police.

He said that Khanzada had taken a huge risk by doing a show on the murder case in which Shahzeb's father and suspect Shahrukh Jatoi's father appeared on TV for the first time.

The chief justice questioned that if an anchorperson could reach the suspects in the case, then why can the police not.