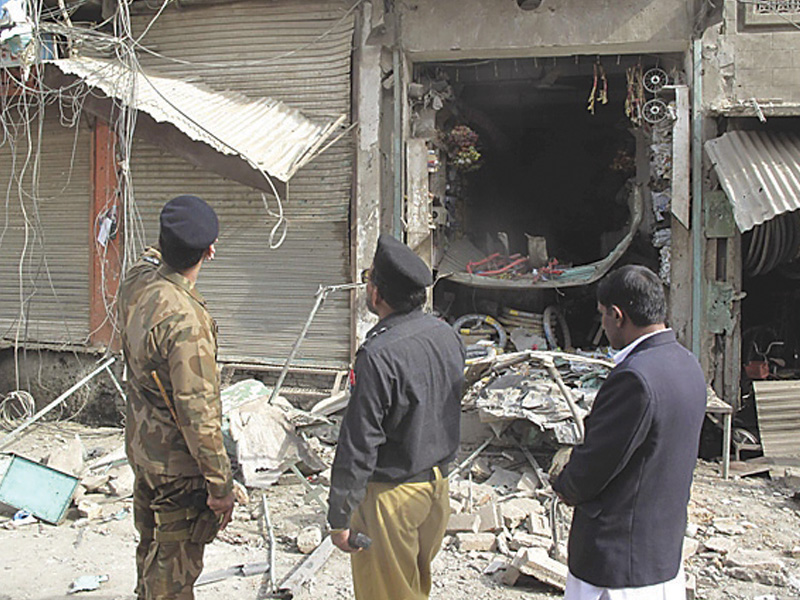 ---
DERA ISMAIL KHAN:



Four militants said to be involved in a series of sectarian attacks on Shias were arrested in DI Khan and presented before the media on Wednesday.




The men, identified as Walid Akbar, Ikramullah, Abbas Ali and Ilyas, belong to banned outfits Lashkar-e-Jhangvi (LeJ) and Tehreek-e-Taliban Pakistan (TTP).

DI Khan Police Deputy Inspector General (DIG) Qazi Jamilur Rehman said the Pakistan Army, several investigation agencies and police jointly interrogated the suspects. The four arrested men are said to be involved in three bomb blasts and 11 other terrorist acts in DI Khan.

The suspects were also planning an attack on Police Lines in DI Khan and two DSPs of City Police Station, Abdul Ghaffar and Salauddin Kundi, along with Shia leaders in the city.

Rehman said some police personnel were involved in the terrorist attacks and were collaborating with the attackers. He said the policemen had confessed their involvement, but did not divulge their names.




During interrogation, Rehman said the accused men told the police they were provided with three improvised explosive devices (IEDs) from their organisations to be used to target Muharram processions in DI Khan.

One of the IEDs was hidden under a pile of garbage on the roadside in Toi Fazal Colony on November 24. Nine people including five children were killed, while 26 others were injured in the blast.

Another IED was put in a pressure-cooker placed in Commissionary Bazaar on Muharram 10, leaving seven people dead and 138 injured.

The third IED they were carrying was to be planted in Basthi Dewala on November 28 to target another procession, but the militants were deterred due to the presence of police.

Later, the same IED was planted near Polytechnic College. On the same day, they also hurled a hand grenade at police officer Ghazanfar, hoping the attack would prompt DPO Sohail Khalid to come to the site so they could use another bomb to target him. The bomb disposal squad, however, managed to defuse the explosives.

The DIG said the arrested men told the police they had been involved in other terrorist acts in DI Khan. On March 14 this year, they were involved in a suicide attack on a police mobile in Commissionary Bazaar, which left DSP Abdul Ghafoor injured.

In 2009, they were involved in an attack on the vehicle of Syed Masthan Ali Zaidi in which two police constables were killed. On November 22, 2009, they attacked Raza Hussain near Rehmania Hospital in DI Khan, killing him. Several other targeted killings were also mentioned, including an attack on a retired police sub-inspector and one on their own colleague who they suspected of spying for the police.

Police have recovered a suicide jacket and a remote -controlled bomb used in the Muharram 10 blast in Commissionary Bazaar. They also seized other material used to make explosive devices.

Published in The Express Tribune, January 3rd, 2013.