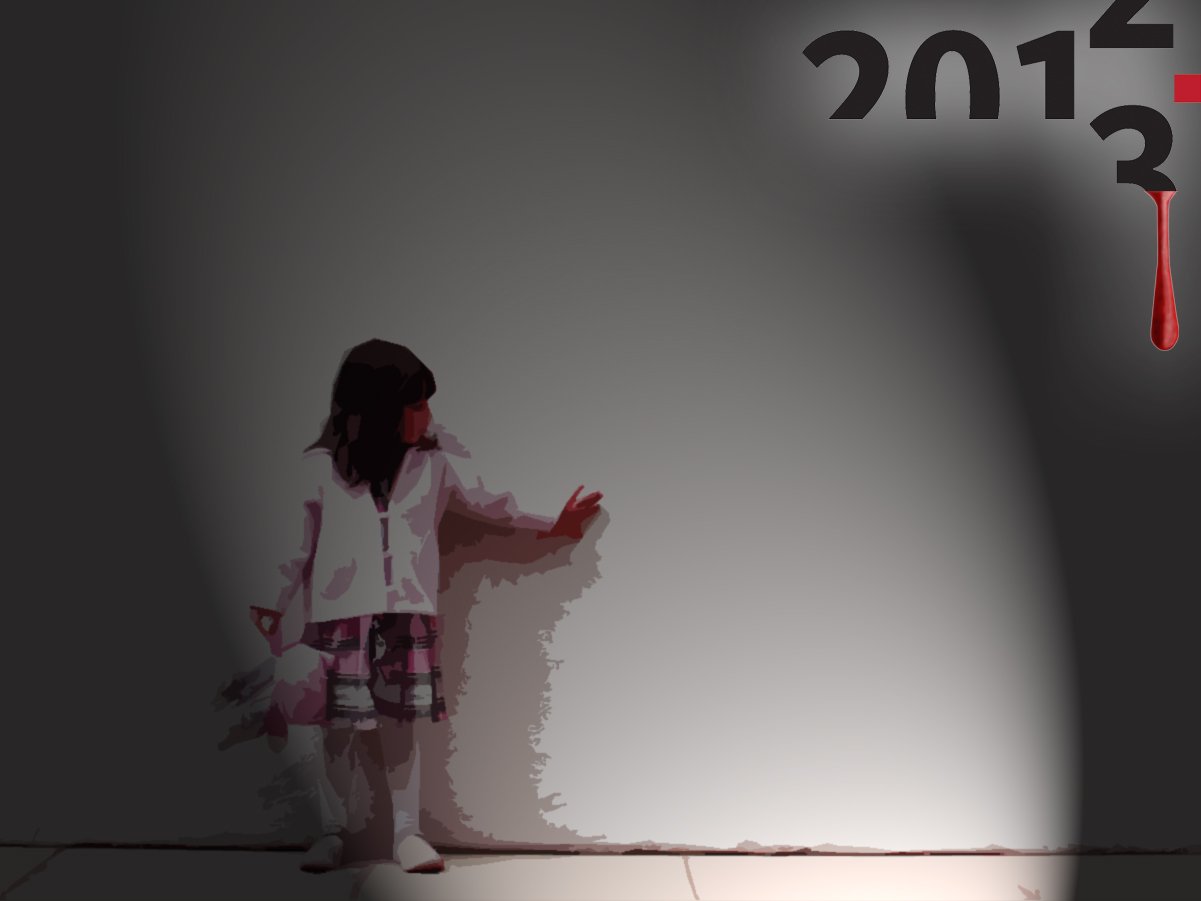 ---
For this well-off Pakistani family, it was a soul shattering nightmare that cast its dark shadow on the household for years to come.

Two vulnerable siblings, Sana (Age 6) and Saqib (Age 8), were left at home in the care of family servant Ghulam, while their parents travelled abroad. Like countless servants employed by families across Pakistan, Ghulam was a domestic helper who had earned the trust of his employers through his long history of service.

This trust was tragically misplaced. Left unsupervised to care for Sana and Saqib, Ghulam took the two innocent children to his room and tied Saqib to a chair. With the protesting boy safely bound, Ghulam proceeded to molest Sana, a child barely of school going age.

This story is not from some far-flung area, but from the heart of urban Pakistan. "If I narrated all the cases in Karachi alone to you, we would be here talking for many days. The cases are countless, and involve 'normal' families," says Saadia Parvez, an American educated psychotherapist who has specialised in trauma, and is currently counselling at a renowned school in Pakistan. Saadia also happens to be one of the only two qualified art therapists in the nation. She thus interacts regularly with young adults, and frequently encounters cases of sexual abuse. She also runs workshops in Pakistan which educate young people about child sexual abuse.

"It is traumatic to work on such cases," admits Saadia, herself a mother of young children. Her work with victims of sexual abuse has resulted in her being highly protective of her own offspring, and she believes that Pakistani parents aren't quite aware of how vulnerable their children are. According to Saadia, these horrific acts happen with a frightening regularity in every major city in Pakistan, and she estimates that 80% of the victims are abused by someone familiar to the family, while 60% of the abuse comes at the hands of household servants.  Child abuse, she says, is very much on the rise in Pakistan.




Who is to blame?

Numerous reports published by the United Nations confirm her belief. These reports state that child sex-abuse, a widespread problem in Pakistan, is on the rise at an alarming rate because it has been left largely unchecked due to its 'sensitive' nature. The reports state that the issue is especially problematic in the NWFP region, where the surveyed victims did not even realise that sexual abuse was a crime.

"The children take the blame," Saadia says, while referring to an American case study where, out of a hundred sexually abused boys who were surveyed, 80 felt that they were the ones to blame. "When I asked one abused boy why he blamed himself, he simply said, 'It is because bad things happen to bad people. So I must have been the one who was bad.'"

Saadia explains that children naturally place their parents on a pedestal, and look up to them as guardians, "To admit a parent has failed [to protect them] destroys the world of a child."

While a child who was a victim of sexual abuse had no actual control over the assault, some psychologists say survivors sometimes blames themselves because, by taking blame, they subconsciously feels less powerless and more in control. Through this illusion, the survivor can maintain a belief that they can protect themselves from potential future attacks and not have to relive the horror. This, of course, is a false manner of thinking, which only burdens a victim with more guilt.

Often, the children are simply too young to realise they are being wronged. Their own bodies may betray them into regarding the unusual sensations as pleasurable, and if the molester was manipulative but not forceful or violent, they may grow up thinking they 'consented' to their own abuse.

A Vicious Cycle

The inability to process trauma is also why some victims of sex abuse later become sex offenders themselves. "When a child is being sexually abused, the body feels sensations, which on some level are natural. This creates a conflict with the repulsion the mind feels, and left unresolved, can have victims grow up with a weird understanding of sexuality. Often, when a paedophile who had been sexually abused himself  is abusing a victim, they are on a subconscious level trying to recreate the tragedy that happened to them, to help make sense of their own childhood trauma. On some level, their mind is asking them yaar, yeh mujhay kya hua hai? (What was it that happened to me?)."

Understanding the Aftermath

Reactions to abuse vary. "Eating disorders are a normal reaction. It is the mind's subconscious effort to draw attention away from the body, making it less noticeable. I remember one victim who would deliberately wear 'abnormally loose clothing', and avoid wearing revealing garments such as shorts," says Saadia.  Bed wetting is a common reaction. This could be a cry for help, where the victim feels disconnected from the violated part of the body without even realising it. In some cases, the child may start thumb sucking, complain of chronic stomach pains, or become self-abusive.

Stifled Voices

Seven year old Huma was being molested by a family member who would only stop by at her house to assault her. In the afternoons, the visiting family member would urge Huma's mother, his sister-in-law, to take a nap, telling her that he would look after her daughter for her. Then, he would take Huma to a secluded room where he would fondle and touch her inappropriately.

But when Huma complained to her mother, she was told that she was making up the whole thing, and that it was probably inspired by something she saw on TV. Cleverly, Huma told her mother to only pretend she was napping next time so that she could catch her attacker in the act, which Huma's mother did. After screaming at the predatory family member and pushing him out of the house for good, Huma's mother turned to her daughter and quietly asked her to forget that anything untoward had ever happened, and to especially not mention anything to her father.

In a traditional society, a mother's fear that if her daughters' reputation is ruined, she won't get a good rishta (proposal) in the future may force her to silence the daughter.

Saadia also mentioned a case about a father, who caught a servant molesting his son. After dealing with the sex offender, the father took his boy out for ice-cream, and told him "Beta, is baat ko phir yaad nahee kerna! (Son, don't mention this incident ever again.)"

Culturally, the issue of shame comes up whenever the subject of sex is raised. Many parents refuse to send their children to her school workshops, where children are taught how to protect their body spaces.

Casualties of a changing lifestyle?

Changing economic dynamics mean that most families in Pakistan have both spouses working. To ensure that children are not thus placed in a hostile environment, Saadia recommends that "perhaps the best option is to find a good day care centre. Personally, I think it is absolutely vital for a mother to raise her own child during the formative years, which is till the age of four. Unfortunately, in today's Pakistani society, we have a lot of 'luxury moms'."

Explaining the concept of 'luxury moms', she says these are those mothers who are only concerned with their children when it comes to showing them off, and aren't emotionally available to meet their needs. The problem is compounded by fathers who aren't emotionally available for their spouses in turn, and are verbally abusive, thus creating a negative environment.

This family dysfunction creates a dynamic where children aren't comfortable talking to their parents about problems such as sexual abuse, especially when highly volatile parents throw fits of hysteria with little provocation. Amazingly, many sexually abused children keep secrets from their parents because they find them to be overly fragile, "It is a case of role reversal, where the parent is the child, and the child is the parent, with the child trying to protect the emotional needs of the parent instead of the other way around," says Saadia.

Family Ties

Her experience shows that families where members of the household share at least one family meal every day are 60% less likely to have children who will suffer from some form of prolonged abuse. A strong family structure creates the right space to give children the confidence to communicate with their parents openly.

Definite advantages of the at times trying joint family system have been seen in this regard. Grandparents can be both strong foundations of the family unit as well as protective elders, watching out for the children in the family.

A significant percentage of sexual abuse victims in Pakistan suffer at the hands of family members, so a strong family involvement can be a bit of double edged sword. As in all such situations, it is clear that balance is absolutely vital.

Ultimately, it's the parents' role that is crucial. It is important for children to grow in a positive and loving home environment, where parents are approachable for their kids to express their concerns without feeling judged. This openness in communication can not only help vigilant parents protect their children from potential sex predators, but also lend victims of sex abuse the strength to heal.

*names have been changed to protect identities

Counseling services and drop-in centers:

Alleviate Addiction Suffering Trust (AAS), Karachi

(+92-21) 3411149

Aangan-Rozan, Islamabad

(+92-51) 2890505-7

Jeet Healing Centre, Sahil, Islamabad

(+92-51) 2260636, 2856950

Konpal Child Abuse Prevention Society, Karachi

(+92-21) 3455-2220

Madadgar, Karachi

(+92-21) 5685824, 5219902, 111-911-922

Protection and Help of Children Against Abuse and Neglect (Pahchaan), Lahore

(+92-42) 35871221

War Against Rape (WAR), Karachi

(92-51) 5373008

Published in The Express Tribune, Sunday Magazine, January 6th, 2013.

Like Express Tribune Magazine on Facebook to stay informed and join the conversation.
COMMENTS (24)
Comments are moderated and generally will be posted if they are on-topic and not abusive.
For more information, please see our Comments FAQ