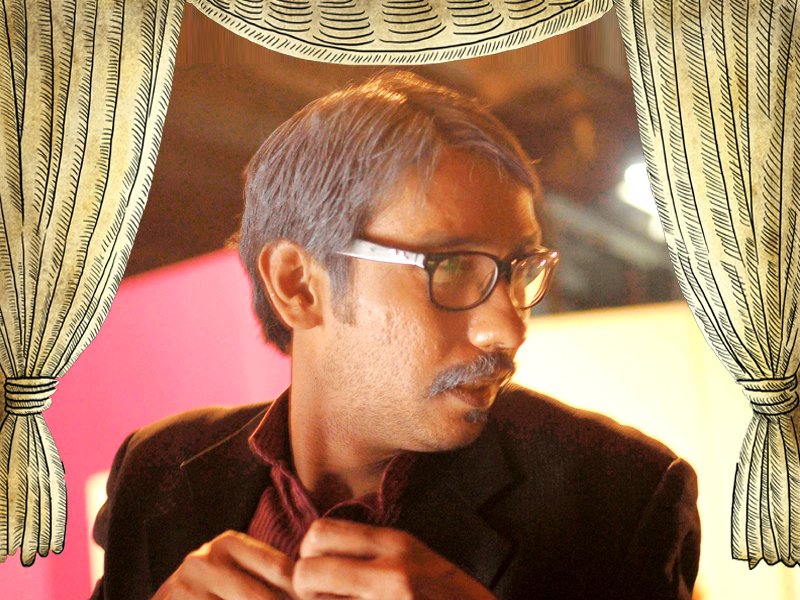 ---
KARACHI:



The rising star Saqib Sumeer was told that he wasn't handsome enough to be on television. After three years of training under veteran actor Zia Moheyeddin, he was shattered to find out that TV — the only flourishing industry he had hoped to be a part of — rejected him.

Disappointed, he then switched to scriptwriting and the improvisational comedy troupe Aisa Karogay Tau Kon Ayega. But it was in January 2011 that Sumeer amazed the audience with his pelvic thrusts as an eunuch named Dolly in the stage musical Bombay Dreams directed by Shah Sharabeel. Since then, he has become the face of Karachi theatre and the only Napa graduate to make it 'big' on stage.




Seven years ago, Sumeer came from Bahawalpur to study acting at the National Academy of Performing Arts (Napa) with the hopes of making a name in television. "I remember the days when I used to change buses [to commute] and use Rs100 for three days," Sumeer tells The Express Tribune. "But today I have been featured in most of the major plays, God has really been gracious."

Sumeer says he changed his approach as an actor when Sharabeel advised him: "Saqib be a brand first ; then decide what you have to do." This worked out well for Sumeer, who entertains his audience to the point where they can't wait for his next performance.

Sumeer shares that he wants to do different roles so that he can get a taste of it all. His versatility as an actor can be seen in Bombay Dreams, Avanti, Beech Bahara Ki Raat Ka Sapna, Tom Dick and Harry. "I want to do musicals, originals, bilingual plays and all sorts of characters," says Sumeer. "That is what makes my portfolio strong and so far the opportunities have come to display that."

He fears that he might make his audience uncomfortable with some inappropriate comments, which is not intentional. "If anything is unacceptable to families then it is wrong irrespective of whoever is doing it," says Sumeer, feeling that sometimes the improvisational artist comes out in him. "We, as actors, get excited while performing but that is no excuse for crossing the limits. I apologise if any of my antics have offended people."

Art and money

Having worked with legends like Moheyddin who follow a classical approach to theatre and also with people like Sharabeel who heavily rely on adaptations and Bollywood plots, Sumeer believes that there is an art versus money problem that exists.

"Both of these factions believe that what they are doing is right, one of them believes that getting money is not art while others believe that audience's enjoyment is everything," says Sumeer.

At the same time, he explains how "the run for money theatre" theory has caused theatre to lose its reformist approach towards society and has become consumer driven.

"The reformist part has been taken up by the likes of Ajoka, Tehreek-e-Niswan, Katha to name a few," says Sumeer. "But even in commercial theatre, there are people who want to bring about change in the society."

He agrees with the unattributed saying: "Jis k ghar aata hai, usko art ata hai,". Sumeer elaborates that people who can afford to pay for expensive tickets don't want to hear about or see their problems.

Theatre as an Industry

Despite all his work for the commercial theatre industry, Sumeer is an educationist at heart. He believes that there is a lot of untapped talent in Pakistan which can be utilised through formal education in theatre and dramatics.

"I don't know how I came from Bahawalpur to Napa. People don't know that such institutes for formal training in performing arts exist," says Sumeer. "The real talent comes out from the low income households in Pakistan, but unfortunately, they aren't even aware of what theatre is."

He believes that the focus should be on developing theatre as an industry right now and that can only happen through introducing theatre related subjects at school level.

"Cinema is coming back to life after a decades-long hiatus and drama has already fallen prey to foreign content. It is high time for theatre to be taken more seriously; after all, the world over a flourishing film and theatre industry go hand-in-hand," he says.

Sumeer is optimistic and feels theatre will spread out to the masses as a more approachable form of entertainment. He is also planning to start a radio show on theater and dramatics that will fall somewhere in the infotainment category. Sumeer's new play titled Cinder-Jutt kicks off at the Karachi Arts council from the January 4 to 30.

Published in The Express Tribune, January 2nd, 2013.

Like Life & Style on Facebook for the latest in fashion, gossip and entertainment.