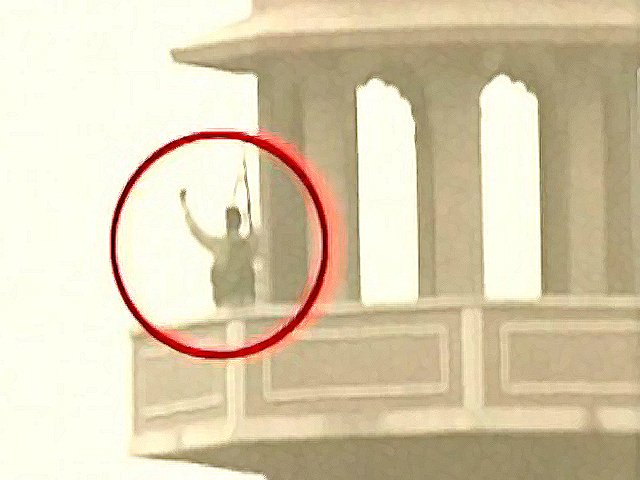 ---
LAHORE: Abdul Qadir, came back to Moon Market after recovering from the severe injuries he received in the twin blasts that shook the Market in in December 2009. The shrapnel from the first bomb of that bloody night had pierced his abdomen.

Qadir is grateful to the doctors of Sheikh Zaid Hospital for saving his life to this day. He lost his 19-year-old cousin to the blasts as well. The 29-year-old father of three now sells shoes in the market situated in Allama Iqbal Town, Lahore. Although his family stops him from coming to work during Ashura because of the security threat, Qadir says he is not afraid of death, and life must continue.

The twin blasts at Moon Market was the first high intensity attack to have targeted the civilians of Lahore since 2006. Two plazas in the market caught on fire and killed scores. Most of the casualties were customers who were buying children's clothing and wedding clothes. The tragedy was of such a degree that the family members of some survivors could only recover bits of clothing of their loved ones.

As the wave of terrorist attacks trickled down to Punjab from the Northwestern part of the country, between 2008 and 2012, Lahore was shaken with multiple high intensity attacks.

Most of the attacks took place from 2008 till the end of 2010.

From the Elite Police Force's Training School in Bedian to the Naval War College on the Mall Road, security installations which were targeted in the past four years have now added many layers of security in the form of barricades, concrete blocks, barbed wires and armed personnel. Even taking a photo from the outside of such buildings is a matter of extreme concern.

The Express Tribune has compiled a list of the major blasts and terrorist attacks in Lahore from January 2008 till the end of December 2012. An attempt has been made to go back to the sites of tragedy to trace out and recall what had happened there.

_____________________________________________________________

Suicide bombings at GPO Chowk, Mall Road




The attack took place on January 24, 2008, left 24 dead. Most casualties of the attack were police personnel.



Suicide blasts outside the Naval War College on Mall Road




The attack killed at least 6 people on March 8, 2008.



FIA office on Temple Road near Mall Road




The office was attacked twice. First attack on March 11, 2008 killed 29 people and the second October 15, 2009 left 8 dead.



Attack on ad agency

On March 11, 2008 office of an advertising agency was mistaken as a safe house and targeted in a blast. The safe house was present in the street behind the targeted house. The blast killed one man and two children and critically injured an employee of the ad-agency.



Garhi Shahu blasts

Low intensity blasts near juice corners in Garhi Shahu created panic among people and caused minor injuries.



Alhamra Cultural Complex attack

On November 22, 2008 Rafi Peer World Performing Arts Festival was underway at the Alhamra Cultural Complex when three low intensity bombs went off at the venue.



GOR-2

A bomb killed one woman on December 24, 2008. The deceased and her family were on their way home for Christmas celebrations.



Sri lankan cricket team attack

On March 3, 2009 bus carrying Sri lankan Cricket Team to the Qaddafi Stadium was attacked by terrorists at the Liberty Roundabout.



Manawan Police training Academy




The building was attacked twice in 2009. First attack on March 30 killed at least 26 and the second attack on October 15 left 10 dead.



ISI Punjab Office




An explosives laden vehicle rammed into the gate of office of ISI Punjab on May 28, 2009, resulting in significant damage to the Rescue 15 Police office also. At least 26 people died in this attack and more than 200 were injured.



Alfalah Theater




A series of low intensity blasts on January 9, 2009 at the Alfalah Theater on Mall Road and Tamaseel Theater near Mozang Chowk on Ferozepur Road created panic in the city.



Elite Police Training School of the Punjab




The institute was attacked by terrorists wearing suicide jackets who initially carried out a Fidayeen attack in October 15 2009. Two policemen died in the attack.



Seminary Jamia Naeemia




The seminary was headed by an anti-Taliban cleric, Mufti Sarfaraz Naeemi. A suicide bombing on June 12, 2009 killed the cleric and 5 others.



Babu Sabu Interchange

The Motorway Lahore was targeted in a suicide bombing in the first week of November, 2009, resulting in the death of a police constable.



Moon Market in Allama Iqbal Town




The market was hit by two bombings leaving 70 people dead in December 7, 2009.



Special Investigation Agency in Model Town




An explosives laden vehicle rammed into a safe house of a Special Investigation Agency in Model Town K Block, on March 8, 2010, leaving at least 14 people dead and more than 80 injured.



RA Bazar




Two suicide bombings took place in RA Bazar on March 12 2010. It was targeted at the vehicle of military personnel in Cantonment. At least 40 people were killed in the attacks. The night of March 12, a series of low intensity blasts in Allama Iqbal Town harassed the residents. Six low intensity bombs were places outside residences of then in-service police officers and former army officials.



Peeru's café near Raiwind Road

The café was targeted via low intensity bombs in the first week of May, 2010.



Attack on Ahmadis




Two Ahmadi places of worship, one in Garhi Shahu and the other in Model Town were attacked by terrorists on May 28, 2010. 87 people died as a result of indiscriminate firing and grenade attacks by the terrorists.



Jinnah hospital, Lahore

On May 31, 2010 militants entered the Jinnah hospital, Lahore and killed at least five people. The aim of the militants was to either escape or kill the injured terrorist who had attacked the Ahmadi places of worship on May 28, 2010. The militants could not get to the injured terrorist.



Data Darbar




The shrine of Sufi saint Hazrat Ali Hajveri was hit by two suicide bombings on July 1,  2010 killing at least 44 people and injuring more than 150.



Hall Road Market

On June 26, 2010 multiple low intensity blasts in plazas inside the Hall Road Market in Lahore resulted in minor injuries and damage to a few shops. Business owners of the market had received threat letters for selling "obscene" videos in 2009 and 2010 before the blasts.



Internet cafes

Low intensity bomb blasts exploded at two internet cafes in different locations in Lahore on July 17, 2010. The attacks were reported to be "warning attacks" for the cafes, to stop "vulgarity."



Attack on Shias




Shia Muslims' processions were targeted twice in the close vicinity of Imambargah of Karbala Gamay Shah. First attack at a Muharram procession on September 1, 2010 left at least 31 dead and the second during the Chehlum of Hazrat Ali (R.A) on January 25, 2011 killed at least 13.



Shrine of Haider Saeein

On February 3, 2011, blast near the shrine of Haider Saeein killed two people and injured 15.



Faisal Town

On September 29, 2011 a low intensity bomb attached to a motorcycle in Faisal Town, B Block went off.



Anarkali Bazaar

On September 30, 2011 three low intensity explosions in Anarkali Bazaar took place.



Lahore Railway Station

On April 24, 2012, a blast at the Lahore Railway Station killed four people including two minor boys and injured more than 50 people.



Fruit Market of Badami Bagh

On August 1, 2012, two remote controlled low intensity bombs exploded in Fruit Market of Badami Bagh area and injured about 20 people.