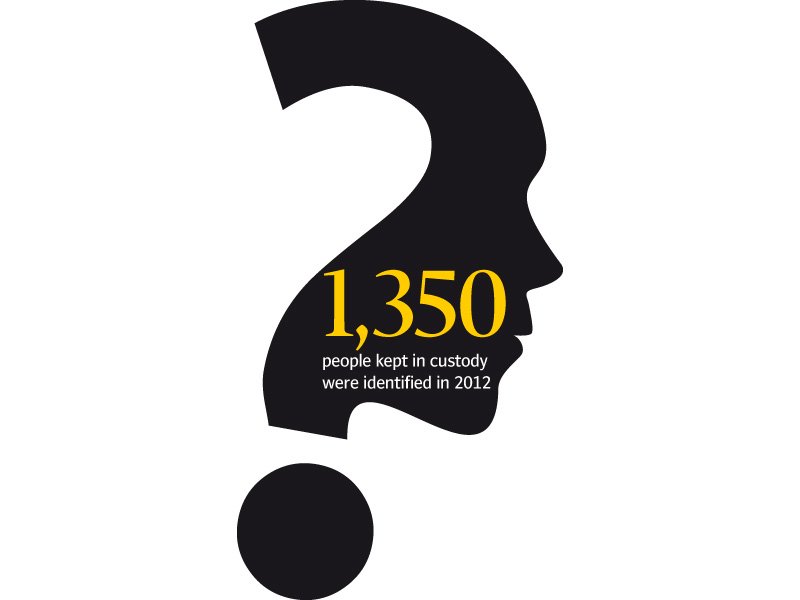 ---
PESHAWAR:



Although 2012 was declared the year for the release of missing persons, it ended on a sombre note for many people whose relatives remain in illegal custody. 




At the beginning of last year, Peshawar High Court (PHC) Chief Justice (CJ) Dost Muhammad Khan had said that 2012 would be the year for recovering people in illegal detention. While for some people this held true, many are still filing habeas corpus petitions seeking release of their loved ones.

While few people were hopeful of recovery and identification of missing persons, more than 1,350 people kept in custody were identified last year. There are no statistics for the number of missing persons in the province and in the tribal areas.

In a PHC hearing on May 16, 2012, 1,039 detained persons were released after undergoing de-radicalisation at internment centres.

Later on December 18, 45 people were declared white-category and released, 15 grey-category suspects were sent to different jails and 261 black-category militants were sent to different internment centres in Khyber-Pakhtunkhwa and the Federally Administered Tribal Areas.




White-category militants are those that are accused of having ties with militants, while grey and black category is referred to people against whom investigation teams have collected evidence and those who are actively involved in anti-state activities, respectively.

Murad, a resident of district Mardan who goes by one name, is also awaiting the return of his missing brother Gul Bacha and has been appearing in court since August 2012.

According to Murad, Bacha was a student of Lal Masjid. Sixteen months ago, he went out of his house to a nearby shop and remains missing since.

Murad, like countless others, visits the PHC once every month in hope of some good news. But like most people he is sent back with only a slip confirming the next date of hearing.

Izzat Begum, whose husband Iqbal Hussain went missing from an internally displaced persons camp in Chamkani is not only waiting for her husband's return but is also seeking release of her brother Shahzareen, brother-in-law Hazrat Hussain and two cousins Jahanzeb and Sardar Hussain.

Hailing from Ali Gram area of Kabal tehsil in Swat, she had threatened to commit suicide if her relatives were not released or at least identified. Her sister also shot herself after her husband Hazrat Hussain went missing. "Hang them publicly if the forces find them guilty but identify them, so at least we know that they are alive," she said.

Legal experts say there are many applications of missing persons still pending before the court.

Some were picked up over allegations of being associated with militants and are being charged while others are undergoing de-radicalisation at internment centres. Arif Khan, who fought nearly 154 cases of enforced disappearances, said that 21 of his clients have reached home.

Besides de-radicalisation, all those held on suspicion were also given training in different areas.

Qari Habibur Rehman, a student of a local seminary, was arrested by security forces on suspicion of spying for militants. During his stay at the internment centre, he was trained in a certificate course for an electrician.

Rehman was arrested in a search operation in Batkhela and kept at Malakand Fort for almost 17 months. "I have now come to know the difference between right and wrong. I have also become an electrician and have started earning a respectable living," he said.

Published in The Express Tribune, January 1st, 2013.