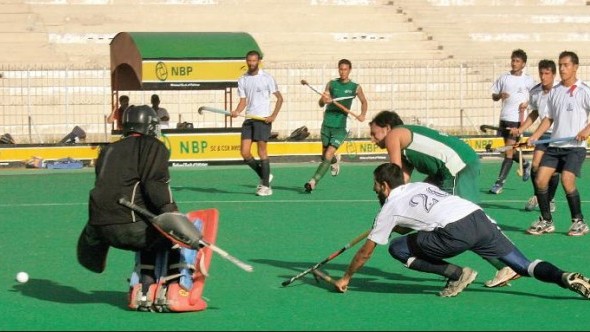 ---
KARACHI: Kashif Ali scored a brilliant hat-trick in the Pakistan International Airlines' (PIA) 4-3 win over Sui Southern Gas Corporation (SSGC) in the 57th National Hockey Championship on Wednesday at the Hockey Club of Pakistan, Karachi.

SSGC led the first half 3-1 but PIA bounced back strongly into the second half to eventually claim the win as Ali scored in the 48th, 51st and 65th minute of the match.

Memond Ali scored the fourth goal for the winning side to complete a remarkable turnaround.

Ishtiaq Mubeen, Shakeel Abbasi and Saleem Khalid scored a goal each for SSGC.

HBL thump KESC

Habib Bank Limited (HBL) thumped Karachi Electric Supply Corporation (KESC) 3-0 in the second match of the day. Mohammad Khalid Bhatti scored two goals for HBL in the 13th and 29th minute of the match while Shebaz Ali scored the third in the 49th minute during the one-sided affair.

Port Qasim beat PAF

In the third match of the day, two goals by Hanif Shehzad helped Port Qasim defeat Pakistan Air Force(PAF) 3-1. Shehzad struck the first goal of the match in the sixth minute but PAF's Imran Ali netted an equaliser four minutes later. Port Qasim's Shehzad scored his second goal in the 59th minute as the team-mate Kashif Jawwad also scored a 69th minute goal to confirm an easy win for his side.