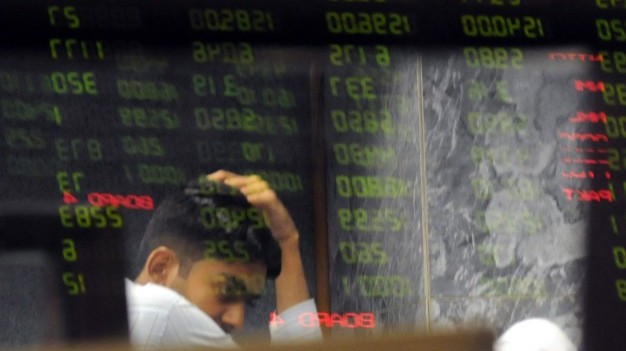 ---
KARACHI: Stocks ended at their highest closing level since August 2008 on Wednesday following positive news on the economic front and dealers said buying by foreigners boosted domestic confidence.

The Karachi Stock Exchange's benchmark 100-share index ended 0.99 per cent, or 103.19 points, higher at 10,523.01.

It was the highest close for the KSE-100 since August 20, 2008, when it ended at 10,525.99.

The index touched an intraday high of 10,552.70 points.

"Foreign-driven activity continued today," said Farhan Seth, an analyst at Topline Securities Ltd. According to official data, foreigners bought shares worth a net $7.27 million on Tuesday, bringing the total to $25.98 million this month.

Net foreign portfolio inflows stood at $113 million in March - the second highest monthly inflow ever, after inflows of $127 million in September last year.

Dealers said positive macroeconomic news had helped boost sentiment.

Pakistan's economy is likely to grow by 3.3 per cent in the year to June 30 and strong manufacturing and steady farm growth had raised hopes of 4 per cent growth next year, government officials said on Tuesday.

Investors have also been encouraged in recent days by signs of growing political stability after a long-awaited constitutional package was submitted in parliament last week.

The bill, which is expected to be approved this week, will transfer many of President Asif Ali Zardari's powers to the prime minister and could end months of political wrangling.

The market opened on a positive note and never looked back touching an intraday high of 10,522.70 points. Trade volume rose 22.7 per cent to 299.5 million shares from 244.07 million traded on Tuesday.

Second-tier stocks stood as volume leaders while some activity in the fertilizer and banking sectors was also witnessed and as a result total exchange value stood at Rs8.79b.

Out of a total of 421 active securities, 228 increased, 174 declined and 19 remained unchanged. Lotte Pakistan was the volume leader for a third day running with 64.67 million shares, gaining Rs0.51 to close at Rs13.28. It was followed by Silkbank with a healthy 64.22 million shares gaining Rs0.95 to close at Rs4.18 and Azgard Nine with 14.8 million shares losing Rs0.39.

Lotte Pakistan continued its rally on the back of strong earning expectations and the scrip closed 4.3 per cent up. Silkbank led from the front for the banking sector closing a massive 29 per cent higher because of its recent right issue was termed successful by most investors. Pakistan Petroleum was the major gainer in the energy and power sector, up 1.9 per cent, benefiting from the recent jump in international oil prices. Silkbank also turned out to be the KSE-100 top gainer of the day closing at Rs4.18.

It was a bad news for the textile industry for a third straight day as business giant Azgard Nine fell 3.05 per cent to close at Rs13.28. The share has been shedding value for the past few weeks and has lost 44 per cent of its value since the start of 2010.