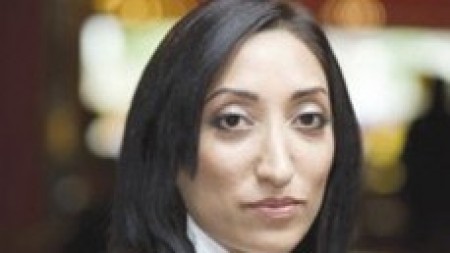 ---
KARACHI: In 2007, British comedian Shazia Mirza decided to grow all her body hair for six months for a BBC documentary on body image and stereotypes.

After six months, she advertised for other hairy women to put on a catwalk show, wearing lingerie designed by artist Tracey Moberly made of body hair. While the women of Karachi may not see eye to eye with Ms Mirza, they will be lining up to watch her perform at cafe The Second Floor on Wednesday with their friends and family.

"Getting Shazia Mirza to perform at T2F was a friend's idea," said the owner of The Second Floor cafe Sabeen Mahmud, who admitted that the idea had her receiving calls from the media at all odd hours.

"Everyone wants to talk to her. I don't know if she has an agent or not but I can tell you that she will be flying in late Tuesday and going back late Wednesday," Ms Mahmud told The Express Tribune.

A trained biochemist, Shazia was born and educated in Birmingham – the daughter of first-generation Pakistani immigrants. Raised in a strict Muslin family environment, Shazia relunctantly pursued a career as a science teacher whilst secretly honing her writing, acting and comedy skills part-time at drama school and with late-night gigs across the country.

Oblivious to Shazia's determined but clandestine commitment to her art, it took an appearance on "Have I Got News For You" for friends and family to realise the extent of Shazia's ambitions.

"Although it remained the 'c' word in the family house for years," she remarks. Fusing contemporary issues with her own personal experiences, Shazia pressed a lot of buttons with her tabboobreaking, deadpan, confident style, She grabbed national attention in the aftermath of the September 11, 2001 attacks by performing her act in recognisable hijab dress and beginning with the remark, "My name is Shazia Mirza. At least, that's what it says on my pilot's licence." This was the year she won her first award at the London Comedy Festival. In 2003, she was listed in The Observer as one of the 50 funniest acts in British comedy and won the GG2 Young Achiever of the Year Award. She also trot the boards in The Vagina Monologues at The Royal Albert Hall.

TV work soon followed both in the UK and in the US and in 2007, she presented a documentary on BBC 3 called F*** Off, I'm a Hairy Woman – for which she spent seven months in the service of hirsutism. She was also a semifinalist on NBC's Last Comic Standing (2008) and other TV credits include: Muslim Driving School (Voiceover BBC2 2010), Beautiful People (BBC2 2009) Richard and Judy ( Channel 4 roving reporter 2007) 28 Acts in 28 Minutes (BBC3 2005) The World Stands Up (Paramount Comedy 2004) and 60 Minutes (CBS 2004).

Shazia has performed her stand-up shows across the world – from the Edinburgh Fringe to Texas, US to Dubai and Kosovo. She has particularly travelled extensively across Europe, where she is in great demand. Her hit shows have included The Last Temptation of Shazia Mirza and Portrait Of Shazia Mirza. Radio appearances include a regular slot on BBC Radio Scotland and "The Now Show" on BBC Radio 4.

As a writer Shazia formely penned a fortnighly column for The New Statesman for which she won 'Columnist of the Year 2008' at the prestigious PPA Awards. She has written for the Guardian for many years and currently has a new weekly column in their Weekend magazine entitled 'Dairy of a Disappointing Daughter'. She also writes for Virgin's Hotline Magazine. In March 2009, she was listed on the inaugural Muslim Women's Power List as one of the 20 most successful Muslim women in the UK. Mirza will be performing between 7pm and 8:15 pm at T2F.
COMMENTS
Comments are moderated and generally will be posted if they are on-topic and not abusive.
For more information, please see our Comments FAQ